Hurricane Season 2022: Who Decides Storm Names?
As the start of the 2022 Atlantic Hurricane season approaches, the list of possible storm names has been released.
The list of names, which are determined by the World Meteorological Organization Hurricane Committee came ahead of the start of the 2022 Atlantic Hurricane Season which is set to begin on June 1 and runs until November 30.
The full list of names, which were released by the National Oceanic and Atmospheric Administration's National Hurricane Center, can be found below.
Alex
Bonnie
Colin
Danielle
Earl
Fiona
Gaston
Hermine
Ian
Julia
Karl
Lisa
Martin
Nicole
Owen
Paula
Richard
Shary
Tobias
Virginie
Walter
Ahead of the upcoming hurricane season, the Atlantic National Hurricane Center issued its first routine weather outlook.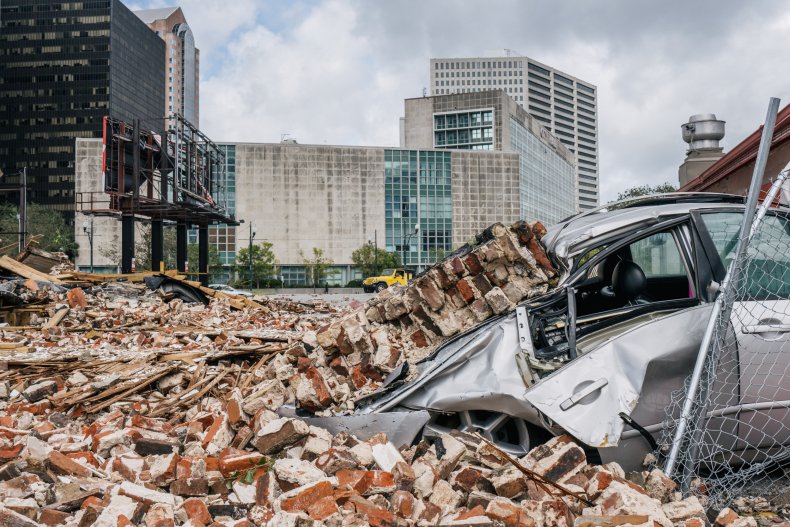 "For the North Atlantic…Caribbean Sea and the Gulf of Mexico: tropical cyclone formation is not expected during the next five days," the outlook said.
On May 24, the National Oceanic and Atmospheric Administration (NOAA) is set to announce its "initial outlook for the 2022 Atlantic hurricane."
"Speakers will give the official government forecast for the number of named storms and hurricanes expected for the 2022 Atlantic hurricane season and give advice on how the public can prepare for the season, which begins on June 1 and ends November 30," the NOAA said in a press release.
Prior to the routine weather outlook issued by the Atlantic National Hurricane Center on Monday, a group of researchers from Colorado State University predicted that the Atlantic region will experience an above-average hurricane season in 2022. The researchers, with Colorado State University's Tropical Weather and Climate Research, forecast that there will be 19 named storms and at least nine hurricanes. Four of the nine hurricanes are expected to be a Category 3 storm or higher.
"As is the case with all hurricane seasons, coastal residents are reminded that it only takes one hurricane making landfall to make it an active season for them," the researchers said. "They should prepare the same for every season, regardless of how much activity is predicted."
Last year, the NOAA's Climate Prediction Center forecast that the 2021 Atlantic Hurricane Season would be above-average forecasting 13 to 20 named storms.
The 2021 Atlantic Hurricane Season ended as the third most active season ever, the National Hurricane Center reported, with a total of 21 named storms.
Hurricane Ida was one of the most destructive storms that hit the U.S. in 2021, and resulted in more than $60 billion in damages, according to the NOAA.
"Ida already ranks among the top-five most costly hurricanes on record for the U.S. since 1980, and its total cost will likely increase as damage costs continue to accumulate," the NOAA said.
Newsweek reached out to the NOAA for comment.