Husband Finds Wife 'Marrying' Another Man on Social Media in $312K Wedding Scheme
This groom certainly wishes he said "I don't."
A man was horrified to learn that, as his wife "wed" another person, he had fallen for a complicated marriage scheme that had earned two conwomen a whopping $312,000 USD.
According to a report from South China Morning Post, or SCMP, the unidentified Chinese man was one of 19 duped by two masterminds and their three accomplices into a pricy marriage. All five were reportedly taken into police custody last week.
A report from Times Now News noted that the scheme unraveled while one of the recently "married" men saw his wife being married off in March. The wedding ceremony was being livestreamed on a video-sharing app available in Bayannur, Inner Mongolia.
The 35-year-old claimed once he confirmed the location and it was indeed his wife, he and the other groom filed a formal complaint with the police, SCMP reported. Once they went to police, the marriage scam plot was uncovered.
The man reportedly was introduced to his bride by a matchmaker known as Li. He was asked to pay a dowry of jewelry and cash gifts with an estimated worth of 148,000 yuan, or more than $23,000 USD, prior to the marriage. The two courted for about a month and were "married" in January, Times Now News reported.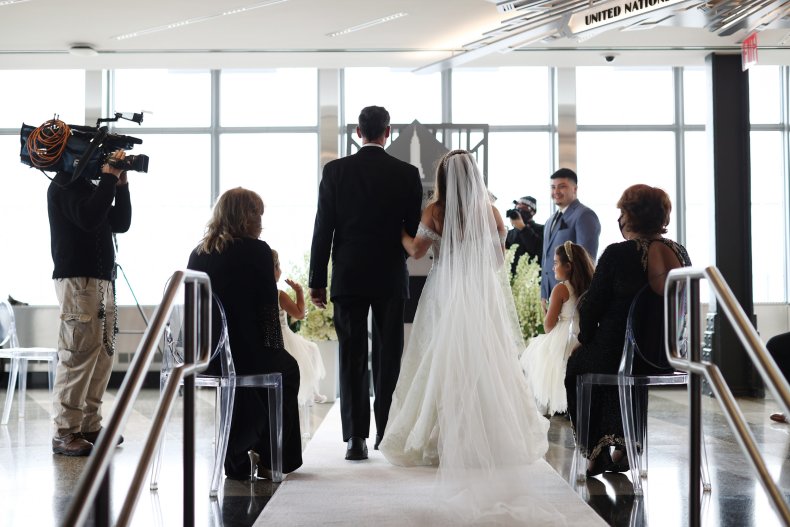 However, the outlet noted that from the get-go there were problems in the marriage. Though they held a traditional ceremony, it was not formally registered, with the bride citing household issues that prevented it from being legally recognized.
In the months following the nuptials, she kept leaving town to allegedly visit her family to take care of personal matters. It was while she was away, police said, she would dupe other men in a similar fashion. In total, she only spent 10 days with her husband in their two-month marriage.
The Mongolian police report, obtained by SCMP, revealed a total of 19 men total were tricked by Li and the other women involved, and lost a combined sum of $312,000 in monetary gifts and marriage dowries over the course of two years.
SCMP identified the other mastermind as a woman known only as Dawa, who had organized the criminal ring with Li in August 2019. They reportedly had additional accomplices play the roles of the "eligible bachelorette" to be married off and "relatives of the bride" in Gansu and Inner Mongolia.
The outlet reported the male victims fell for the marriage scheme due to their older age and gender disparities that leave men outnumbering women. Because they had difficulties finding a partner, they were more susceptible to the ploy and willing to pay for a marriage.
This isn't the only wedding news shocking international audiences in recent months. In March, a mother-of-the-groom was shocked to find his bride was her long-lost daughter. In April, a groom decided to wed his bride four times and divorced three times over the course of 37 days to maximize his vacation time from work. And just last week, a maid of honor claimed her bride demanded her husband not come to the ceremony because he was "too short."