A woman whose husband allegedly received a private lap dance at a bachelor party but "hardly remembers it" has received a barrage of criticism on Mumsnet, the U.K.-based online forum.
According to a post shared by user Skye90 on Mumsnet's Am I Being Unreasonable (AIBU) subforum, her husband said "he was so drunk he hardly remembers" receiving the lap dance, adding that "he wasn't the only one but all the others are single."
According to data from 2010 to 2016 in the General Social Survey, around 20 percent of men and 13 percent of women had sex with someone other than their spouse while married.
"In general, men are more likely than women to cheat," explained Wendy Wang, the director of research at the Institute for Family Studies (IFS) and a former senior researcher at the Pew Research Center, in a January 2018 article for IFS.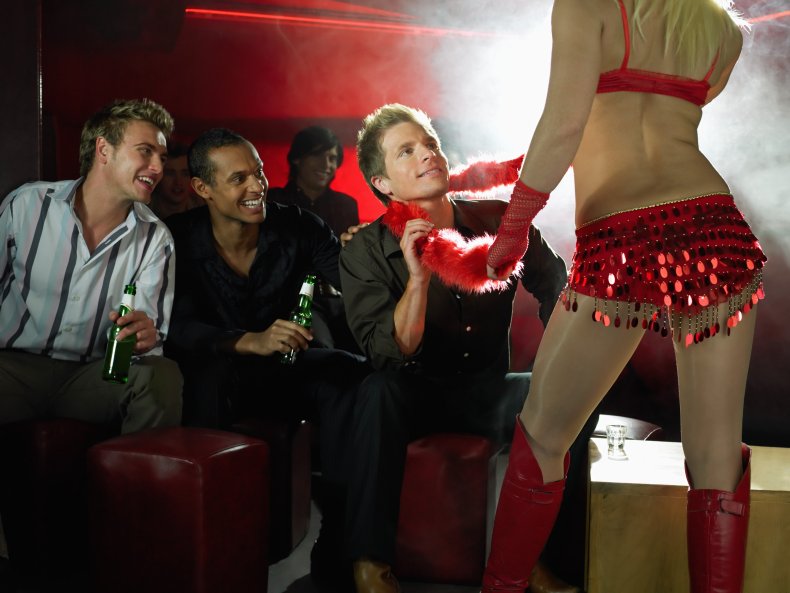 "Men, adults who didn't grow up in intact families, and those who rarely or never attend religious services are more likely than others to have cheated on their spouse," the IFS article said.
According to a December 2020 study in the peer-reviewed Journal of Sex and Marital Therapy, among the key motivations for relationship infidelity are anger, esteem, lack of love, low commitment, need for variety, neglect, desire and situation, explained Gary W. Lewandowski Jr., a professor of psychology at New Jersey's Monmouth University, in a March 2021 article for Psychology Today.
The user in the latest Mumsnet post said her husband "apologized" and claimed "he regretted it the minute he got out," adding it "will never happen again."
His wife said she's "not sure" how she feels about the incident and asked her husband to give her some space.
The user said: "I do feel hurt just now, it's the lack of respect for me, our marriage and the idea of him and another woman (topless/naked) alone in a room makes me shudder."
Several users on Mumsnet showed support for the original poster, with several saying the husband's "demeaning" behavior "steps over a line" and is "unforgivable."
User Broadswordcalling said: "Nope you are NBU [not being unreasonable]. I would be furious and [be] reconsidering my future. For me personally it steps over a line. I'm sure he wouldn't be happy if you had a d*** swinging away in front of you would he."
Fairislefandango noted the incident is "unforgivable," explaining: "How would you feel if he'd done exactly the same thing with a woman he'd met at work or down the pub? How is this different?"
StoneofDestiny said the husband displayed: "Really low class behavior, demeaning. It would certainly affect how I felt about my [husband's] character."
Notimeforaname noted: "They all say they [don't] remember it/were too drunk/meant nothing. It's a line they use. He chose to pay for a lap dance from a particular woman. Would make my skin crawl touching him again…he simply could have said no, he didn't."
Some users were more understanding of the husband.
User winterlilies said: "I couldn't get upset about this. It's a tradition for stag dos and it would've been his friends who arranged it anyway. Definitely not a LTB [leave the bas**rd] situation as a lot of posters like to claim on here."
Discovereads agreed, noting: "Personally, I couldn't get upset about a lap dance at a stag do. It's what happens at many stag dos and hen dos…"
Staceygrapes added: "I would be unimpressed but nothing more. I wouldn't consider it cheating. I would move on the same day."
Thepossibility said: "I'd be slightly annoyed but not angry. Our rule is no money to be spent on strippers. So he can go as a part of a stag night but he's not spending our family money on that muck."
If you have a similar family dilemma, let us know via life@newsweek.com. We can ask experts for advice, and your story could be featured on Newsweek.