Husband Shares Hilariously Simple Instructions His Wife Left to Use the Crockpot
A man has shared the hilariously simple list of instructions his wife left him, explaining exactly how to use the Crockpot.
Robert Acevedo shared a clip to his TikTok account,@robertacevedodrums, seemingly revealing he was in charge of making dinner.
Acevedo, from Florida, shared the clip to the site, captioned: "What it's like being a husband."
His other half, Lindsay Acevedo, who works in insurance and as a Disney vacation planner, left a six-point Post It note, and she covered all bases, hilariously starting off with "plug in crockpot."
Next, it says: "2. Pour in oil & vinegar. 3. Put chicken in Crockpot (all 3 breasts.) 4. Top with spices (pour all.) 5. Set on high—3 hours."
And she even pre-portioned out the seasoning and marinades, to ensure nothing could go wrong.
The 28-year-old filmed himself diligently following every step, but it seems his wife wanted to make sure the job was done, as the last instruction is simply: "Text me when done."
Speaking to Newsweek, he said: "My wife is very specific and she plans everything out. Now we have pretty busy lives and she works 40 hours in an insurance company and I work 40+ hours as a music teacher and professional musician. So on a weekly basis it depends who cooks the most or not. Sometimes I cook the whole week or just once depending if I have concerts, recordings or conferences that I do.
"So my wife leaves me notes depending on what the recipe is also and what she plans out for the week for food. Now I am also a very forgetful and Add person LOL! I have messed up several times trying to follow a recipe."
He confirmed she leaves notes "all the time" for cooking, adding: "I have forgotten TONS OF STEPS LOL!! She leaves me notes often for everything that I do if it's not something that I am used to doing around the house. So cleaning something that she wants specifically cleaned or some new recipe."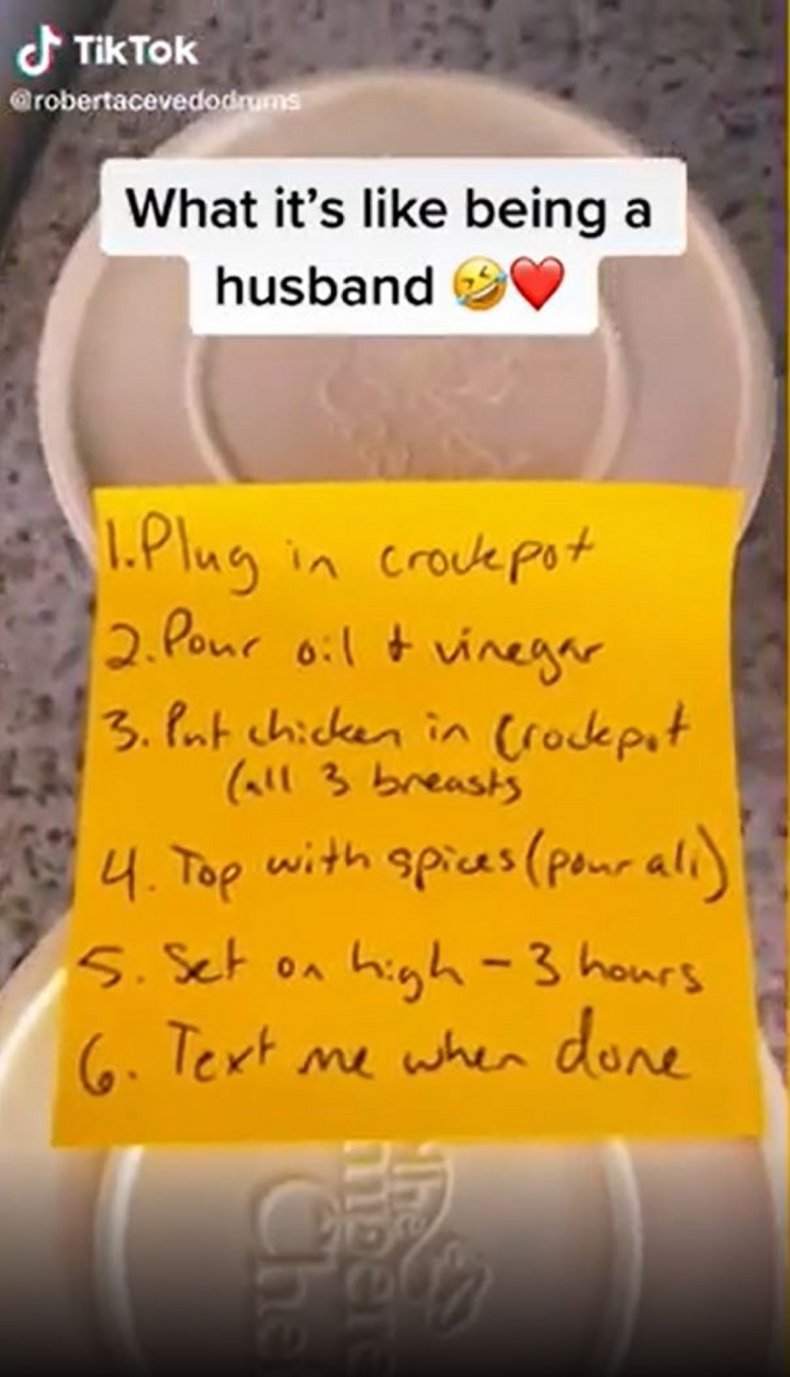 The brilliant clip amassed more than 16 million views since being shared at the end of last month, and can be seen here, and Acevedo followed it up with a part two last week.
He was tasked with making another slow-cooker recipe, and his wife had left out all the ingredients for him again.
The list starts off with the obvious, "plug in crockpot," again, and she also signs it off with "text me when done."
The steps Acevedo has to follow this time are: "2. Brown ground turkey (2lbs). 2. Drain & pour in crockpot. 4. Pour in can & seasoning packet in crockpot (on counter.)"
It gets more detailed this time, as it goes on to say: "5. Pour the containers (in fridge) into crockpot. 6. Add 1 ½ cans of water. 7. Mix ingredients. 8. Set crockpot on low—3 hours."
While Melanie Ivey noted: "The fact she didn't have to tell you to put the lid on is a win lol."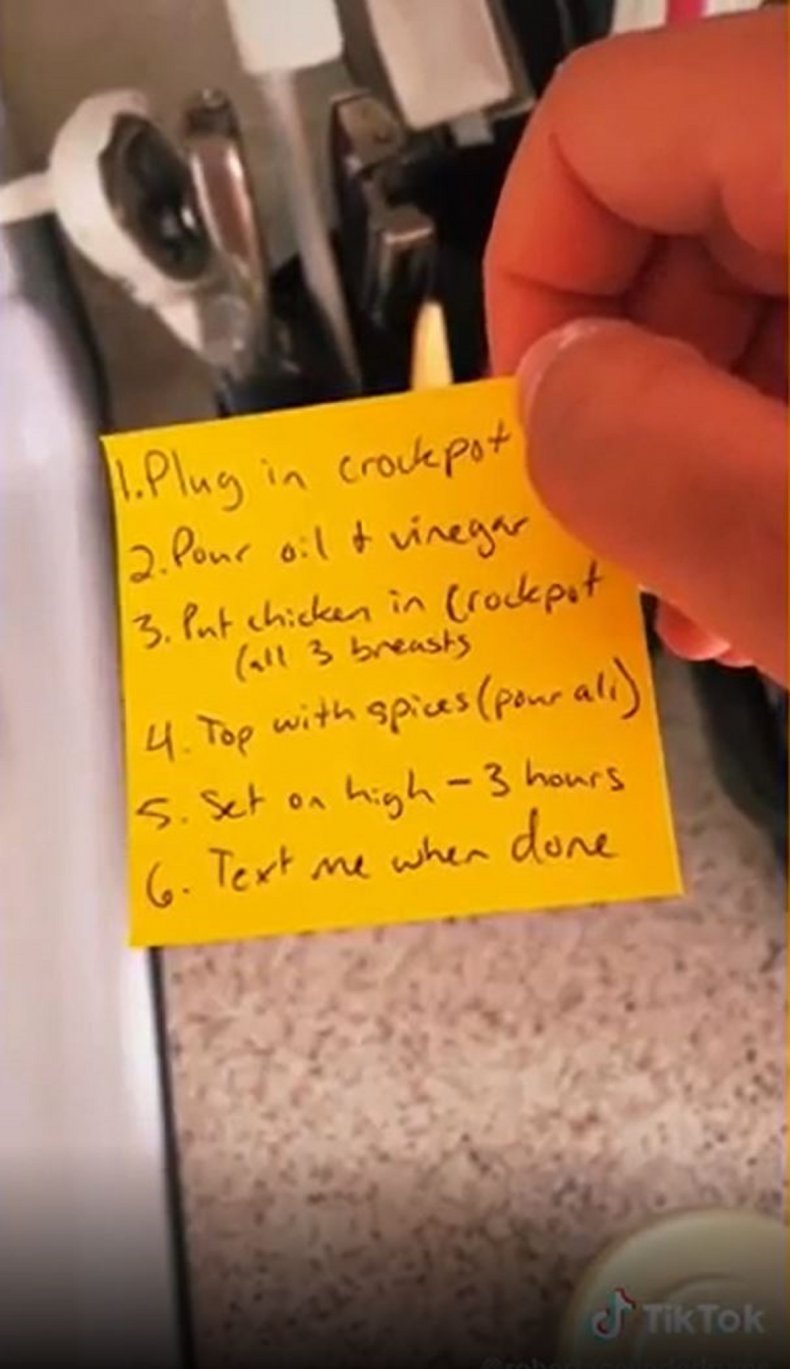 To which Acevedo replied: "I know! I try! I forget sometimes lol."
T Sully also picked up on this, saying: "He knew to put the lid back on and it wasn't on the note! Well done falla."
Emily commented: "Ya'll give this man a break. He's helping his wife. Honestly, I don't trust anyone to do it the way I would want, so I would write out detailed."
"Ya'll calm down. Cleaning the chicken wasn't in the instructions. He did great," Mikayla Hood thought.
Sarah B joked: "You took the 'pour all' very seriously, the grunt of irritation was hilarious."
A comment on the original video from his wife, posting under @disneycorner, said: "Robert's wife here! I'm thankful he's willing to help. He can cook on his own but I wanted this recipe, and he gets confused measuring sometimes."
Update 10/12/21, 4:30 a.m. ET: This article was updated with comment, video and photos from Acevedo.