Husky Poses for Heartwarming Picture With Dog Sibling: 'Inseparable'
A husky's beautiful friendship with his best friend and dog sibling has been perfectly captured in a video shared to social media.
Emma Klapper and her fiance, Corey Moriarty, bought their first husky, Blue, four years ago when they were living in Vermont.
Blue came to them from a breeder in Ohio. Once the COVID-19 pandemic hit, he would be on the move again, with the couple moving over to Florida to stay with Moriarty's parents.
It was around this time that they started to notice something was off with their happy-go-lucky dog.
"Blue seemed a bit sad whenever he was home," Klapper told Newsweek. "So we thought since we were home all the time, it would be the perfect opportunity to get another puppy."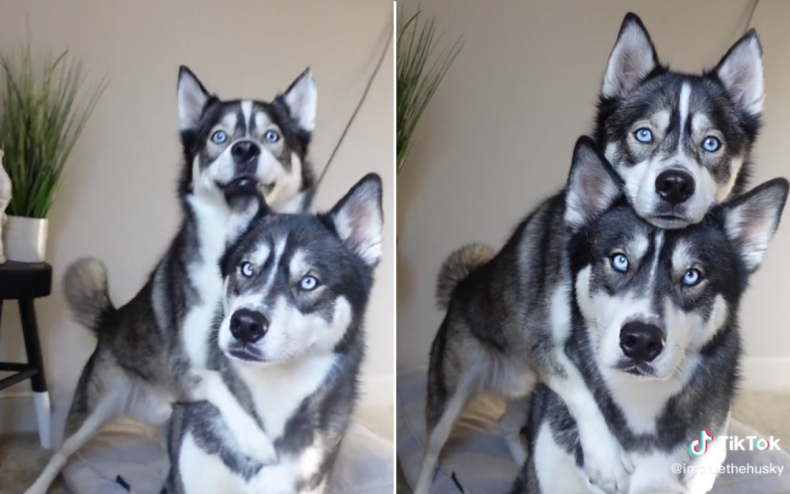 That's when Blue's sibling, Titan, entered the picture. Klapper said it was love at first sight.
"They have been inseparable ever since their first day together," she said. "They love taking naps next to each other and truly have the best bond."
Dogs may have earned the moniker of "man's best friend," but some research suggests that some would find a canine companion a more appealing option for them.
A 2020 study published in the Journal of Neuroscience saw dog behaviorists from Eötvös Loránd University in Hungary conclude that dogs care more about seeing other dogs than they do humans.
Using a functional magnetic resonance imaging technology to scan the brains of 20 dogs and 30 humans, the scientists were able to get an accurate picture of how active different parts of the brain were based on how much blood flowed to them.
The test subjects were shown a series of four two-second videos, showing a human face, the back of a human head, a dog's face and the back of a dog's head.
The data showed that both humans and dogs preferred to look at their own species, with dogs' brains found to be at their most active when looking at another dog.
Blue certainly lit up once Titan arrived and has continued ever since. While Moriarty is busy with his job at an accounting firm, the two huskies keep them on their toes, with the quartet enjoying many adventures together.
"Having huskies is really a full-time job in itself because of how much activity they need on a regular basis," Klapper said.
Blue and Titan split their time between heading off on long walks, hikes and other adventures and enjoying naps and lounging around together.
"They love to just play together and they will always find time to cause chaos," Klapper said.
As well as playing with and exercising the two huskies, Klapper and Moriarty have been able to teach Blue a few handy tricks.
"Blue is incredibly smart," Klapper said.
The couple recently taught him how to jump on a human's shoulders with the simple command "selfie."
"After that, we thought to ourselves, 'What if we're not the ones doing it with him?' So we placed him next to Titan and said the same command."
The result was captured on camera with Blue jumping onto Titan's shoulders to pose for a picture together. Captured in a video shared to TikTok under the handle imbluethehusky, the standout "awww" moment came when Blue rested his head on top of Titan's.
The resulting video has been watched 7.9 million times on social media, with fans taking to the clip's comments section to show their appreciation.
"That is awesome he loves his brother," one viewer wrote, with another commenting, "that was just the most perfect pic I have ever seen." A third confessed: "Your dogs are my lock screen now."
Reflecting on the video's viral success, Klapper said: "I think it's been so popular because of how unique the trick is. We had a lot of people saying they wished their dog could do it and other comments of that nature.
"There's always a demand on the internet for cute pet content and I think our dogs are really photogenic which definitely helped."
Do you have funny and adorable videos or pictures of your pet you want to share? Send them to life@newsweek.com with some details about your best friend and they could appear in our Pet of the Week lineup.