Kansas Doctor and Senate Candidate 'Relieved' Trump Is Taking Hydroxychloroquine, Says His Family Are Doing the Same
A Kansas Republican congressman who is also a medical professional has backed President Donald Trump's championing of the drug hydroxychloroquine to mitigate the risk of the coronavirus, and has recommended that anyone over the age of 65 should ask their doctor about it.
The comments by Rep. Roger Marshall, an obstetrician who serves in Kansas' 1st congressional district, follow Trump's revelation he is taking the antimalarial drug which he has cited as a defense against the coronavirus.
Marshall said that he, his siblings, his parents and his wife are taking the drug "prophylactically."
"I would encourage any person over the age of 65 or with an underlying medical condition to talk to their own physician about taking hydroxychloroquine and I'm relieved President Trump is taking it," he said, according to The Wall Street Journal.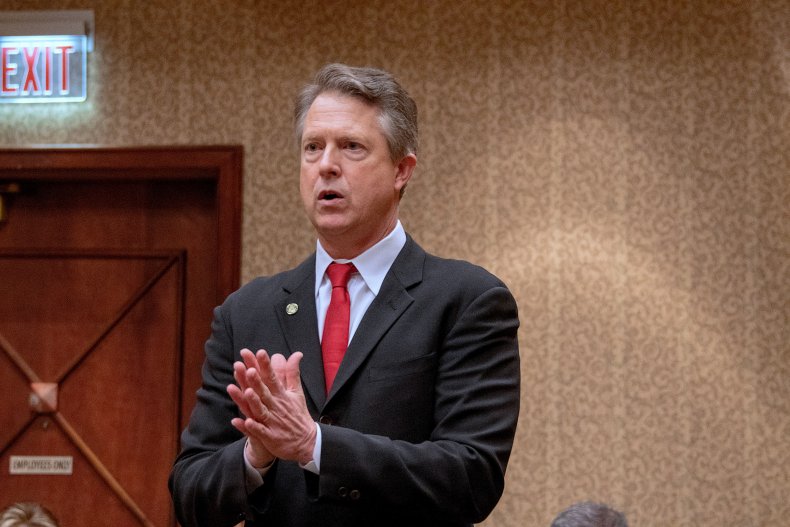 Marshall is fighting for a Senate seat being vacated by Pat Roberts. His election chances were boosted when Trump called him "a great friend," the Associated Press reported.
Last month, he missed the House vote on the stimulus bill because he had volunteered to treat coronavirus patients at the Swope Health Clinic. He has said his experience as a physician and a member of Congress has given him a different perspective on the political response to the coronavirus, he told CBS affiliate, WIBW.
The White House released a letter on Monday in which the president's physician Sean Conley outlined that he discussed the pros and cons of taking the drug after one of Trump's valets tested positive for the coronavirus. The letter did not state when the president had started using the drug or what the dosage was, The Hill reported.
The Food and Drug Administration (FDA) has warned that the drug can cause heart problems and its use should be restricted to clinical trials or hospitalized patients. Meanwhile, Senate Minority Leader Chuck Schumer told MSNBC the decision to take the drug was "reckless" because "it gives people false hope."
The reaction by House Speaker Nancy Pelosi was trending on Monday night and Tuesday morning in voicing her concerns about the president's admission.
"I would rather he not be taking something that has not been approved by the scientists, especially in his age group and in his, shall we say, weight group, morbidly obese, they say," Pelosi told CNN's Anderson Cooper 360. "So, I think that it's not a good idea."
Newsweek has contacted the White House for comment.
The infographic below, provided by Statista, shows the states with the most confirmed COVID-19 cases across the U.S. as of May 18.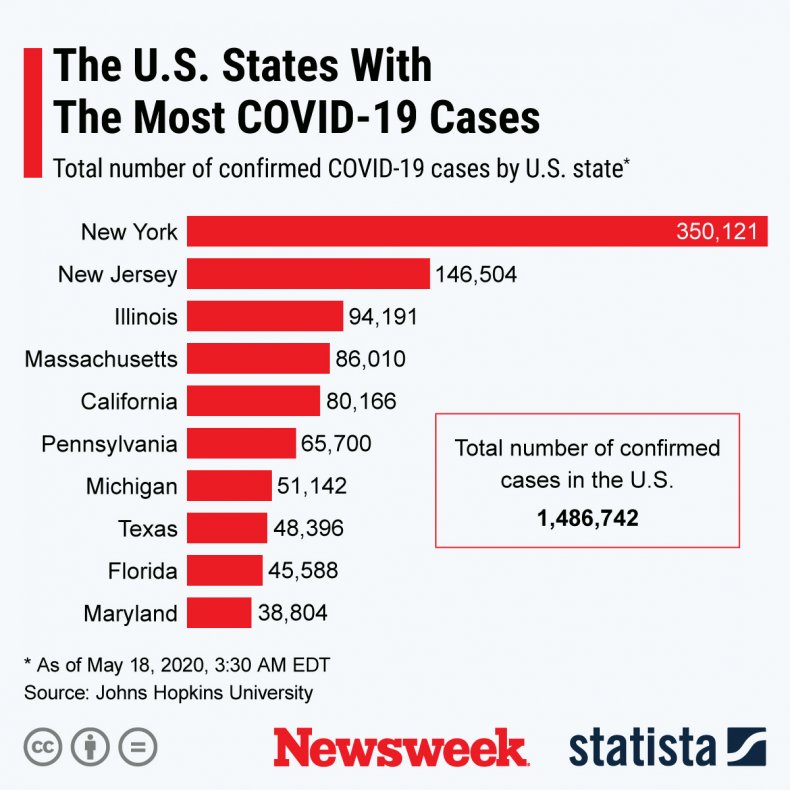 Correction 5/24/20, 4:13 a.m. ET: A previous version of this story misrepresented Trump's description of Marshall as a "great friend," inferring it was an electoral endorsement. We regret the error.