Hysterical Moment 19-Year-Old Cat Checks if Owner Is 'Alive' at 3 A.M.
A cat called willow has melted hearts all over the internet after a pet cam video of her making sure her owner was "still alive" at night went viral on social media.
In the video, shared on TikTok on Monday by the cat's owner, under the username Byakkobayliss, Willow can be seen petting her owner's face at 3:23 a.m., trying to catch her attention to get some "scritches."
The viral clip comes with a caption that says: "19-year-old cat checking I'm still alive."
This is followed by: "Sometimes she's too cute. but sometimes it's 3 a.m. and I am too asleep to notice."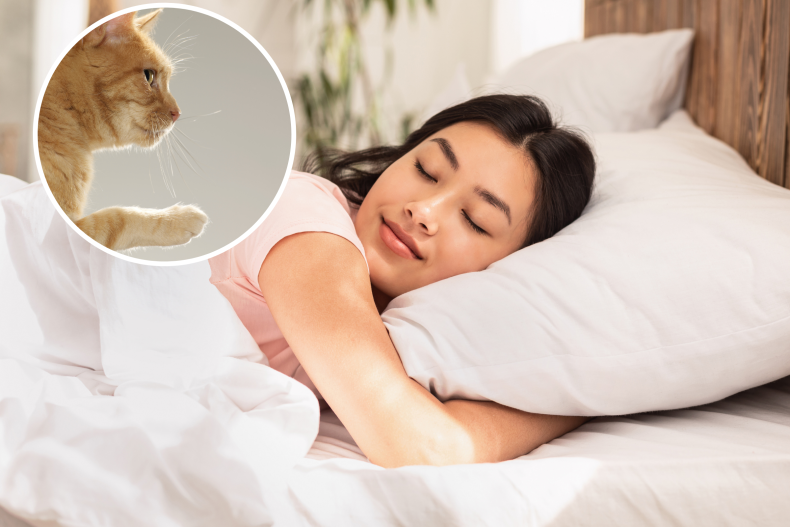 According AZPetVet cats actually do love their owners, even though they have "funny ways" of showing it. In fact, they form a strong attachment to their owners, and can even detect when you're sad and try to purr away all the negativity.
A study published in the journal Current Biology shows that 64 percent of the cats involved were secure in their attachment with their owners, trusting that they would look after their needs.
Some affectionate cat behaviors include headbutting and rubbing the sides of their face on you; rubbing up against your ankles; jumping up on counters/furniture to get closer to you; kneading; purring; meowing; curling up in your lap, licking you and just being happy to see you.
The video of Willow quickly attracted animal lovers from across the platform, receiving over 1.1 million views and 91,100 likes.
One user, Ōkamii, commented: "Mum. mum. mum mommy. mum. mum.' 'WHAT?' 'Are you awake?"
John Wilkes Booth said, "how to tables have turned" with Thomas_Footejr adding: "She was very polite about it."
Doofenschmurtz wrote: "Cats are light sleepers so when we have our deep sleep for long periods of time, they get nervous for us."
Another user, archibaldsharper, commented: "Kitty: seriously we have been doing this for 19 years, you should know the drill by now."
And Anonanonanon695 said: "Mine does this or yells very loudly in my face while I'm [asleep] lmao."
Astridziemann added: "Mine does it all the time. Haven't had a full night's sleep in 6 years."
Newsweek reached out to Byakkobayliss for comment. We could not verify the details of the case.
Do you have funny and adorable videos or pictures of your pet you want to share? Send them to life@newsweek.com with some details about your best friend and they could appear in our Pet of the Week lineup.