'I Can't Breathe:' NYPD Officers Arrest Protester at Erica Garner Rally Immediately After Her Funeral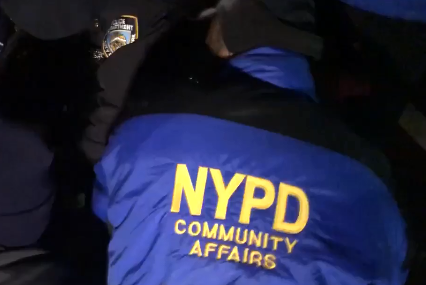 Just hours after hundreds of mourners gathered in Harlem to pay their final respects to activist Erica Garner on Monday, NYPD officers were accused of violently arresting a protester at a rally held in her honor.
Garner had become a leading advocate against police brutality in the Black Lives Matter movement after her father, Eric Garner, died from being put in a chokehold by an officer. Now, a video shared on Twitter, shows a protester being held on the ground by officers and echoing Eric Garner's final words: "I can't breathe."
As fellow protesters at the Shut It Down rally call for police to let him go, one asks: "You're all really going to do this today?"
Eric Garner was heard saying "I can't breathe" 11 times as NYPD officer Daniel Pantaleo held him in a chokehold—a technique that had been banned by the NYPD—in July 2014 over suspicion he was selling loose cigarettes.
Camera footage of the deadly arrest showed the officer wrapping his arm around the 43-year-old father of four's throat until Eric's body went limp.
His death spurred his daughter—and countless others—into action, contributing to growing national outrage over police brutality and helping to inspire the Black Lives Matter movement.
An NYPD spokesperson confirmed that officers had arrested a 34-year-old man identified as Woody Jason at the protest held Monday night outside the First Corinthian Baptist Church, where Erica's funeral had been held earlier in the day.
The spokesperson told Newsweek Jason was charged with disorderly conduct, resisting arrest, obstructing government administration and unlawful possession of marijuana.
They said he was not listed as being released as of 2:30am Tuesday, and was likely still being processed to see a judge.
Hawk Newsome, president at Black Lives Matter of Greater New York and a friend of Jason's, told Newsweek that while he wasn't at the rally, he was disturbed by the video footage of the arrest shared on social media, calling it "an abuse of power."
"It was scary," Newsome said. "It was like a flashback of Eric Garner and because of the circumstances, with it being Erica Garner's funeral, it was just horrifying to see someone attending her funeral laying down and screaming out, 'I can't breathe.' It was terrible."
"Unless that arrest was absolutely necessary, it was an abuse of power," he continued. "[The NYPD] should have done everything in their power to defuse the situation. I just couldn't believe that he was on the ground saying 'I can't breathe' and they were still piled on top of him. It's the same optics over and over again and it's scary."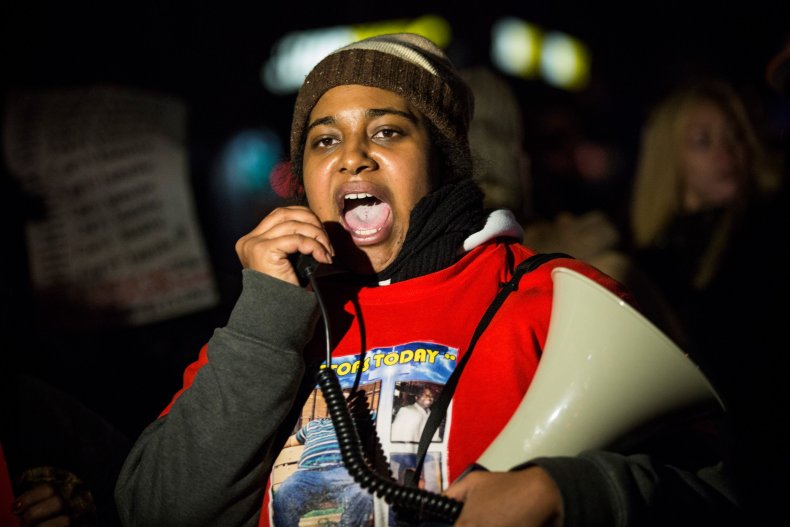 Erica died last month at the age of 27 after slipping into a coma following a heart attack just days before Christmas.
Like her father, Erica had asthma and had only recently learned that she also had an enlarged heart when she suffered a heart attack four months ago after giving birth to her son, who she named Eric after her father.
Relatives told reporters they believed the heart attack that killed her was prompted by an asthma attack.
In a statement released earlier this month, Black Lives Matter said: "Our hearts mourn for and with the Garner/Carr family, and we celebrate Erica's life and work. Her beautiful, powerful, loving, genuine spirit will continue to inspire us."
The member-led organization added: "Erica's death stands as a stark illumination of the ways in which police violence also takes an unimaginable toll on our families: emotionally, spiritually, financially, and physically."
"Erica Garner was a warrior for justice and we need to remain focused on justice," Newsome added. "Too many cases come and go and have been highly publicized but we received no justice."
Shortly after Erica's death, it emerged that the NYPD had yet to fulfil a promise that it would train officers on the force against implicit bias. Three years on since Eric's death, no officer has received such formal training.
New York City Mayor Bill De Blasio had also announced in 2014 that a significant portion of the police department would be retrained after Pantaleo was not indicted over the death of Erica's father.
"When we look at police arresting young, black men and there's a number of them kneeling on their limbs, knees, backs and even their heads, it still seems as though they don't even take you seriously when you say 'I can't breathe'," Newsome said.
"Since Eric Garner died they were supposed to undergo training, but it hasn't happened. They were also supposed to undergo training dealing with mentall ill people and that hasn't happened either."
Newsome said Black Lives Matter is also pushing for legislation that will force police to give people medical assistance "any time they cry out for help."