'iCarly' Reboot Trailer Sparks Childhood Nostalgia Among 'Emotional' Fans
A trailer for the upcoming iCarly reboot has left fans yearning for their childhood.
The Nickelodeon show first aired in 2007 and saw mass success over the course of its five-year run.
iCarly told the story of best friends Carly (Miranda Cosgrove) and Sam (Jennette McCurdy) who accidentally go viral after their friend Freddie (Nathan Kress) shares a clip of them at an audition online. Their new-found internet fame sparks them to create a webcast that ultimately becomes a hit.
The revival is set to welcome original stars Cosgrove, Kress and Jerry Trainor, who played Carly's older brother Spencer on the show.
However, McCurdy is not expected to join the line-up after stepping back from acting. Similarly, Noah Munck, who played fan-favorite Gibby, has not been confirmed to return.
Florida Girls actress Laci Mosley is set to join the show as a new face, playing Carly's friend Harper.
On Tuesday, Cosgrove sent fans into a frenzy when teased a first look at the show in a trailer shared on Instagram.
The trailer, which confirmed iCarly's June 17 release, began by showing a quick flashback of where the show ended in 2012 before fast-forwarding to the present day with an all-grown-up cast taking center stage.
The characters are then seen reviving the show for the first time, bringing it into the modern day by swapping a clunky camera for a smartphone.
Sentimental titles then pop up on screen, reading: "The show you grew up with is all grown up."
iCarly's famous title track, sung by Cosgrove, can be heard blaring in the background as various clips show the characters navigating adult life and love.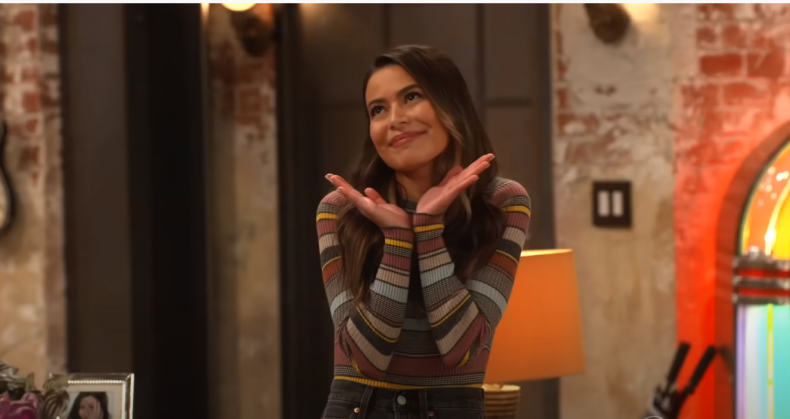 The clip excited fans all over the world who flooded the comments of the post.
Actor Patrick Schwarzenegger counted himself among fans eager to see the show return.
"I AM SO SO EXCITED," he wrote.
Former Nickelodeon actress Lilimar Hernandez appeared to tag friends to watch the video as she commented: "This actually looks so good I'm gonna f****** cry."
After the video dropped, some fans also took to Twitter to share their thoughts.
"The icarly reboot trailer just gave me so much nostalgia! I'm so excited to watch it, I feel like a piece of my childhood is coming back," @greys_swiftie wrote.
@dannyandmagy added: "I was worried this would be cringe, but this trailer really gave me the nostalgia vibes I needed! I am super pumped for this!!!!"
"I can't even blame them for taking so long to release the #iCarly trailer because what they released looks really good and made me way too emotional," @sitcomsraisedme gushed.
Meanwhile, other fans couldn't resist commenting on the overall adult feel to the show, including Spencer saying "damn it," a phrase that would not have been allowed on the child-friendly version of the show.
In a comment that was liked over 700 times, Instagram user @ian_from_state_farm96 wrote: "Weird to see them with alcohol."
@impulseimpression added: "I am here for Spencer cussing. Kids, you hear me? This show is not for y'all."
According to Variety, the first three episodes of the new show will land on the streaming platform together. Season one is expected to have a total of 13 episodes.
The iCarly reboot premieres on June 17 on Paramount+.