'iCarly': Why Jennette McCurdy Isn't Taking Part in the Reboot
iCarly's first two seasons have made their way onto Netflix, which is gearing up fans of the Nickelodeon show for an upcoming reboot, set to come to Paramount+ soon. Miranda Cosgrove, Jerry Trainor, and Nathan Cress are all set to return to their roles, but Sam actor Jennette McCurdy has not announced any plans to appear in the show, and did not appear in the on-set photo recently posted from the Paramount+ Twitter page.
Though McCurdy has not spoken publicly about the reboot, she has previously spoken about stepping away from acting after what she has called the "psychological trauma" of being a child star.
This was from a since-deleted bio on her own website, where she wrote: "I started out as a child actor...that certainly lent some psychological trauma (sound guys can be especially creepy!)"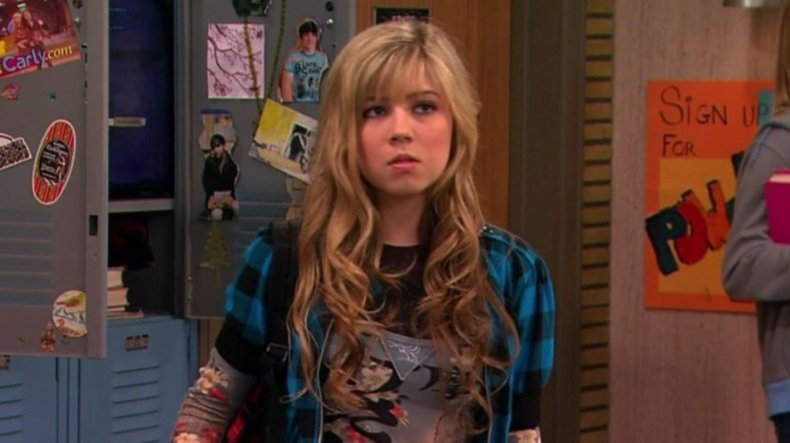 That bio has since been updated, but is still hardly positive about her time as a teen actor. It now reads: "Jennette McCurdy got her start in child acting, which by her late teen years had brought her success (she starred in Nickelodeon's hit show iCarly and her own spin-off, Sam & Cat)...Despite her outside success, McCurdy felt ashamed of 90% of her resume and ultimately unfulfilled, so she turned to alcohol, but since that didn't work, she quit acting and began pursuing writing/directing in 2017."
In a HuffPost op-ed, she went into more detail about feeling unfulfilled in her work on the set of Sam & Cat, which she starred in alongside Ariana Grande. Particularly, she spoke about how it retriggered her eating disorder. McCurdy wrote: "I had also become acutely aware that I was a role model for kids, which I felt like I was supposed to find cool but actually found upsetting.
"My great 'contribution' to society was walking onto an overlit Nickelodeon set shouting lines about fried chicken (my character liked fried chicken) and that's what kids were looking up to? Granted, we can't all be [American Buddhist nun] Pema Chodron, but there was something about the shallowness of my success that made me resent it. That resentment festered, providing even more fuel for my disordered eating. I actively began to engage in anorexic behavior again."
In a Vulture interview, meanwhile, she noted that she had not left Nickelodeon on good terms. In 2014, Sam & Cat was canceled despite strong ratings amid rumors of McCurdy and Grande feuding and the controversy about some leaked pictures of McCurdy in lingerie. In this profile, she said she felt that Nick had put her in "an uncomfortable, compromising, unfair situation," so it is no surprise that she did not want to return for more, especially as she has quit acting.
iCarly Seasons 1 and 2 are streaming now on Netflix; Seasons 1 to 5 are on CBS All Access and Seasons 1 to 6 are on the Nick Hits Amazon Prime Video add-on channel. The iCarly reboot is coming soon to Paramount+, set to launch in March.