ICE Sees 650 Percent Surge In Workplace Arrests Under Trump Administration's Immigration Crackdown
The U.S. Immigration and Customs Enforcement agency appears to have lived up to its threat to crack down on undocumented immigrants in 2018, with the agency overseeing a nearly 650 percent surge in workplace arrests, as well as a 300 percent increase in the number of workplace investigations launched.
In fiscal year 2018, which began in October 2017, ICE's Homeland Security Investigations team opened 6,848 worksite investigations, roughly four times as many as the 1,691 probes launched in FY 2017, according to newly released ICE data.
Read more: U.S. historians fight to stop ICE from erasing records of agency's treatment of immigrants
The agency also initiated 5,981 I-9 audits, compared with 1,360 in FY 2017, with the audits being used to verify the indentities and employment authorizations of people hired to work in the U.S.
According to ICE, the crackdown led to 779 criminal and 1,525 administrative worksite-related arrests in FY 2018, compared with 139 criminal and 172 administrative workplace-related arrests in FY 2017—a 640 percent surge.
The clampdown falls short of living up to a pledge made by former ICE Acting Director Thomas Homan at a news conference in Washington, D.C., last December, with the immigration hardliner vowing to lead a 400 percent increase in "worksite operations."
At the time, Homan said he wasn't "just talking about arresting the aliens at these worksites," but "also talking about employers who knowingly hire people who are unauthorized to work."
Indeed, ICE has made numerous headlines this year over its workplace raids, seeing hundreds arrested in their workplaces, including a meatpacking plant in Salem, Ohio, a trailer manufacturing family business in Sumner, Texas and dozens of 7-Eleven stores nationwide.
"Reducing illegal employment helps build another layer of border security, and reduces the continuum of crime that illegal labor facilitates, from the human smuggling networks that facilitate illegal border crossings to the associated collateral crimes, such as identity theft, document and benefit fraud, and worker exploitation," Homeland Security Investigations Executive Associate Director Derek Benner said in a statement released by ICE.
"Employers who use an illegal work force as part of their business model put businesses that do follow the law at a competitive disadvantage."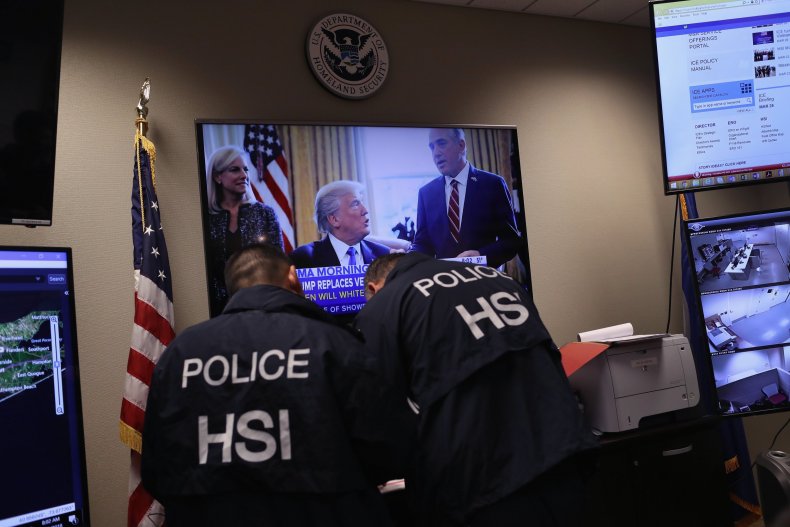 Benner said that Homeland Security Investigations was committed to upholding laws that "help protect jobs for U.S. citizens and others who are lawfully employed, reduce the incentive of illegal migration, eliminate unfair competitive advantages for companies that hire an illegal workforce, and ultimately help strengthen public safety and national security."
As a result of the raids and investigations, ICE said businesses had been ordered to pay more than $10.2 million in judicial fines, forfeitures and restitution in FY 2018. This included a Houston-based waste management company that was forced to forfeit more than $5.5 million for hiring undocumented immigrants. ICE said Homeland Security Investigations also levied another $10.2 million on businesses in civil penalties in FY 2018.
Those numbers pale in comparison to the $97.6 million that businesses were ordered to pay in FY 2017, largely because of one company. Asplundh Tree Experts Co. was forced to pay the largest civil settlement ever levied by ICE, to the tune of $80 million.
In the past year, ICE has faced widespread blowback over its role in enforcing the Trump administration's immigration policies, including its "zero tolerance" policy that resulted in family separations.
The agency's crackdown on communities and workplaces across the country has also led to calls for ICE to be abolished, with immigration advocates and Democratic politicians calling for its dismantling.