Pumpkin spice is getting a makeover, thanks to a collaboration between Dunkin' Donuts, rapper Ice Spice and actor Ben Affleck.
The Ice Spice Munchkins Drink was announced at the MTV Video Music Awards (VMAs) at the Peacock Theater, Los Angeles, on Tuesday, and the internet has thoughts on the recipe.
Containing three swirls of whipped cream, three spins of caramel drizzle, donut hole treats—dubbed Pumpkin Munchkins—and liquid cane sugar, the treat is horrifying people on social media. "I'm sorry there's a line of munchkins in my drink?" asked Megs on X, the social network formerly known as Twitter.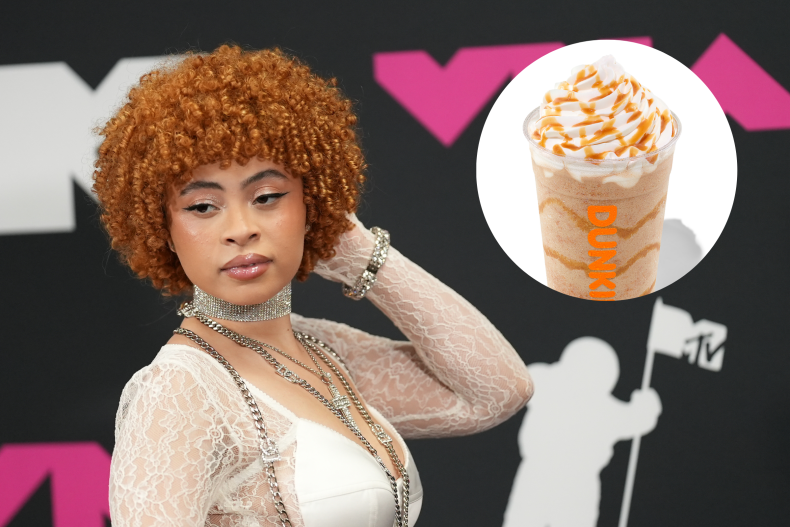 A commercial for the limited-edition drink was aired for the first time at the VMAs, where Ice Spice—real name Isis Naija Gaston—won the award for Best New Artist. The 30-second ad shows Affleck, 51, enjoying the beverage while badly spitting bars at the 23-year-old music star.
However, social-media users were unconvinced. "Bruh that's has as much cane sugar as 14 glazed donuts... look it up," posted Dre Z West on X.
"I know I'm gonna blow up some toilets after having this," wrote KarAYNA.
"How many calories?" asked Hell1s, while Crypt0Fiend21 dubbed the drink, "Irreversible diabetes in a cup."
The core of the beverage is Dunkin' Donuts frozen coffee, blended with pumpkin spice—literally making it iced and spiced. However, the amount of Pumpkin Munchkins used depends on the size of the customer's order, with a small containing two mini donuts; a medium containing three; and a large having four.
The quantity of coffee syrup and liquid cane sugar also varies by portion size, with the largest offering containing 4 pumps of coffee and 8 pumps of cane sugar. The drink is named after Ice Spice's fan base, who call themselves Munchkins in honor of her 2022 track "Munch (Feelin' U)."
Affleck has long been a fan of Dunkin' Donuts. He is often spotted drinking the brand's iced coffees, even inspiring a wave of memes in 2020. Affleck appeared in the restaurant chain's first-ever Superbowl commercial in February with wife Jennifer Lopez. The Oscar-winner created both ads via his production company Artists Equity.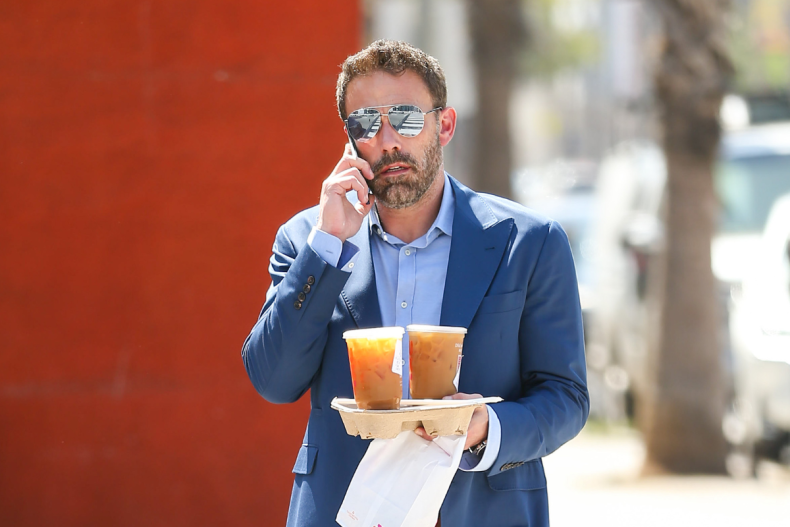 In a press release, Jill McVicar Nelson, Dunkin' Donuts chief marketing officer, described the drink as "the collaboration you never knew you needed."
"Pumpkin spice season has gotten a bit predictable lately, so we sought help from our friends Ben Affleck and Ice Spice to create a new pumpkin obsession that only Dunkin' can offer," she said. "It's fun, it's delicious, and it's not your ordinary pumpkin drink!"
Newsweek has reached out to Ben Affleck, Ice Spice and Dunkin' Donuts for comment.