Identitarian Movement, Linked to Christchurch Mosque Shooter, Classified as Extremist Right-wing Group by German Intelligence Agency
Germany's domestic intelligence service has classified the Identitarian Movement as an extremist right-wing group, putting its members under much closer scrutiny.
The Identitarian Movement, which is pan-European but has 600 members in Germany alone, is a group that defends what it characterizes as Europe's "white identity and culture" from supposed attack by liberalism, immigration, and Islam.
Its supporters subscribe to the "great replacement" conspiracy theory, founded by French philosopher Renaud Camus, that a global elite is attempting to replace the white race with others via mass immigration across the western world.
In a release, the Federal Office for the Protection of the Constitution (BfV) said its observations show the Identitarian Movement has "exceeded the suspicion stage" and is now considered "a verified extreme right movement against the liberal democratic constitution."
That new classification unlocks a suite of surveillance powers over the group for the BfV. The agency said it came to its decision based on the extreme-right backgrounds of some of those involved with the Identitarian Movement and its anti-asylum agitation.
The BfV said the Identitarian Movement's positions were not compatible with the law and that it ultimately aims to push people of non-European origin out of democratic participation in a way that violates their human dignity.
BfV President Thomas Haldenwang said in a statement that his agency will not "stand idly" amid the threat of what he described as a "xenophobic ideology [that is] hostile to democracy."
Haldenwang also said that the BfV is an "early warning system" that must not only focus on violent extremists, but also the "verbal fire-raisers" who "question human equality and dignity, talk about alienation by foreign infiltration, boost their own identity to devalue others, and stoke hostility towards perceived enemies."
Simon Murdoch, a researcher at the anti-extremism group HOPE not Hate, told Newsweek it welcomed the BfV's decision, which he called a "vital step" in preventing violence.
"This is a movement which—across Europe and increasingly elsewhere—propagates an ideology which is inherently dangerous and, properly understood, is extremist in its intolerance," Murdoch said.
"Its followers espouse the view that non-white, and especially Muslim, immigrants pose an intrinsic threat to white, non-Muslim Europeans. They preach racial separatism, repatriation, and the lowering of living standards for these peoples across Europe."
The Identitarian Movement is perhaps best-known for its youth wing, Generation Identity, which in one notorious incident chartered its own vessel in the Mediterranean Sea to disrupt NGO boats attempting to rescue migrants and refugees from the water. Its efforts failed.
Generation Identity also ran its own military-style training camps in France hosted by racist anti-Islam and anti-immigrant groups.
In the aftermath of the Christchurch mosque shootings in New Zealand, it emerged that suspect Brenton Tarrant had communicated with Martin Sellner, leader of the Identitarian Movement in Austria, and donated money to his group.
There was talk between the two men of meeting in Austria, though it is not clear if they ever did, and Sellner denies a meeting took place. France24 reported that Sellner, who also denied knowledge of Tarrant's plans, deleted his emails to Tarrant shortly before Vienna police raided his home.
Tarrant, who live-streamed his massacre, which left 50 people dead and dozens more injured, on Facebook, is currently on trial in New Zealand. He wrote a manifesto, released amid the shooting, which referred to the great replacement theory.
"Generation Identity (GI) is the most active identitarian group in Europe calling for supposedly non-violent means of achieving these ends. Yet they also tell their supporters that time is running out and that they are being 'replaced,'" HOPE not Hate's Murdoch told Newsweek.
"Whilst the likes of GI can't control how others will respond to this alarmist rhetoric, if some supporters choose violence—as we have seen with the massacre in Christchurch—the non-violence of identitarian ideologues is beside the point: We must stop them spreading their propaganda to prevent similar responses.
"For this reason, classifying GI and other identitarian groups, such as the American Identity Movement and ID Canada, as extreme right-wing groups is a vital step to countering their hatred and in preventing further violence inspired by their ideology."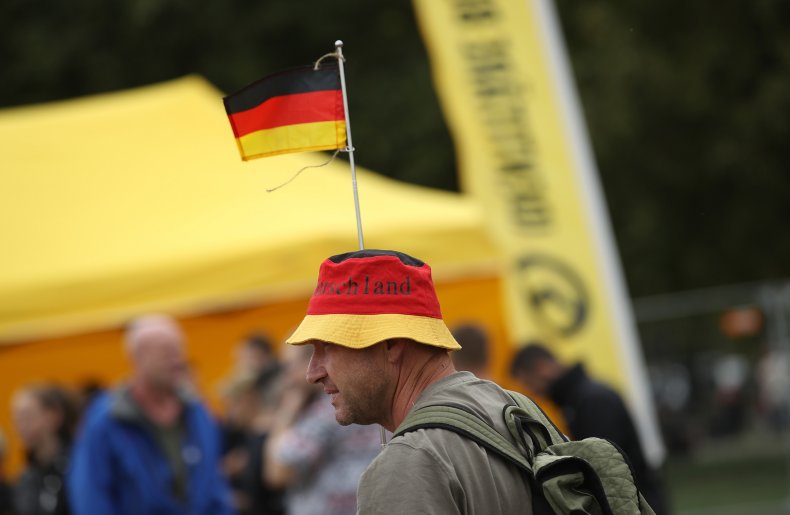 This article was updated with comments by Simon Murdoch.