'Idiots': Kim Jong Un's Sister Slams Seoul Counterparts Over Sanctions Row
North Korean dictator Kim Jong Un's sister, Kim Yo-jong, has slammed the government of South Korea amid a row about potential sanctions against the Kim regime.
Kim Yo-jong is a senior official who serves as vice director of the Propaganda and Agitation Department of the the Central Committee of the Workers' Party of Korea (WPK), the country's ruling party.
She accused South Korean officials of being "stooges" of the U.S. after the country's foreign ministry said it was considering independent sanctions against North Korea following a series of recent ballistic missile tests.
"As soon as the U.S. talked about its 'independent sanctions' against the DPRK, south Korea parroted what the former said," Kim's statement said. "This disgusting act shows more clearly that the south Korean group is a 'faithful dog' and stooge of the U.S."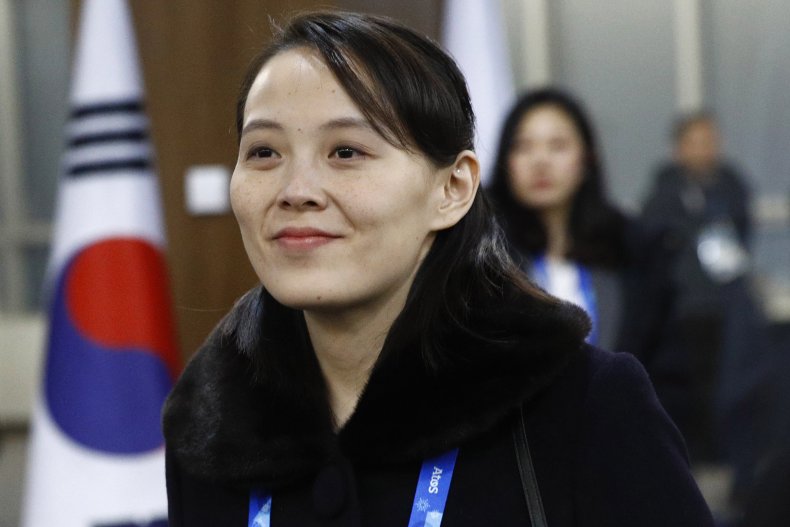 "Such frequent acts of the south Korean stooges dumbfound me," she said. "I wonder what 'sanctions' the south Korean group, no more than a running wild dog on a bone given by the U.S., impudently impose on the DPRK."
The official name of North Korea is the Democratic People's Republic of Korea (DPRK).
Kim Yo-jong also described South Korean President Yoon Suk-yeol and his government as "idiots."
"If they think that they can escape from the present dangerous situation through 'sanctions,' they must be really idiots as they do not know how to live in peace and comfort," Kim's statement said.
"I wonder why the south Korean people still remain a passive onlooker to such acts of the 'government' of Yoon Suk-yeol and other idiots who continue creating the dangerous situation," she added.
South Korea's Ministry of Unification, which deals with inter-Korea relations, issued a statement in response to Kim Yo-jong.
"We consider it very deplorable that Vice Director Kim Yo-jong criticized the leader of our country with vulgar language today without showing even the most basic level of courtesy," the ministry said.
Newsweek has asked the Ministry of Unification for further comment.
The U.S. and its allies condemned North Korea's latest intercontinental ballistic missile test earlier this week and the U.S. has urged the U.N. Security Council to issue a presidential statement that would condemn the country "for all its unlawful ballistic missile launches and other dangerous and destabilizing activity."
A presidential statement is one step below a legally binding resolution, and permanent Security Council members Russia and China may oppose the move.
Russia's Deputy U.N. Ambassador Anna Evstigneeva told the Security Council on Monday that it was Washington's "desire to force Pyongyang into unilateral disarmament by implementing sanctions and exerting force."
China's U.N. Ambassador Zhang Jun said the council should "should play a constructive role on this issue and should not always condemn or exert pressure" on North Korea.
Kim Yo-jong is considered a potential successor to her brother. She is the youngest child of the late dictator Kim Jong Il.
Do you have a tip on a world news story that Newsweek should be covering? Do you have a question about North Korea? Let us know via worldnews@newsweek.com.