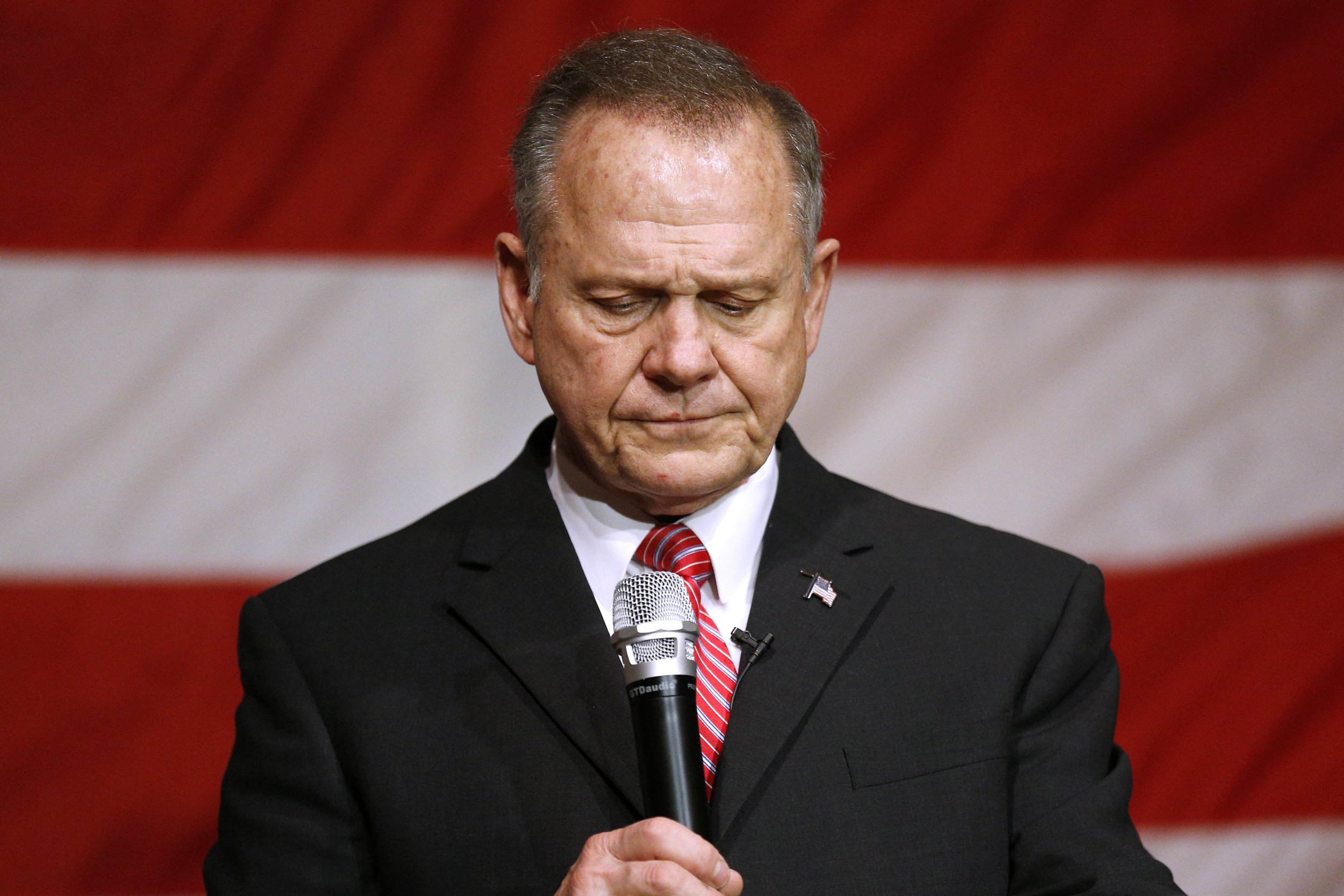 Updated | After Donald Trump won the presidency despite more than a dozen allegations of sexual assault stacked against him, Roy Moore's bid for a U.S. Senate seat in Alabama didn't seem impossible.
Trump's victory provided Moore, who has been accused of having inappropriate relationships with teenage girls while in his 30s, with a fairly straightforward strategy: Deny the allegations, cry "fake news" and blame the media. So far, it's working: Moore remains competitive in the final stretch of the campaign, with the support of the Republican National Committee and the president, who called Moore personally to give the candidate his vote of confidence.
But if the former Alabama Supreme Court judge wins his Senate race Tuesday, prominent Republican strategists say the victory will be fleeting. Moore, they argue, will become an albatross for the party, hurting GOP candidates in more moderate pockets of the country and possibly costing them seats in future races.
"You can't dress this up politically," Michael Steele, a former chairman of the Republican National Committee, told Newsweek. "If they're not willing to confront these allegations directly, they will pay a very dear price at the ballot box next year."
That price will be especially high, Steele said, when it comes to the GOP's ability to attract female voters, recruit female candidates and appoint female leadership—a pesky thorn in the party's side that many refer to as its "woman problem."
Not every woman, however, is bothered by the allegations against Moore. This month, a poll from The Washington Post found that six in 10 white women in Alabama were likely to vote for him, bucking any fantasies about female solidarity. The statistic might not be surprising when viewed through the prism of the 2016 election, when Trump won the support of more than 53 percent of white women voters.
"My mother married at 15 and married a man 14 years older than her," a woman named Kay Day, who appeared at a November press conference for Moore, explained. "In that day, if you married someone that was 15 years older, it was common."
"Even if it were so, that would not make me not vote for Judge Moore," she continued, referring to allegations of sexual misconduct against the candidate. "That is just not something that would make me discredit and ruin a man for the rest of his life."
Still, there are warning signs that women's growing political influence could spell disaster for the GOP in the long run, even if female voters have a hand in pushing Moore across the finish line on Tuesday.
In Virginia last month, Democratic women successfully unseated a total of 11 male Republican incumbents in the House of Delegates. In the state's gubernatorial race, Democrat Ralph Northam had a 22 percentage point margin of victory among female voters, helping him defeat Republican Ed Gillespie. Northam even outperformed Hillary Clinton with female voters, surpassing her 2016 result by 5 percentage points.
Since Trump's election, a record number of women, most of whom would be considered politically progressive, have expressed interest in running for office at every level. A record number of women also plan to run for seats in Congress in 2018, when 33 Senate and all 435 House seats are up for grabs. Democrats still face an uphill battle to win control of Congress—they need to gain three seats in the Senate and 24 in the House—but sexual misconduct allegations could make suburban Republican seats more competitive.
"Republicans have to be on the defensive rather than the offensive," Tara Setmayer, a former GOP communications director, told Newsweek. "They cast aside the indecency of Trump to secure the borders, fix health care, [but] they don't have those accomplishments.… You throw all of that on top of a damaged brand, and it's going to be tough for Republicans."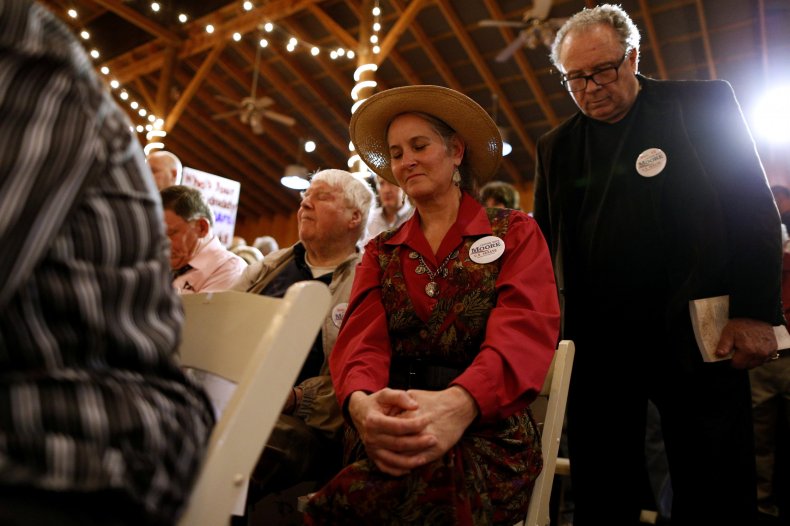 Despite Trump, there is indeed a precedent when it comes to scandals related to sexual misconduct—and the words we use to talk about them—throwing election wins to another party. In 2012, Todd Akin, who was running for the U.S. Senate in Missouri, fell to Democratic incumbent Claire McCaskill—in what was expected to be an easy Republican pickup—after he made his comments about "legitimate rape" during a radio interview.
Similarly, in Alabama, the steady stream of sexual misconduct allegations surrounding Moore have provided an opening for Democrats in a deep-red state that hasn't elected one of their own to the Senate in 25 years.
Steele said that alone should give Republicans pause, even if the alleged child molestation doesn't.
"Women aren't just going to vote Republicans out of office, they're going to take their seats," he warned.
Trump, however, reportedly seeing parallels to his own experiences with sexual misconduct allegations, overlooked these potential consequences and voiced full support for Moore, insisting that electing him was imperative, lest his Democratic opponent, Doug Jones—"a Pelosi/Schumer puppet"—win the seat. The president seemed to take Moore's denials of the accusations at face value. "He says it didn't happen," Trump said earlier this month. "And, you know, you have to listen to him also."
He's given the members of his party little choice but to follow his lead. Three weeks after pulling funds from Moore's campaign, the RNC agreed to reinstate its fundraising agreement with the candidate. Senate Majority Leader Mitch McConnell also reversed his stance on Moore, walking back his statement that the candidate should "step aside" and saying he would "let the people of Alabama make the call." (McConnell and others have said Moore would face an ethics investigation if he's elected.)
Of the five women in the Senate Republican caucus, only Senator Susan Collins (R-Maine) and Senator Deborah Fischer (R-NE) have called for Moore to withdraw from the race in absolute terms.
"Mr. Moore's responses to the allegations are inadequate, and he should step aside," Fischer said in a statement to Newsweek.
Meanwhile, Senators Lisa Murkowski (R-Alaska), Shelley Capito (R-W.Va.) and Joni Ernst (R-Iowa) all provided similar responses to the allegations against Moore, stating that "if" the allegations were true, Moore should step down.
Other Republicans have made similar arguments for Moore, saying that the political stakes are too high for him to concede the race to Jones. A GOP loss would put Democrats just two seats away from control of the Senate, a once far-fetched thought. Focusing on this special election, however, could prove to be a short-sighted move for Republicans, who will have to answer for Moore's alleged misdeeds if he's elected.
"The moment Moore arrives in the Senate, he'll become the face of the Republican party," Steve Schmidt, the senior Republican adviser to Senator John McCain's presidential campaign in 2008, told Newsweek. "Every Republican senator will be asked about the allegations, as they should, every day. This is going to be hung around the necks of every Republican running in a moderate district in 2018."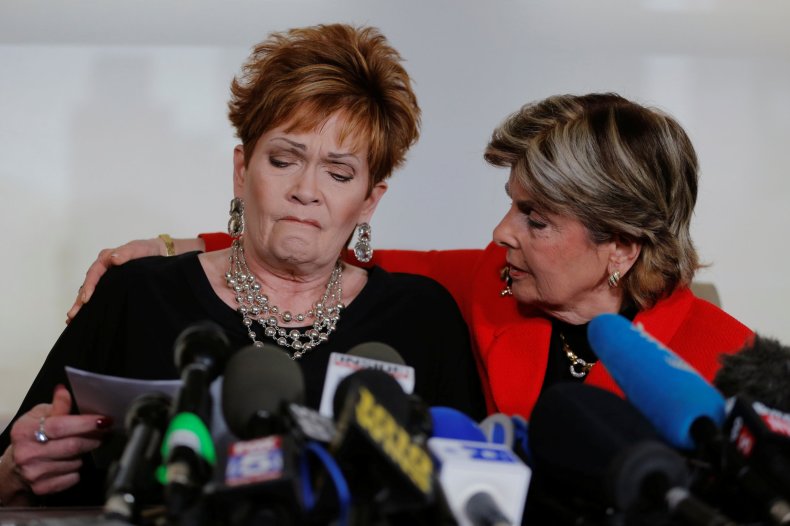 The GOP tried to preempt this kind of scenario in 2012, after Republican nominee Mitt Romney's failed presidential campaign. In the months following the election, the RNC released a postmortem analysis on why Romney lost, and what the Republican Party needed to do moving forward to learn from its own mistakes. The 100-page report included an entire section on women—former President Barack Obama had a double-digit margin of victory among female voters—suggesting Republican leaders develop a "more aggressive response" to Democrats accusing the party of "waging a 'war on women.'" The idea was partly that Republicans shouldn't run candidates who brag about having "binders full of women," as Romney did during his campaign, let alone backing those who had been accused of sexual impropriety.
"Words on paper, that's all it amounted to," Steele said. "All of that was thrown out the window on the first day Trump announced his candidacy and went off on Mexicans and Hispanics. He took that document and tore it up. It has no value. It means nothing."
One of the autopsy report's five authors, Sally Bradshaw, a longtime adviser to former Florida Governor Jeb Bush, was so disenchanted with the GOP after Trump's presidential campaign that she went further than just leaving the party—she left politics altogether.
"I've spoken extensively about the subject and frankly am tired of revisiting it," Bradshaw told Newsweek in an email, referring to the report. "I own and operate a small independent bookstore now in Tallahassee so am done with politics and looking for other ways to make a difference."
But some still believe in the Republican principles Bradshaw and others tried to define in the autopsy report, and think it's especially important now that GOP candidates pay attention to the "women" portion of the document. The #MeToo movement has launched a national conversation about sexual misconduct and the way some men have abused their power. As Democrats begin to address such allegations against members of their own party amid this cultural shift, Republicans' refusal to participate in the reckoning will likely send a clear message about the party's attitudes toward women.
"Republicans have entered a new era of craven politics, focusing on short-term gains and political expediency...and casting aside character and integrity," Setmayer said. "Who would want to join this party? Especially women."
This story has been updated to include a comment from Senator Deborah Fischer's (R-NE) office regarding the allegations against Roy Moore.