Ikea's New Symfonisk Table Lamp Wi-Fi Speaker Is Better Than Ever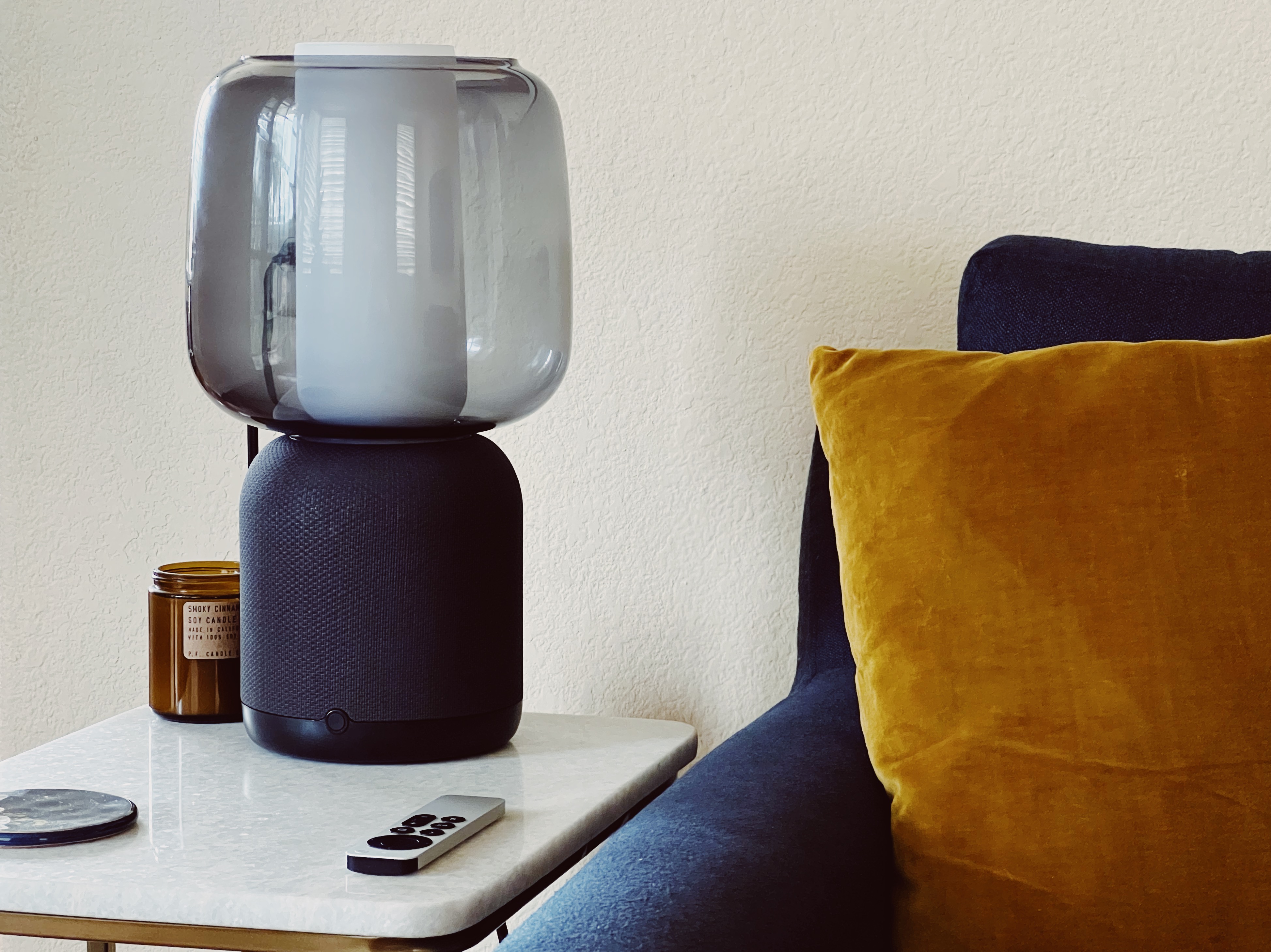 Depending on how you look at it, Ikea and Sonos' first Symfonisk table lamp speaker, in 2019, was either an unattractive lamp or a really ugly speaker. But with a few minor changes in its overall shape and new ability to customize the light shade, the 2021 Symfonisk is in a much better position to convince people they should merge lighting and sound into a single device.
It's not simply its redesigned exterior (and new standard socket, which accommodates E26 and E27 bulbs), but the table lamp has an updated "room-filling" sound, according to Sonos. After listening to the new Symfonisk table lamp in my house, I agree. It does sound better. This 2021 version table lamp with a less contrived look and better sound is overall a winner as long as you personally like its physical design.
TL;DR
Pros:
Base and shades now sold individually
Standard socket to accommodate E26 and E27 bulbs
Cons:
Limited light shade choices available (at launch)
Buy at Ikea.
Symfonisk Table Lamp Design
The convergence of audio and lighting into a single device makes sense as a way to save space. Instead of two things sitting on an end table, now there only needs to be one. That's great for practicality, but lamps are about a room's design and aesthetic as much as they are about functional lighting. In this regard, Ikea was always going to face an uphill battle making a speaker and lamp combo device that people coming for the sound aspect wanted to look at. The bright side is that version two is better than the product it is replacing.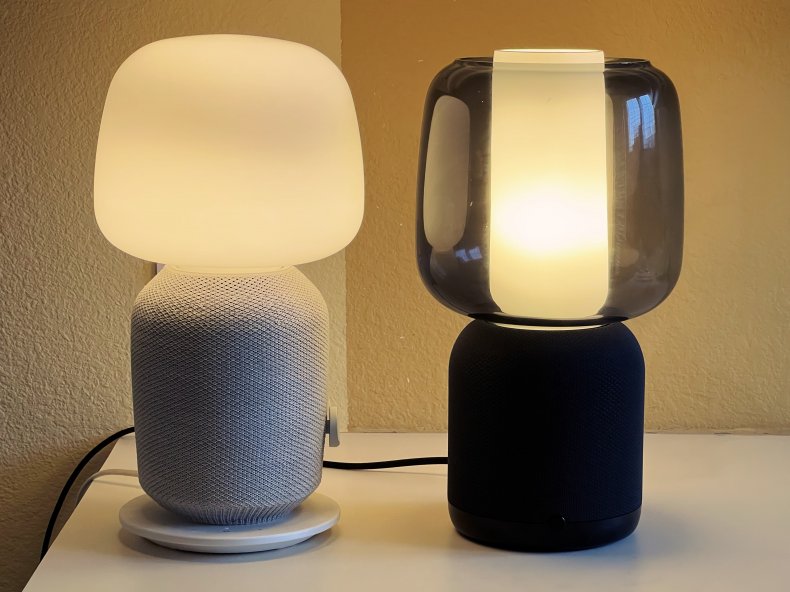 Personally, I really like the new, updated and tweaked design. It refines the first version in a way that is more streamlined. There's no plastic saucer the lamp base sits on. There's also no giant on and off knob on the side of the base. Slimming down the lamp base also helps balance the two parts of the lamp.
The lamp base speaker and shade element are sold separately, instead of as a whole unit, like the first Symfonisk table lamp. The speaker base retails for $140, while the glass shade costs $39 and the textile shade costs $29.
I tried the glass shade with the black speaker base. I'm a fan of the smoky glass shade and the modern look it exudes. My one quibble with this particular design is that the combination of the inner white diffuser and the bubbly outer glass shade has the potential to look slightly askew, like one or the other is not exactly centered. To me, even the promotional photos give off this optical illusion. After a week in my house, it hasn't been an issue, but it was definitely an initial concern.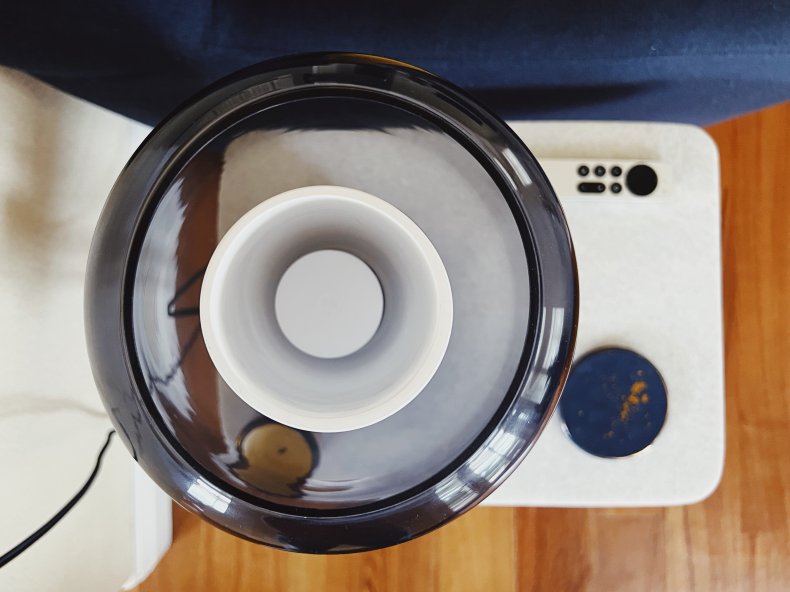 My hope now is that this interchangeable system for the lamp shade provides even more choices in the future. It's a similar situation with the picture frame speaker the company also recently launched. Interoperability is a neat idea, but without plenty of choices to appeal to all kinds of people, then both the frame and this new table lamp could lose some of their appeal.
Oh, and this table lamp as an actual source of light? I found the glass shade with the center diffuser to provide enough light to read next to. It's better than the first Symfonisk table lamp, but it's more of an accent light than a main source. The sound from the lamp travels farther than its lighting.
Symfonisk Table Lamp Sound
With a product that has the potential to be a focal point of whatever room it's in, I think looks are the first most important consideration. Sound is the second, weirdly enough for a speaker.
I've had the original lamp speaker since 2019, and this new one sounds better, without question. It's not a night and day difference, but it is definitely noticeable. The low-end bass has more resonance and reverberates more than the first one did. A great example of this came when listening on the speaker to Wave Racer's song "Auto," from his album To Stop Falling Off the Earth.
This new Symfonisk lamp speaker (and the old one for that matter) get loud enough for most of the contexts that they would be used in, such as a bedroom or a dining room. As a single unit, this isn't a party speaker, but I don't think it's meant to be. It's more for general home use: listening while cooking dinner, playing ambient reading music, late-night jazz or early morning newscasts.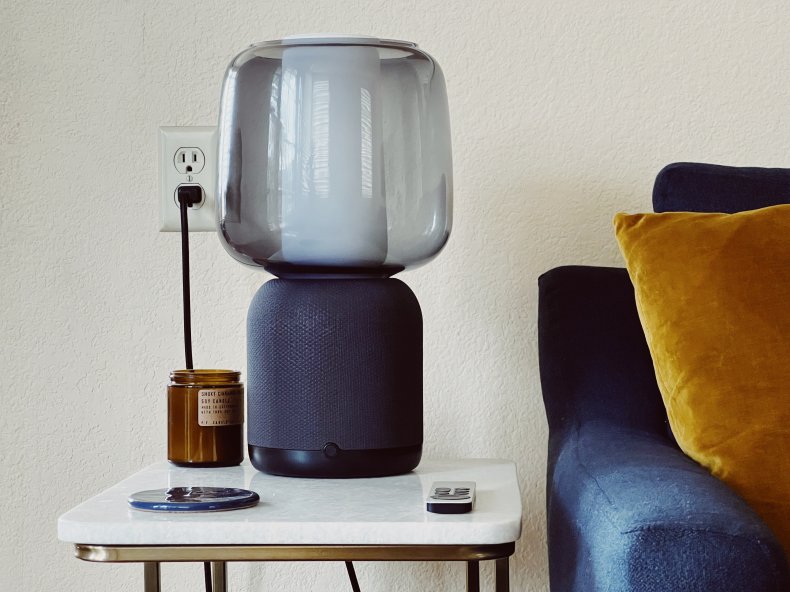 The speaker supports setup and use through Sonos' app; there are over 100 music services available directly. It also supports AirPlay 2 and Spotify Connect for playing music to it through whatever means people are most comfortable with.
Beyond music, though, this speaker lamp will work paired, as a wireless rear speaker in a Sonos home theater setup. You can pair two of them with a new Beam (Gen 2), for example, to create an impressive surround-sound setup without needing to run any speaker wires. With a lamp base and shade together starting at $169, I think two of these could make great rear speaker options within the right room layouts.
Should You Buy the Symfonisk Table Lamp Speaker?
Ikea and Sonos improved the Symfonisk table lamp speaker to the point that there are few compromises with it now. I think it looks good enough to slide into a living room, and it sounds better than a $150 speaker probably should.
Still, this is a product that could be deeply divisive. If a partner doesn't like the look of one of the two shade choices currently available at launch, then it doesn't matter whether it sounds good or if the light bulb socket is now a more standard size. If you do like the look well enough, then this is a fun way to add rear speakers to a home theater setup. It's also a neat bedside speaker and light combo.
Buy at Ikea from $169.
Newsweek may earn a commission from links on this page, but we only recommend products we back. We participate in various affiliate marketing programs, which means we may get paid commissions on editorially chosen products purchased through our links to retailer sites.