Ilhan Omar Defended by Progressive Jewish Groups After Controversial Israel, U.S. Remarks
Progressive Jewish groups have come out in defense of Representative Ilhan Omar after the Minnesota Democrat received backlash for comparing the "atrocities" committed by the militant groups Hamas and the Taliban to those of Israel and the United States.
On Monday, Omar shared a clip of her questioning Secretary of State Antony Blinken on the U.S. government's continued opposition to investigations by the International Criminal Court (ICC) into alleged war crimes. "We must have the same level of accountability and justice for all victims of crimes against humanity," Omar wrote on Twitter with the video.
"We have seen unthinkable atrocities committed by the U.S., Hamas, Israel, Afghanistan, and the Taliban," she added.
A group of Jewish House Democrats on Wednesday released a statement calling on Omar to "clarify" her remarks. "Equating the United States and Israel to Hamas and the Taliban is as offensive as it is misguided," they said. The Democrats suggested that Omar's remarks reflected "deep-seated prejudice."
A number of Republicans took to social media to criticize Omar, with some calling for her removal from the House Foreign Affairs Committee and suggesting she was being antisemitic by criticizing Israel.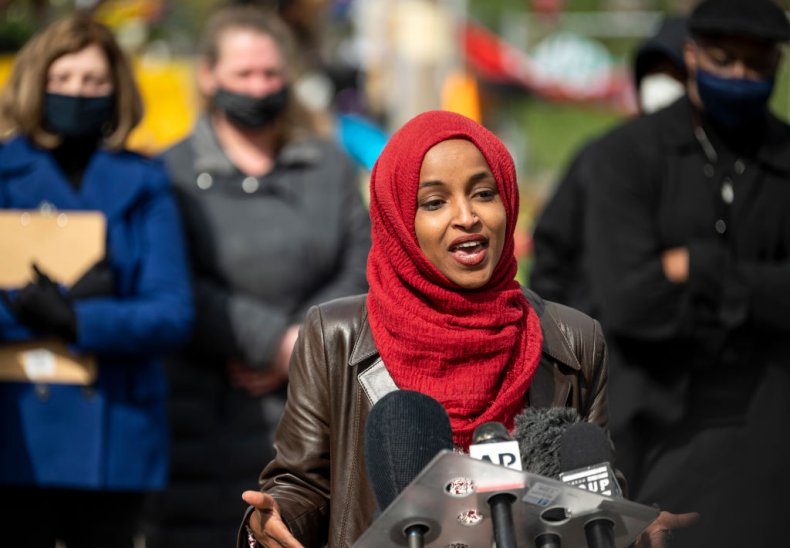 In response to the criticisms of Omar, progressive Jewish group IfNotNow, which campaigns in support of Palestinians, tweeted, "Contrary to these out-of-touch politicians' belief: condemning @IlhanMN for asking how the Israeli government will be held accountable for human rights violations outside of the ICC will do nothing for Jewish safety."
A spokesperson for IfNotNow told Newsweek in a Thursday morning email that "the Jewish members of Congress using Islamophobic tropes to smear Rep. Ilhan Omar do not represent the values of the American Jewish community."
"Their actions demonstrate that they are more interested in protecting Israeli occupation and apartheid from criticism than working towards Jewish safety and equal rights for Palestinians and Israelis," the spokesperson added.
Fellow progressive group Jewish Voice for Peace Action reiterated Omar's viewpoint in a Wednesday post. "The US has committed unspeakable atrocities, actually," the organization tweeted.
"Odd their statement doesn't address any of the actual content of @IlhanMN's question. Do these members of Congress not want to know how the victims of war crimes can seek justice? And fwiw, the US and Israel have absolutely committed unspeakable atrocities. Crack a history book," Jewish Voice for Peace Action said in a Thursday morning tweet.
Beth Miller, government affairs manager for Jewish Voice for Peace Action, told Newsweek in a Thursday email that it is "an undeniable fact that the US and Israel have committed unspeakable atrocities, the victims of which are still awaiting justice." She said that the members of Congress criticizing Omar "are employing racist and Islamophobic tropes to attack" the Minnesota representative "for demanding answers from our Secretary of State."
"Rep. Omar's colleagues would do well to spend less time scrambling for political points by trying to demonize her, and more time joining her in the struggle for justice," Miller added.
On Wednesday, Omar defended herself against the criticism from her Democratic colleagues. "It's shameful for colleagues who call me when they need my support to now put out a statement asking for 'clarification' and not just call," the congresswoman, who is Muslim, tweeted, sharing the statement from fellow Democrats. "The islamophobic tropes in this statement are offensive. The constant harassment & silencing from the signers of this letter is unbearable."
In a follow-up post, Omar wrote: "Citing an open case against Israel, US, Hamas & Taliban in the ICC isn't comparison or from 'deeply seated prejudice'. You might try to undermine these investigations or deny justice to their victims but history has thought [sic] us that the truth can't be hidden or silenced forever."
Omar was one of the first two Muslim women elected to Congress during the 2018 midterms. The progressive congresswoman was born in Somalia and came to the U.S. as a refugee with her family as a child. She has faced significant backlash during her time in Congress because of her criticisms of U.S. foreign policy and Israel's treatment of the Palestinians.
The congresswoman has received numerous death threats due to her Muslim identity and her views on U.S. foreign policy. On Wednesday, Omar shared audio of a threat her office received following her remarks this week.
"Every time I speak out on human rights I am inundated with death threats. Here is one we just got," she wrote, adding a quote from the audio clip: "Muslims are terrorists. And she is a raghead n*****. And every anti-American communist piece of s*** that works for her, I hope you get what's f***ing coming for you," the caller said.
This article has been updated with additional comments from IfNotNow and Jewish Voice for Peace Action.