Ilhan Omar Says Conservatives 'Helped Feed' Monsters 'Causing Devastation' In Mosques and Synagogues
Representative Ilhan Omar criticized conservatives on Wednesday, accusing them of helping to "feed" the "monsters" who have carried out recent attacks on mosques and synagogues.
The freshman Democratic congresswoman from Minnesota made the comments during an interview with Democracy Now, suggesting that conservatives are now trying to conceal how their statements and actions have emboldened white supremacists. Omar said that people should recognize that white nationalist ideology has harmed both Jews and Muslims.
"Many of the people who are targeting the Jewish community for anti-Semitism are also targeting the Muslim community in Islamophobia," the congresswoman pointed out. "We have to collectively work together to uplift our voices and say no to hate," she said. "We know that both of our communities here in the United States are targeted by white supremacists."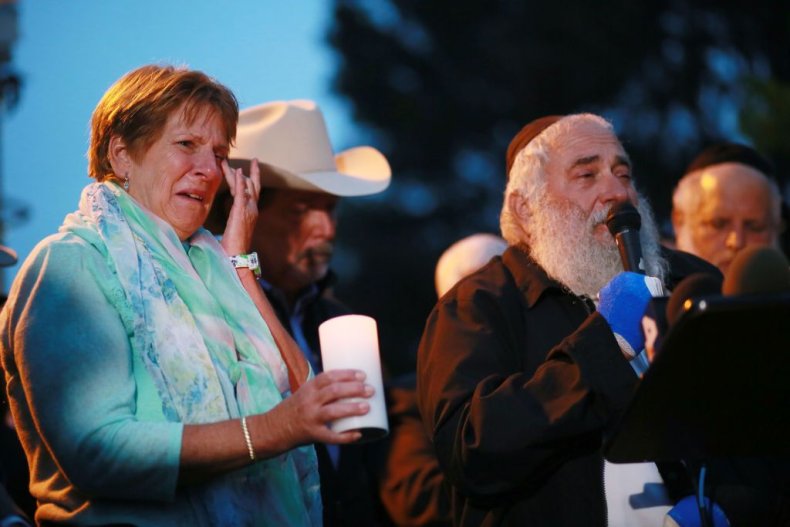 Omar then called out "conservatives." She said they "are doing everything they can to distance themselves, to disinform [sic] the public, about the monsters that they helped feed and that are now causing devastation in mosques and in synagogues."
On Saturday, the Chabad of Poway synagogue near San Diego in Southern California was attacked by a white gunman, killing one worshiper and leaving three others injured, including a young girl. The alleged attacker, 19-year-old John T. Earnest, had reportedly posted anti-Semitic and Islamophobic content online prior to the attack and also claimed responsibility for an arson targeting a local mosque.
The attack follows a mass shooting targeting mosques in Christchurch, New Zealand, in March that left 50 worshipers dead. That attack was also carried out by a white man, from Australia, who espoused white nationalist ideology.
Omar along with other Democrats have called out conservatives who they argue have downplayed the threat of white nationalism. Senator Dick Durbin, an Illinois Democrat, pointed fingers directly at President Donald Trump in an interview with CNN on Monday.
"The point I'm getting to, is why do these people feel they have license now to attack synagogues, to attack sikh temples, to attack churches across the United States?" he asked. "This has really been fomented because of the rhetoric we're hearing from the White House."
The White House pushed back against such criticism, with press secretary Sarah Sanders pointing out that Trump "has condemned not only this act [targeting the synagogue] but all acts of evil and hatred and racism and bigotry." Trump personally called the rabbi of the Chabad of Poway synagogue to offer his condolences and support. He also condemned the attack and anti-Semitism during a rally in Wisconsin on Saturday.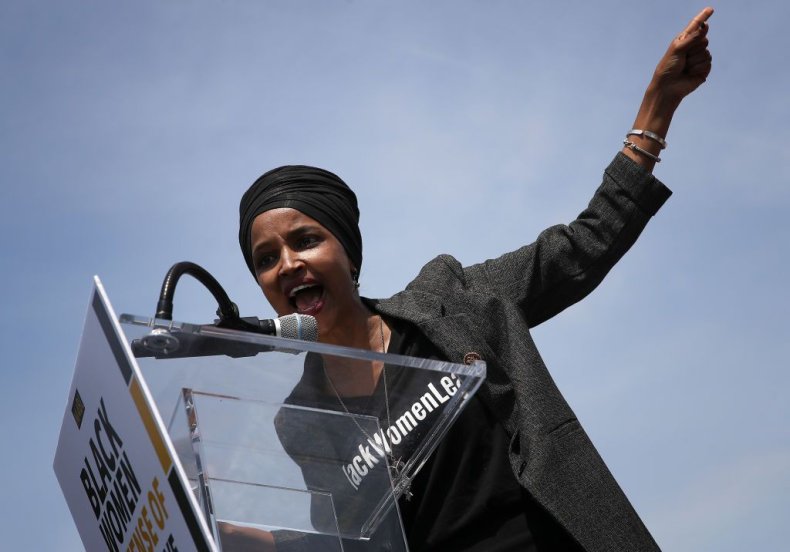 But the president has repeatedly defended white supremacist and neo-Nazi demonstrators who held a Unite the Right rally in Charlottesville, Virginia, in 2017, that turned violent. While that demonstration led to the death of one counter protester, the president said there were "very fine people on both sides." Trump also doubled-down on those comments last week.
Omar has also been criticized by Republicans and several Democrats for remarks she has made criticizing Israel. Some conservatives, such as GOP Senator Ted Cruz of Texas, attacked Omar in the wake of the Saturday synagogue attack, pointing to her past comments. But some progressive Jewish groups, such as If Not Now and Jewish Voice for Peace, which are also critical of Israel, have been staunch supporters of Omar.
Posting on Facebook following Saturday's attack, Jewish Voice for Peace argued that Omar's critics "need to stop exploiting antisemitic violence against Jewish people by white nationalists as an opportunity to attack Ilhan Omar's criticism of Israel. Absolutely vile and dangerous. What happened in Poway has nothing to do with Israel," the group wrote.