Senator Calls Synagogue Shooting 'Domestic Terrorism,' Says Trump's 'Rhetoric' Gives White Supremacists 'License'
Senator Dick Durbin labeled the Saturday shooting at the Chabad of Poway synagogue in California "domestic terrorism," pointing a finger at President Donald Trump's rhetoric for giving "license" to white supremacists to carry out such attacks.
"This is domestic terrorism," Durbin, a Democrat from Illinois, said in a Monday morning interview on CNN. "Let's call it for what it is. Had there been someone from the Middle East involved in this, someone with a green card involved in this, can you imagine the alerts that would have come out from the White House about the threats of terrorism to the United States?" he asked.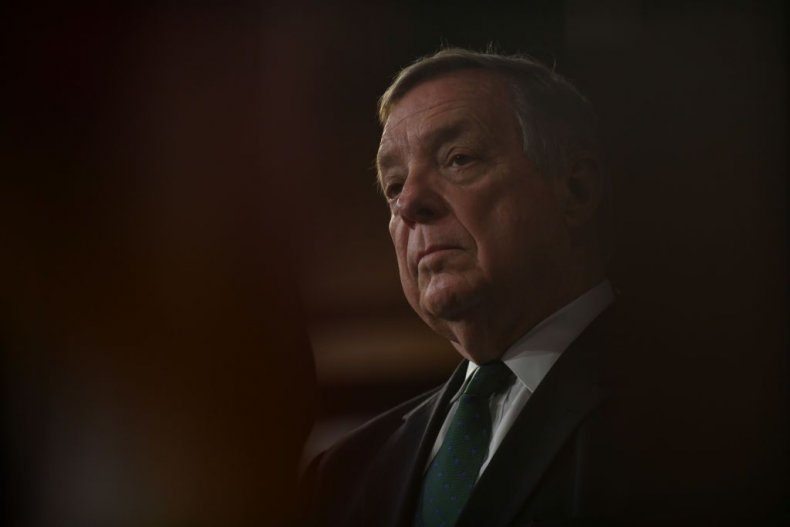 Durbin then argued that Trump was encouraging white nationalists and white supremacists, with a "wink and a nod." He pointed to recent comments by the president in which he doubled down on his defense of white supremacist and alt-right demonstrators in Charlottesville, Virginia, in 2017. The president argued last week that those individuals were simply defending the statue of the "great general" Robert E. Lee, who led the Confederate army during the Civil War. Those protesters had marched through the streets chanting: "The Jews will not replace us! The blacks will not replace us! Immigrants will not replace us!"
CNN's New Day co-host John Berman pushed back against Durbin's assessment, pointing out that Trump had "very strongly" condemned the synagogue attack. "Our entire nation mourns the loss of life, prays for the wounded, and stands in solidarity with the Jewish community," the president said during a Saturday rally in Wisconsin. "We forcefully condemn the evil of anti-Semitism and hate, which must be defeated."
Rabbi Yisroel Goldstein, who leads the California synagogue, also told the media on Sunday that Trump had called him personally to share his condolences. "He spoke about his love of peace and Judaism and Israel," Goldstein said. "He was so comforting," he added.
But Durbin insisted that the president's rhetoric is fomenting the sentiments of white supremacists.
"The point I'm getting to, is why do these people feel they have license now to attack synagogues, to attack sikh temples, to attack churches across the United States?" he asked. "This has really been formented because of the rhetoric we're hearing from the White House."
The senator said Trump and his rhetoric are "very loose." He argued that this made people "feel [they have a] permission slip to move forward in areas they never have before."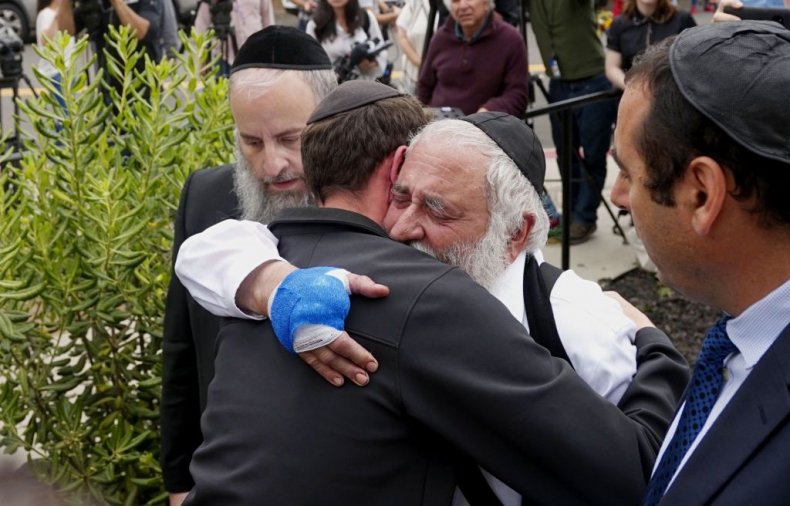 Many other critics of the president have blasted his rhetoric for encouraging white supremacists and white nationalists. But White House press secretary Sarah Sanders appeared on Fox & Friends Monday morning and pushed back against the criticism, saying it couldn't be "further from the truth."
"The president has condemned not only this act, but all acts of evil and hatred and racism and bigotry and we will continue to do that," Sanders said. She said it was an "outrageous statement" to suggest the president was emboldening white supremacists.
Alleged shooter John T. Earnest, 19, entered the Chabad of Poway synagogue, near San Diego, on Saturday and opened fired. One worshipper—Lori Gilbert-Kay—was killed and three others were injured, including an 8-year-old child.