Ilhan Omar Shares Tweet Taking Shot at Meghan McCain's 'Faux Outrage' Over Israel Comments: Her Father Called Vietnamese 'G****'
The anti-Semitism saga embroiling Minnesota Democratic Representative Ilhan Omar took another turn Thursday as an interview by Meghan McCain—the daughter of late Arizona Republican Senator John McCain—said in an interview the congresswoman's comments were "very dangerous."
Appearing on ABC News' "The View," McCain joined the outpouring of anger against the freshman representative, who is accused of using anti-Semitic tropes to criticize the state of Israel and its American supporters. However, Fox News reported, Omar still refused to back down.
Last month, Omar replied to a tweet from a journalist suggesting that Minority House Leader Kevin McCarthy was planning to punish her for criticizing Israel by saying, "It's all about the Benjamins baby," referring to financial contributions made by pro-Israel Jewish lobbying groups to the GOP.
Despite allegations that she was using anti-Semitic tropes, Omar doubled down on her criticism of the pro-Israel lobby's influence in American politics, specifically that of the American Israel Public Affairs Committee (AIPAC).
Though Omar later issued a statement on Twitter noting that anti-Semitism is a real problem and suggesting she never meant to offend any Jewish people, she reaffirmed the "problematic" role of lobbyists in U.S. politics, including AIPAC.
The congresswoman later added more fuel to the fire when she accused American lawmakers of pledging "allegiance to a foreign country" by unquestionably supporting Israel, regardless of its conduct.
On Thursday, McCain became emotional as she said several of her Jewish friends felt hurt by Omar's comments. "It is very dangerous, very dangerous," she said, "and I think we all collectively as Americans on both sides—and what Ilhan Omar is saying is very scary to me and a lot of people and I don't think you have to be Jewish to recognize that."
In response, Omar retweeted a post made by Medhi Hasan, an Intercept columnist and Al Jazeera host, who slammed McCain's "faux outrage" and criticized the politics and racist comments of her late father.
"Meghan's late father literally sang 'bomb bomb bomb Iran' and insisted on referring to his Vietnamese captors as 'gooks'," Hasan wrote. "He also, lest we forget, gave the world Sarah Palin. So a little less faux outrage over a former-refugee-turned-freshman-representative pls."
The retweet came just hours after the House approved an anti-hate resolution inspired by Omar's remarks. The vote prompted backlash from younger and more progressive Democrats and a debate over the language used in the resolution.
Though Republicans and many establishment Democrats have been quick to distance themselves from Omar's comments, others have rallied around her. On Thursday, for example, 2020 presidential candidate and Vermont Senator Bernie Sanders said he fears attacks on Omar are designed to stifle debate on America's relationship with Israel.
The senator, who himself is Jewish, told The Hill, "Anti-Semitism is a hateful and dangerous ideology which must be vigorously opposed in the United States and around the world." But he added, "We must not, however, equate anti-Semitism with legitimate criticism of the right-wing, Netanyahu government in Israel."
Massachusetts Senator and 2020 candidate Elizabeth Warren also rejected the idea that criticism of Israel is inherently anti-Semitic, while fellow candidate and California Senator Kamala Harris said she was concerned the attacks on Omar could threaten the congresswoman's safety.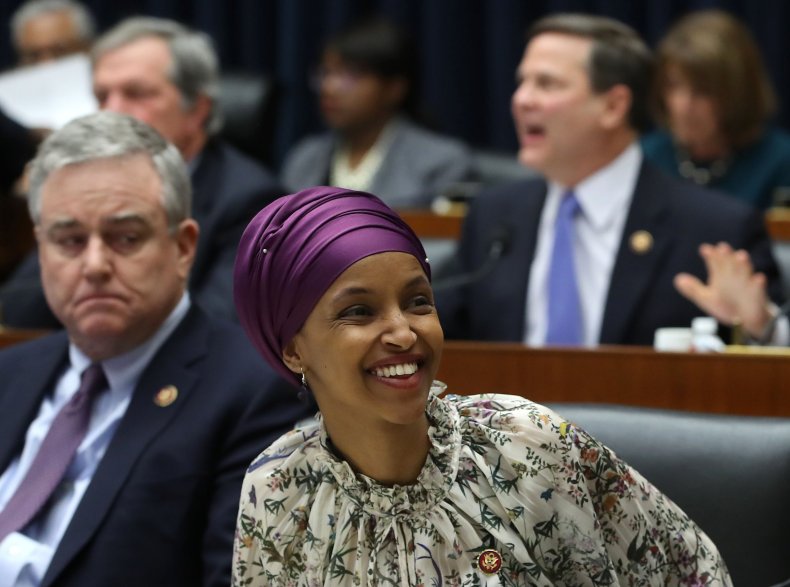 Correction: This article was updated to clarify that Ilhan Omar retweeted the remarks about John McCain.