Ilhan Omar Says She Was 'in No Way Equating' Terrorists With Democratic Countries
Representative Ilhan Omar released a statement clarifying her previous remarks that compared the U.S. and Israel to the militant groups Hamas and the Taliban, after facing backlash from a group of Democratic colleagues and Republicans.
The Minnesota progressive on Monday shared a clip of her questioning Secretary of State Antony Blinken on the U.S. government's continued opposition to investigations by the International Criminal Court into alleged war crimes. "We must have the same level of accountability and justice for all victims of crimes against humanity," Omar tweeted with the video. "We have seen unthinkable atrocities committed by the U.S., Hamas, Israel, Afghanistan, and the Taliban."
On Wednesday, a group of 12 Jewish Democratic House members issued a statement urging Omar to "clarify" her remarks and criticizing the congresswoman for "equating the United States and Israel to Hamas and the Taliban." The representatives described Omar's remarks "as offensive" and suggested that they reflected "deep-seated prejudice."
Although Omar initially defended herself, arguing that her remarks were being misinterpreted—she issued a statement Thursday afternoon clarifying what she meant.
"On Monday, I asked Secretary of State Antony Blinken about ongoing International Criminal Court investigations. To be clear: the conversation was about accountability for specific incidents regarding those ICC cases, not a moral comparison between Hamas and the Taliban and the U.S. and Israel," she said in a statement emailed to Newsweek.
"I was in no way equating terrorist organizations with democratic countries with well-established judicial systems," Omar added.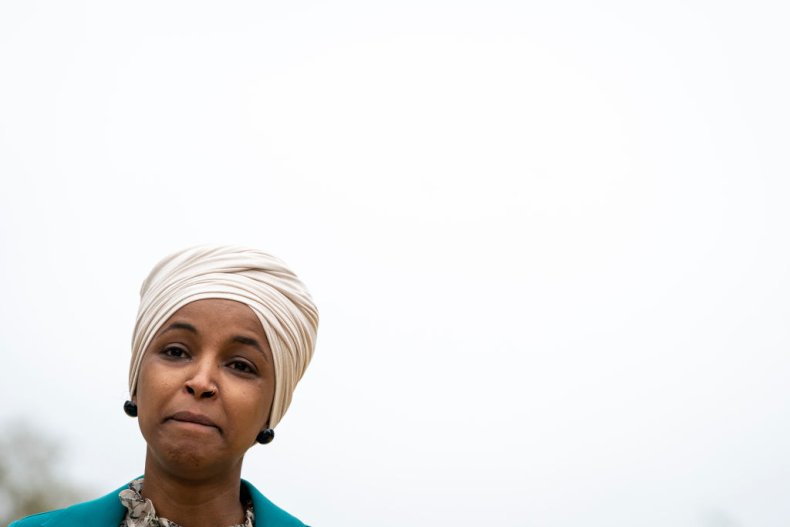 Speaker of the House Representative Nancy Pelosi, a California Democrat, released a statement following Omar's Thursday afternoon clarification.
"We welcome the clarification by Congresswoman Omar that there is no moral equivalency between the U.S. and Israel and Hamas and the Taliban," Pelosi said. The top House Democrat "false equivalencies" would foment "prejudice and undermines progress toward a future of peace and security for all."
Omar's Thursday statement came after she first criticized her Democratic colleagues for the statement they released about her comments.
"It's shameful for colleagues who call me when they need my support to now put out a statement asking for 'clarification' and not just call. The islamophobic tropes in this statement are offensive. The constant harassment & silencing from the signers of this letter is unbearable," she wrote, retweeting their statement.
"Citing an open case against Israel, US, Hamas & Taliban in the ICC isn't comparison or from 'deeply seated prejudice.' You might try to undermine these investigations or deny justice to their victims but history has [taught] us that the truth can't be hidden or silenced forever," Omar added.
Fellow progressive lawmakers defended Omar as well.
"Pretty sick & tired of the constant vilification, intentional mischaracterization, and public targeting of @IlhanMN coming from our caucus," Representative Alexandria Ocasio-Cortez, a New York Democrat, tweeted on Thursday. "They have no concept for the danger they put her in by skipping private conversations & leaping to fueling targeted news cycles around her."
Representative Rashida Tlaib, a Michigan Democrat who is Palestinian-American, said Republican and Democratic colleagues were "demonizing" Omar.
"I am tired of colleagues (both D+R) demonizing @IlhanMN. Their obsession with policing her is sick. She has the courage to call out human rights abuses no matter who is responsible. That's better than colleagues who look away if it serves their politics," Tlaib tweeted. In the past, she has faced backlash for her criticism of Israel's government.
Representative Cori Bush, a Missouri Democrat, said that the criticism of Omar represented "anti-Blackness and Islamophobia."
"I'm not surprised when Republicans attack Black women for standing up for human rights. But when it's Democrats, it's especially hurtful. We're your colleagues. Talk to us directly," Bush tweeted. "Enough with the anti-Blackness and Islamophobia."
This article has been updated with a statement from Pelosi.