House GOP's Committee Purge Continues as Another Democrat Member Pushed Out
House Republicans are continuing to purge Democratic committee members from their assignments, with their latest successful effort being against progressive Representative Ilhan Omar.
On Wednesday, the House GOP voted to strip Omar of her seat on the Foreign Affairs Committee, despite lobbying efforts from their Democratic counterparts to keep the Minnesota congresswoman on the panel.
It marks the third removal of a Democratic committee member since Representative Kevin McCarthy was elected House speaker last month. Last week, Representatives Adam Schiff and Eric Swalwell were both expelled from their positions on the House Intelligence Committee.
McCarthy's ability to wrangle the necessary GOP votes to do so has been an optimistic turn of events for the California Republican, who struggled 14 times to win the speakership before a successful 15th ballot.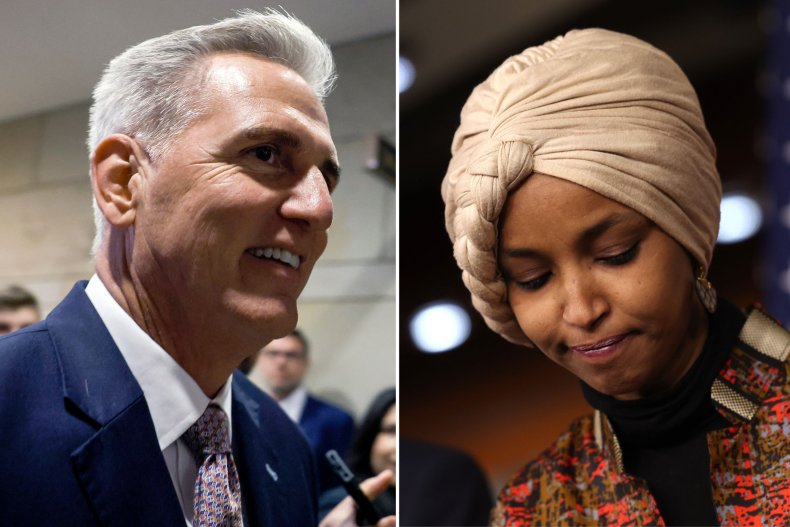 The removal of progressive Democrats, like Omar, from committee assignments, was a promise McCarthy pledged to see through if he won the gavel.
"Last year, I promised that when I became Speaker, I would remove Rep. Ilhan Omar from the House Foreign Affairs Committee based on her repeated anti-semitic and anti-American remarks," McCarthy tweeted two weeks after the midterm elections. "I'm keeping that promise."
Republicans have targeted Omar, a critic of Israel, for remarks she previously made when she suggested that GOP support of Israel was funded by donations from the American Israel Public Affairs Committee. She apologized for those comments in 2019, saying, "Anti-Semitism is real and I am grateful for Jewish allies and colleagues who are educating me on the painful history of anti-Semitic tropes."
House Democrats rallied behind Omar amid Wednesday's vote, with even former critics putting the past behind them and accusing McCarthy of politicizing committee assignments.
Ahead of the vote, Omar slammed Republicans for trying to remove her, saying it had less to do with her earlier statements and more to do with her status as an immigrant.
"Who gets to be an American? What opinions do you have to have to be counted as American? That is what this debate is about," the congresswoman said.
Representative Alexandra Ocasio-Cortez, Omar's fellow member of the progressive "Squad," agreed, saying the standards being applied to Omar were not applied to GOP Representative Paul Gosar.
"I had a member of the Republican caucus threaten my life, and you all and the Republican caucus rewarded him with one of the most prestigious committee assignments in this Congress," the firebrand said on the House floor. "Don't tell me this is about consistency. This is about targeting women of color."
Gosar was previously removed from his committees by the Democrat-controlled House after he posted an anime video of a character with his head attacking and killing a character with Ocasio-Cortez's head. Under the Republicans' new majority, Gosar was restored to his roles on the Natural Resources and Oversight committees.
It had been unclear whether McCarthy would be able to get the majority of his party to fall in line and kick Omar out. With a slim majority, he could not afford to lose more than four Republican votes.
On Monday night, Representative Matt Gaetz, who lead the GOP resistance against McCarthy's path to the speakership, said he remained undecided about voting Omar off the Foreign Affairs Committee.
But a resolution introduced by Republican Congressman Max Miller on Tuesday seemingly saved McCarthy from another public humiliation. After the language was added, GOP Representatives Victoria Spartz, Ken Buck and Nancy Mace, who were among those planning to vote no, all said they would back the effort.
"I appreciate Speaker McCarthy's willingness to address legitimate concerns and add due process language to our resolution," she said in a statement.
The resolution grants members the right to "bring a case before the Committee on Ethics as grounds for an appeal to the Speaker of the House for reconsideration of any committee removal decision."