'Illegals' Told to 'Go Home' in Student Presentation Sparks Investigation
Parents in Iowa were outraged after students gave a racist school presentation about Mexicans which is currently being investigated by the school district.
During a history class presentation, students at Timberline School used inappropriate wording to describe people from Mexico, according to the Waukee Community School District. The central Iowa district confirmed the presentation took place and is now investigating the matter, CBS affiliate KCCI reported on Friday.
The presentation's slideshow reportedly included the phrases "why illegals should go home" and "there is a huge influx of Mexican rapists, in addition to statements including, "In the end, Mexicans are bad" and "Send illegals back to where they came from," according to KCCI.
The slideshow featured memes of the former President Donald Trump along with conspiracy theories targeting immigrants from Mexico, according to the news outlet.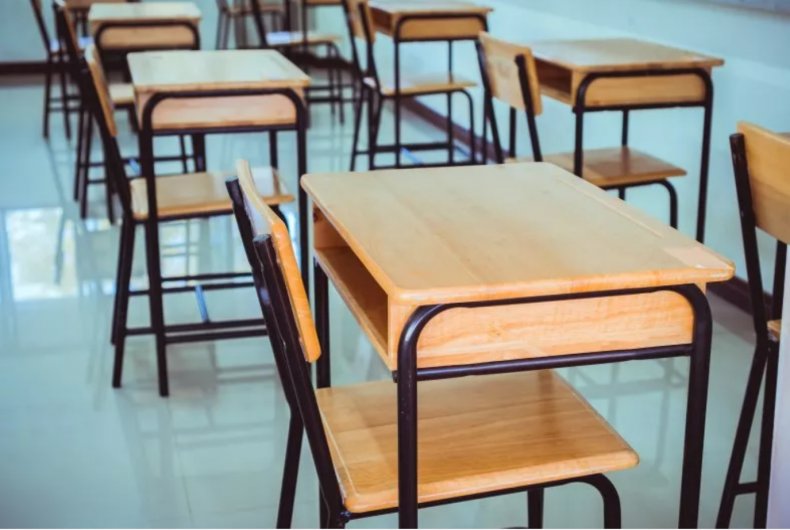 No details were revealed about the ages of the students involved, however, the Timberline School serves students in grades 8 and 9 in the west Des Moines area, according to the school's website.
There was also no information about whether the presentation was stopped by teachers or school officials, the school district's spokesperson shared a letter with Newsweek that was sent form Timberline school principal Adam Shockey to families, students, and staff on Thursday.
"Today we had an incident in one of our classes during a presentation that was very concerning. There were images and language that are inappropriate for school," Shockey said in the letter. "An investigation is currently underway into the entirety of the situation. To be clear, Timberline and Waukee Community School District will not tolerate hate speech or threatening messages in our buildings or classrooms."
The school district didn't mention further details, citing ongoing investigation.
Similar racist incidents among schools have been reported in the country, recently including an instance where some students racially harassed two soccer players competing in a regional championship. A video of the game between two high schools in Northern California in March showed that a student made monkey noises while a Black soccer player from Buchanan High School approached the ball. Someone was also reportedly barking like a dog as a Hispanic player made her kick.
In Kansas, state Education Commissioner Randy Watson was criticized in February after allegedly making a racist remark at a state education conference.
"When I was a kid, my cousins used to worry about visiting Kansas and getting killed by a tornado," said Watson, according to an anonymous conference attendee. "I said, well, if we are being honest, you have a higher chance of coming to Kansas and getting killed by an Indian."
Also earlier this year, a school parent in Michigan sparked outrage after she used a racial slur twice during a school board meeting in January. Her remarks were made during the Grosse Pointe school board meeting where she was complaining about a recent diversity meeting. She then added that one of her sons was temporarily suspended from school for using racial slurs on social media.
"I have two young white boys, one of which got in trouble for saying the n-word on Snapchat," she said.
The school parent added that her son's "dark chocolate auntie got him into Straight Outta Compton."
The story has been updated to include comments from the school district.