Appearing in his Kyiv office for the first time since the beginning of Russia's invasion, Ukrainian President Volodymyr Zelensky delivered a defiant speech, pledging to beat back invading troops and rebuild the country.
Zelensky made the speech Monday night as talks between Russia and Ukraine haven't produced any breakthroughs and President Vladimir Putin appeared to soften his tone. Noting that while the conflict had entered its 12th day, the former television star turned president exalted what he called Ukrainian unity, condemned Russian military actions and predicted a buoyant post-war future for the country.
"You know, we used to say: Monday is a hard day," Zelensky began the speech from the besieged capital. "There is a war in the country. So every day is Monday. "And now we are used to the fact that every day and every night are like that."
Despite having the largest military in Europe, Russian military forces have not taken Ukraine's capital city of Kyiv. But the conflict is taking an increasingly heavy civilian toll, as the United Nations estimates 1.7 million people have fled the country.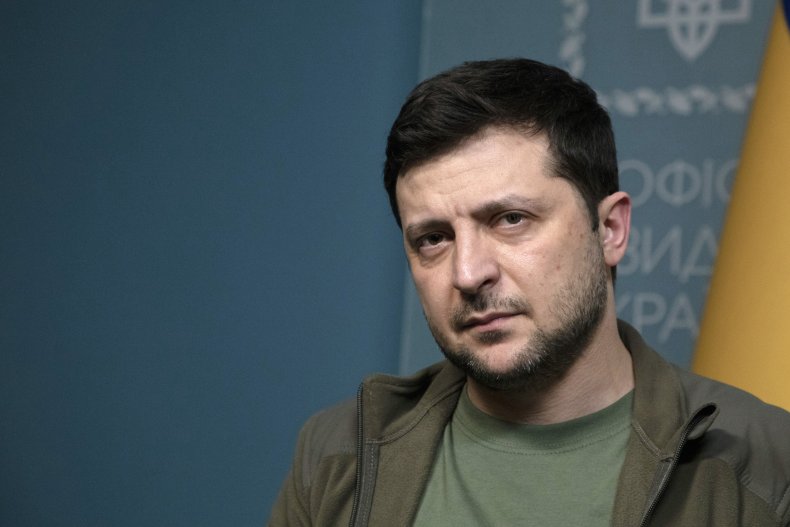 Zelensky said "everyone," including Ukrainians not in the military, who have protested the invasion "contribute to our victory," which he said will "definitely be achieved." In an apparent swipe to Putin's assertion that Ukraine and Russia are one civilization, Zelensky said, "and the one who repeated: 'We are one people'—certainly did not expect such a powerful reaction."
After the invasion began, Zelensky took refuge in a bunker, where he gave media interviews and lobbied world leaders for support. Speaking Monday, Zelensky said he would stay in Kyiv.
"I'm not hiding," he said. "And I'm not afraid of anyone. As much as it takes to win this patriotic war of ours."
Pentagon spokesman John Kirby told reporters Monday that except for advances in southern Ukraine, Russian troops "haven't made any noteworthy progress in the last few days" and have turned to long-range strikes.
"So, this is bombardment, missile strikes, long range artillery, into city centers that they aren't in yet, at least not on the ground in any significant number," said Kirby. He said the strikes will kill and injure more people.
In his speech, Zelensky pointed to destruction caused by Russian troops to civilian infrastructure, including a bread factory and church built in 1862. He also said Russian troops mined a road that was agreed to be used to transport food and medicine to Mariupol, a city in southern Ukraine.
Zelensky said his government will continue to participate in negotiations after having concluded the third round on Monday in Belarus. In the meantime, Zelensky said he's already looking forward to the war's end.
"We know that hatred that the enemy brought to our cities with shelling and bombing will not remain there," he said. "There will be no trace of it. Hatred is not about us. Therefore, there will be no trace of the enemy. We will rebuild everything. We will make our cities destroyed by the invader better than any city in Russia."
Newsweek reached out to the U.S. State Department for further comment.