'Immediately No': Mental Health Expert Shares Red Flags on Dating Profiles
In a now-viral TikTok video, a mental health expert discussed what would cause her to not match with someone on a dating app.
Karli Kucko, LPC-A shares content about mental health on her TikTok and Instagram accounts @karli.k.counseling. She recently posted a video on her TikTok where it garnered more than 100,000 views. The video, which discussed seeing people making demands on their profile, was the first of several that touched on behaviors that would cause her to "swipe left."
Viewers found these points helpful, and many shared what they considered to be red flags when they peruse dating apps themselves.
Good Morning America outlined a few tips for a strong dating profile, which include users posting good quality photos, writing "just enough" about themselves and being up-front with their intentions.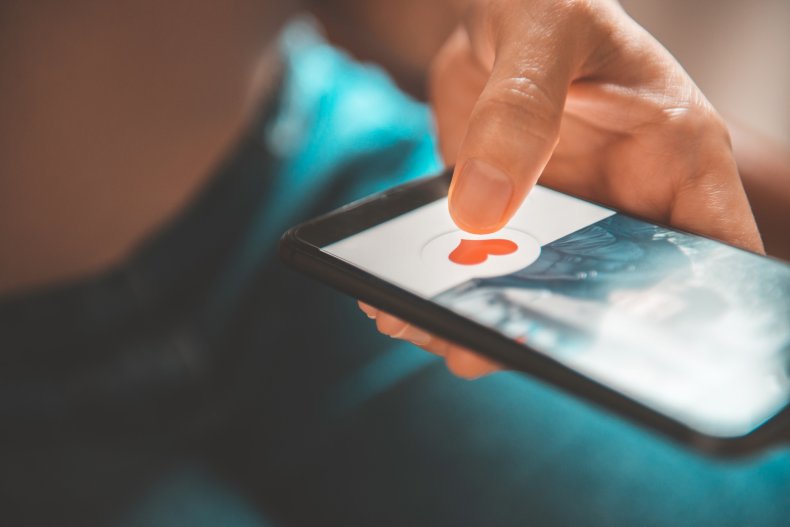 Matthew Hussey, a New York Times bestselling author and dating expert, told the outlet that there is a way to be open and honest while remaining positive.
"If you're going to say you want something serious, frame it in a positive way rather than a negative one," he said. "You don't want to come across as bitter or jaded."
In Kucko's first video, she said something that would make her "swipe left" is seeing someone making demands on their profile. She noted that statements like "have to have, can't do, must do," were some examples of phrases that led to her not matching with someone.
"You're allowed to have preferences and even non-negotiables in a relationship, but when you come out swinging on your profile by telling me all the things I have to do or have to have, that sends a message to me that you're inflexible, you have a closed mind about some things or you might consider your way of life and the way you do things superior to others," she said.
Viewers took to the comments section to share their thoughts and opinions on the first red flag Kucko shared.
Some wrote that there are some aspects that people do not need to be more flexible in and they can be certain about what it is they are looking for in a partner.
"I feel like there's nothing wrong with not being flexible in regards to things you know will be automatically not compatible with you," a viewer wrote.
"Yes but also—and this is men and women—what if they've lived enough to know what [they] want/need in *their* relationship? Right?" commented another.
Kucko responded to that comment with another video, saying that she supports having non-negotiables and boundaries, but there is a way someone can communicate those needs that reflects what is important to them, rather than demanding others.
"It's conveying a message of who I am and what I want instead of 'you need to do this, you need to have this,'" Kucko said. "It changes the attitude completely and just shows 'oh, this person knows what they want and that's good, I like that.'"
Though a few questioned the red flag, many other views found it helpful and even shared their own.
"I always swipe left when I see, 'let's hang out and just see where this goes!' 100% noncommittal situationship red flag for me," a viewer commented.
"Those people always rub me the wrong way," another wrote.
One shared that they would "swipe left" when they see "fluent in sarcasm" and "be able to take a joke."
"Any time a profile is telling me about me instead of telling me about them—immediate swipe left," commented a viewer.
Since posting the first video, Kucko shared other clips where she touched on what would make her swipe left, including seeing a profile of a person who says they rarely check the app and learning that someone has extremely different political opinions from her own.
She wrote to Newsweek that she has used dating apps, notably Hinge and Bumble, on and off for about two years and frequently comes across red flags on other users' profiles.
"I have also gotten much more strict over the last few months to try and conserve my energy after months of offering the benefit of the doubt and getting burned every time," Kucko said. "Some yellow flags I used to give chances: having zero prompts, fewer pictures, boring answers, lack of character."
When using dating apps now, she said she only "swipes right" if someone's profile makes her smile and excited to meet them.
Although she's come across promising profiles, Kucko said she's had conversations that soon revealed red flags.
One of the most common red flags she spotted during a conversation is the request for her to come out to meet them if they're already out themselves at a bar before having a formal first date.
"That's a hard pass," Kucko said. "Your intentions at that point are clear, and I'm not looking for just a hookup at this point in my life."
Another red flag, she said, is if someone does not respect her dating boundaries, which include having first dates in daylight, meeting in a public place and her not drinking alcohol.
One of her previous dates took issue with these boundaries and even called her "manipulative," but Kucko said she immediately blocked him.
"It's certainly an adventure, but I am committed to finding a life partner and I'll continue to do whatever it takes to find them," she said.
Other content relating to online dating has previously gone viral.
A viral screenshot shared on the Reddit forum "Tinder" showed a woman's profile in which she declared she was only interested in dating tall men.
One woman's video showing the rude text messages she received from a man she matched with on Bumble also went viral on TikTok.
Another TikTok user shared her experience of going a year without using any dating apps in a viral video.
Updated 06/03/2022, 5:46 p.m. ET: This story has been updated with comments from Karli Kucko.