Impeach Donald Trump Now, New Billboard Tells California Drivers, Congress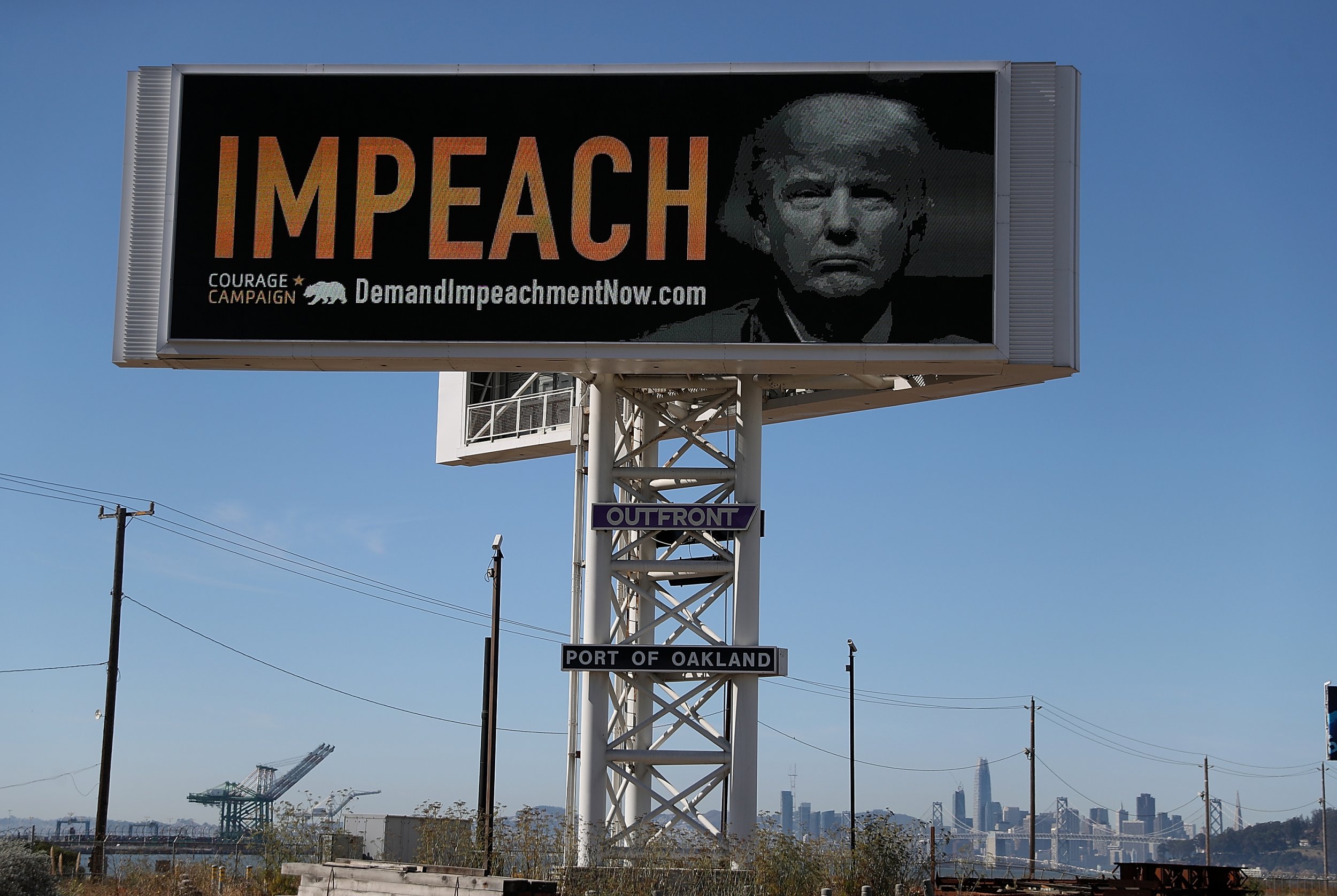 A billboard calling for President Donald Trump's impeachment went up this week in California, and while the message is simple, the mission is difficult: to persuade Congress to immediately remove the president from office.
Drivers near the Bay Bridge spotted the ad Monday morning in the San Francisco Bay area, KCBS reported. Mostly in black and white, it features a portrait of Trump, the word IMPEACH in yellow capital letters and the URL DemandImpeachmentNow.com. It's set to stay up through the weekend.
The billboard belongs to an organization called the Courage Campaign, a 1.4 million–member group that advocates for economic justice, human rights and accountability. In a news release, the Courage Campaign named Trump's recent response to violent white nationalist protests in Charlottesville, Virginia, and the White House's decision to wind down protections given to young immigrants through the Deferred Action for Childhood Arrivals program as specific motivators for its latest project.
"After his disgusting and misogynistic rhetoric about women, the nerve to rush to the defense of white supremacists in Charlottesville, and the ease with which he decided to remove DACA protections for hundreds of thousands of young people, there is more than a legal case; there is a moral imperative to act," the Courage Campaign's executive director, Eddie Kurtz, said in the release. "Congress must show Americans the values that our country stands for by taking steps to impeach President Trump."
Supporters of the Courage Campaign paid for the billboard, which the San Francisco Republican Party quickly denounced as a "waste of money," according to NBC Bay Area. The anti-Trump advocacy group is also circulating a petition requesting—you guessed it—the president's impeachment.
It's not the first time Trump has been targeted bigly on a major thoroughfare. Earlier this month, a similar sign went up near the tycoon's Mar-a-Lago resort in Florida. Reading, "No one is above the law, not even the president," that billboard was also crowdfunded by a national campaign.
The ads may be seen as admirable attempts to shame a president obsessed with his public image, but it's doubtful they'll actually work anytime soon. Congress, which is controlled by the Republican Party, would have to initiate impeaching proceedings against Trump, who is a Republican.
Furthermore, only two presidents have ever been impeached—Andrew Johnson in 1868 and Bill Clinton in 1998. Neither man was forced out of the White House.