'Impeachment': How Did the Paula Jones Case End and Did She Settle?
Paula Jones (played by Annaleigh Ashford) is one of the three women at the heart of the Lewinsky-Clinton Scandal in Impeachment: American Crime Story.
Jones was introduced in Episode 1 as the first woman to come forward with allegations of sexual harassment against President Bill Clinton (Clive Owen).
Warning: This article contains spoilers about Impeachment: American Crime Story.
In 1994, Jones alleged Clinton sexually harassed her by exposing himself to her in a hotel room in May 1991, when Jones was working as an Arkansas state employee at the Annual Governor's Quality Conference at the Excelsior Hotel in Little Rock. Clinton has always denied Jones's allegations.
Jones opted to sue Bill Clinton in a civil lawsuit for sexual harassment. Her suit, known as Jones vs. Clinton, was filed on May 6, 1994. Her court papers accused Clinton of "sexually harassing and assaulting" her, then defaming her with his denials, reported The Washington Post.
As seen in the third episode of Impeachment: American Crime Story, Jones received the offer of a $700,000 settlement, which she rejected on the grounds it did not come with an apology.
Here's what the outcome was of the Paula Jones case.
How Did the Paula Jones Case End and Did She Settle?
The Paula Jones case led to a landmark legal precedent by the U.S. Supreme Court which ruled on May 27, 1997, that a sitting U.S. president would not be exempt from civil litigation acts for offenses committed outside of the public office.
As seen in Impeachment: American Crime Story, shortly after the Supreme Court ruling Jones received a $700,000 settlement offer from President Clinton.
Against the advice of her lawyers, Gilbert Davis and Joseph Cammarata, Jones rejected Clinton's offer as it did not come with an apology.
As part of Paula Jones' suit against Clinton, her lawyers aimed to present a pattern of behavior carried out by President Clinton, suggesting he had become sexually involved with numerous state and government employees. They subpoenaed several women as well as Clinton and Monica Lewinsky (Beanie Feldstein).
Clinton had been asked under oath in the Jones case about his relations with Lewinsky and in his deposition, Clinton denied having "sexual relations" with her. Lewinsky also denied having any "sexual relations" with Clinton in an affidavit submitted to the Jones case in January 1998.
Clinton was impeached on December 19, 1998, by the House of Representatives on the grounds of perjury and obstruction of justice, after details and evidence of his sexual relations with Lewinsky came to light in August 1998. He was acquitted by the Senate on February 12, 1999.
Prior to Clinton's impeachment in December 1998, Jones' suit had been dismissed because she was not found to have suffered any damages. In July 1998, Jones filed her appeal against the dismissal.
Before her case could be reconsidered, Clinton put forward another out-of-court settlement in November 1998. In the end, Jones settled the case with Clinton on November 13, 1998, receiving $850,000 and no apology.
The Washington Post reports Clinton's lawyer Robert S. Bennett as stating the $850,000 settlement was to end the lawsuit and move on, citing Jones' claims as "baseless." On the other hand, Jones and her lawyers said the offer was evidence of his guilt. Clinton has always denied the allegations made by Jones.
Judge Wright found Clinton in civil contempt of court for misleading testimony in the Jones case. She also referred Clinton to the Arkansas Bar Association, where in January 2001 he reached an agreement with the bar that his licence to practice law in Arkansas would be suspended for five years, reported CNN.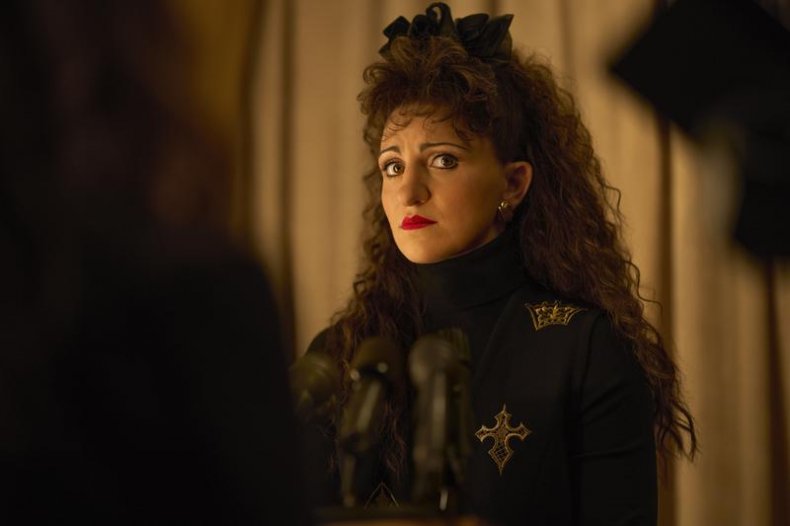 Actress Annaleigh Ashford told Newsweek Paula Jones was an "unlikely piece" of women's rights history.
"When we look at the mountain that is the patriarchy, we sort of think we are conquering it and we're reminded every day that we're still not at the top of that mountain," she said. "And I think Paula Jones, whether people know it or not, was absolutely one of those mountain climbers trying to be heard, be seen, and have her accusations be acknowledged.
"I do think that she was a piece, an unlikely piece, of the women's rights history she is a part of that we just so often lump her with right-wing causes so we forget that that really, her case against the President was one of the most famous sexual harassment cases to have ever gone through the American court system."
Impeachment: American Crime Story airs Tuesdays at 10 p.m. ET on FX.