Who Is 'Impeachment's' Kathleen Willey and Where Is She Now?
Impeachment: American Crime Story centers around the three women at the heart of the Lewinsky-Clinton scandal: Linda Tripp (played by Sarah Paulson), Monica Lewinsky (Beanie Feldstein), and Paula Jones (Annaleigh Ashford).
As seen in the third episode, Kathleen Willey ( Elizabeth Reaser) was one of the women who came forward with sexual assault allegations against President Bill Clinton.
Who Is 'Impeachment's' Kathleen Willey?
Kathleen Willey is a former White House volunteer aide from Philadelphia, Pennsylvania.
She and her late husband Ed Willey were Clinton supporters, with Willey setting up "Virginians for Clinton" with lawyer Robert L. Burrus Jr. during Clinton's presidential campaign in 1992. She later got a job at the White House as volunteer aide.
Willey alleged that in November 1993, Clinton had hugged her, kissed her, touched her breast, and placed her hand on his genitals in a private study of the Oval Office. Clinton has always denied Willey's accusation.
As seen in Impeachment: American Crime Story, her accusations became public in the Drudge Report, but her name was not included in the article. On July 28, 1997, the publication named Willey as the woman, reported The Nation.
After giving a deposition regarding her allegations in January 1998, Willey was subpoenaed to testify in the Paula Jones sexual harassment case in March 1998, where more details of her alleged encounter with Clinton came to light.
The Washington Post reports Willey said in her deposition: "He whispered, 'I've wanted to do this ever since I laid eyes on you.'. . . I just felt overpowered. . . . I pushed him away and I said 'I think I'd better go.'" Clinton denied the claims in his deposition under oath.
On March 15, 1998, Willey appeared on the TV news program 60 Minutes where she made public her allegations that Bill Clinton had sexually assaulted her on November 29, 1993, during his first term as President.
The day after Willey's 60 Minute appearance, private letters exchanged after the alleged assault between Willey and Clinton were released in an attempt to repudiate sexual assault accusations made by Willey, reports CNN. In March 2000, U.S. District Court Judge Royce Lamberth ruled that President Clinton had "committed a criminal violation" of the Privacy Act of 1974 by releasing letters written to him by Willey after the alleged incident took place.
There were found to be some differences in her public admissions of what happened between her and Clinton and her testimony in Paula Jones case. However, in both statements, she alleged Clinton had assaulted her. The Nation cites "more than a dozen discrepancies" in total.
Willey's case received further discredit when her former White House colleague Linda Tripp in her grand jury testimony to the Paula Jones case stated Willey had been attempting to pursue a romance with Clinton the day she arrived in the White House in 1993.
According to Tripp's testimony, Willey plotted with her about how to start an affair with Clinton and they talked about places in the White House they could be alone together. She also testified Willey seemed excited about the alleged assault.
Six other friends of Willey confirmed Tripp's account sworn testimony, stating Willey actively sought a sexual relationship with the president, reported The Nation.
Things also took a turn in Willey's case when Julie Hiatt Steele in an affidavit accused Willey of asking her to lie to corroborate her account of being sexually assaulted by Clinton. According to Style Weekly, Willey had phoned Steele and asked her to lie to reporters and confirm she had been sexually assaulted by Clinton. Steele also stated Willey had never told her what happened between her and Clinton in 1993. She would later be prosecuted by Independent Counsel Kenn Starr for "making false statements" and "obstructing justice". Her case ended in a mistrial.
Willey has always insisted Tripp's and Steele's statements were untrue.
Starr's office eventually concluded that "the evidence was insufficient to prove to a jury beyond a reasonable doubt that the President's deposition testimony about his conduct with Willey was false."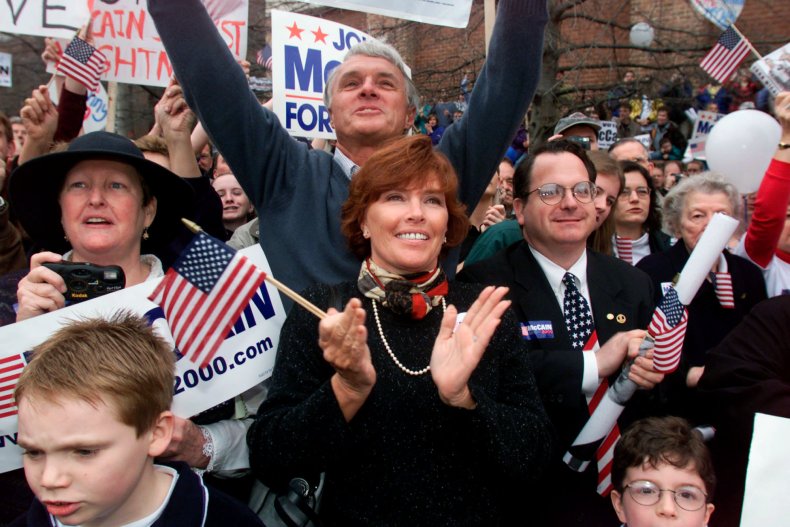 Where is Kathleen Willey Today?
After leaving the White House, Willey worked various different jobs, including at a bakery, as a real estate agent, and in a clothing store.
Willey published her book Target: Caught in the Crosshairs of Bill and Hillary Clinton in 2007.
In 2015, she launched "A Scandal A Day," an anti-Clinton website set up by Arizona-based private detective company, Maverick Investigations.
Willey appeared alongside Donald Trump at a press conference ahead of a presidential debate, where she aired her grievances against Hillary and Bill Clinton.
According to Style Weekly, Willey works as a freelance writer and resides in Powhatan County, Virginia.
Impeachment: American Crime Story airs Tuesdays at 10 p.m ET.