Impeachment Manager David Cicilline Says Trump 'Sided' With Insurrectionists in Senate Speech
As House impeachment managers made their opening arguments on the Senate floor Tuesday, Representative David Cicilline of Rhode Island said the reason that former President Donald Trump has tried to argue the constitutionality of his second impeachment trial is because Trump "sided" with the violent mob that stormed the Capitol on January 6.
"The president of the United States sided with the insurrectionists. He celebrated their cause. He validated their attack," Cicilline told senators. "He told them, 'Remember this day forever!' hours after they marched through these halls looking to assassinate Vice President Pence, the speaker of the House and any of us they could find."
"Given all that, it's no wonder that President Trump would rather talk about jurisdiction," he added.
The Rhode Island congressman displayed the January 6 tweet from the former president, which Cicilline said "chills" him to the "core" every time he reads it.
"These are the things and events that happened when a sacred landslide election victory is so unceremoniously & viciously stripped away from great patriots who have been badly & unfairly treated for so long," Trump tweeted hours after the Capitol was breached. "Go home with love & in peace. Remember this day forever!"
Cicilline, a former public defender, is one of nine House Democrats serving as the impeachment managers of the trial. He joined Representative Jamie Raskin of Maryland, who is leading the House impeachment team, and Representative Joe Neguse of Colorado in making opening speeches Tuesday afternoon.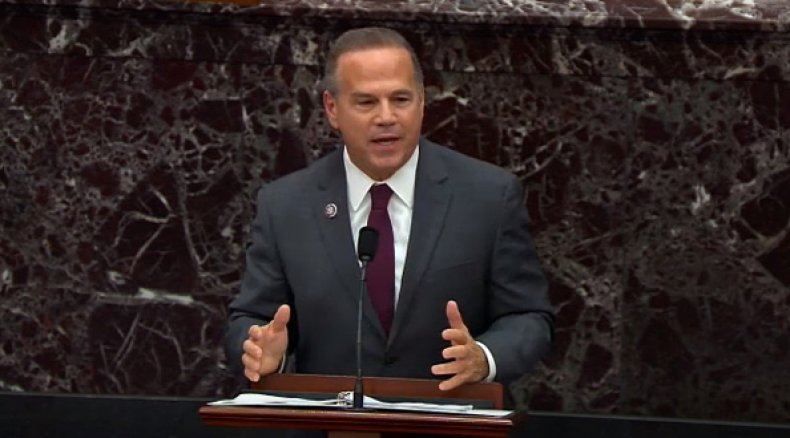 On the Senate floor, Cicilline addressed the constitutionality argument Trump's defense team, led by Bruce Castor Jr. and David Schoen, and their allies have asserted. The impeachment manager said that although Trump is no longer in office, he was impeached before President Joe Biden's inauguration.
"President Trump was impeached while he was in office for conduct in office. Period," Cicilline said.
"Make no mistake, [Trump's] arguments are dead wrong. They're distractions from what really matters. The Senate can and should require President Trump to stand trial," he added.
House impeachment managers had asked Trump to testify during the trial, but his attorneys declined the request on the former president's behalf.
Cicilline also echoed previous remarks made by Raskin and Neguse, saying, "Impeachment is not merely about removing someone from office. Fundamentally, impeachment exists to protect our constitutional system."
"President Trump's process arguments are not only wrong on their own terms, but they're also completely irrelevant to the question on whether you should hold this trial. That question is answered by the Constitution. And the answer is yes," he said on Tuesday.
Newsweek reached out to Trump's team for comment but did not hear back before publication.