'Impeachment March' Trends as Rallies Demanding Trump's Removal Are Held Across the U.S.
"Impeachment March" trended on Twitter as protestors held rallies across America in support of the effort to remove President Donald Trump from office.
The House will vote on Wednesday on two articles of impeachment brought against Trump over his alleged misconduct in the White House.
Trump is accused of abusing his power by soliciting a foreign government's interference in the 2020 election to his personal advantage and then obstructing Congress as it sought to investigate what happened.
Photos and videos uploaded to social media showed rallies in a number of cities on Tuesday evening calling for the impeachment and removal of Trump.
The liberal filmmaker Michael Moore encouraged people to attend the "Nobody Is Above The Law" demonstrations.
"Hundreds of Impeachment Eve rallies happening all over the country after work in the next hours!" Moore tweeted. "Most are at 5:30pm local time! Head out & show up! Demand the removal of Trump and the return of our imperfect democracy to US!"
According to the organizers, there were 617 events all across the states.
"The night before the House of Representatives takes a somber vote to impeach Trump, we'll head to every congressional office and public square to declare that Nobody Is Above the Law as representatives finalize their positions and senators look on," said the Impeach.org website.
David Sievers, campaign director of MoveOn, which organized the rallies, said the turnout "showed that people nationwide want Trump to be impeached and removed."
"Polling shows that most Americans support impeachment and removal," Sievers told Newsweek.
"Yesterday we saw what those voices look like. From the dozens of people who showed up in Kalispell, Montana to the thousands who marched in Times Square, we saw an outpouring of people defending our democracy, which the House will hopefully make good on today."
Once Trump is impeached, we will turn our attention to the effort to get the Senate to do its responsibility to convict and remove Trump from office. I'm happy to be in touch with updates as those plans move forward.
"We will make sure that not only is he impeached, but he will be removed from office," the actor Rob Reiner told the several hundred people attending the rally at Grand Park in Los Angeles, Deadline reported.
Janet Griffin, one of the protesters who attended an event in Raleigh, North Carolina, told WRAL: "You've got to come out, you've got to show that this is important to you and that no one is above the law."
Newsweek asked the White House by email for comment on the rallies and will update this article if one is provided.
Trump is accused of abusing his power by trying to coerce the Ukranian government into opening investigations into his political rivals, namely former Vice President Joe Biden—a leading 2020 candidate—and the Democratic Party.
The president allegedly conditioned $391 million in military aid and a White House visit for Ukraine's President Volodymyr Zelenskiy on a public announcement that the investigations were opened.
He then refused to comply with a congressional investigation after a whistleblower filed a complaint to the intelligence inspector general about the president's alleged Ukraine conduct, resulting in the obstruction charge.
But Trump denies any wrongdoing, saying he asked for nothing in exchange for the investigations and that he was legitimately pursuing concerns about corruption in Ukraine. He calls impeachment a "hoax" and "presidential harassment."
On Tuesday, Trump wrote a letter to House Speaker Nancy Pelosi, a California Democrat, decrying what he called the "partisan impeachment crusade" and accusing the Democrats of an "unconstitutional abuse of power," echoing the charge against himself.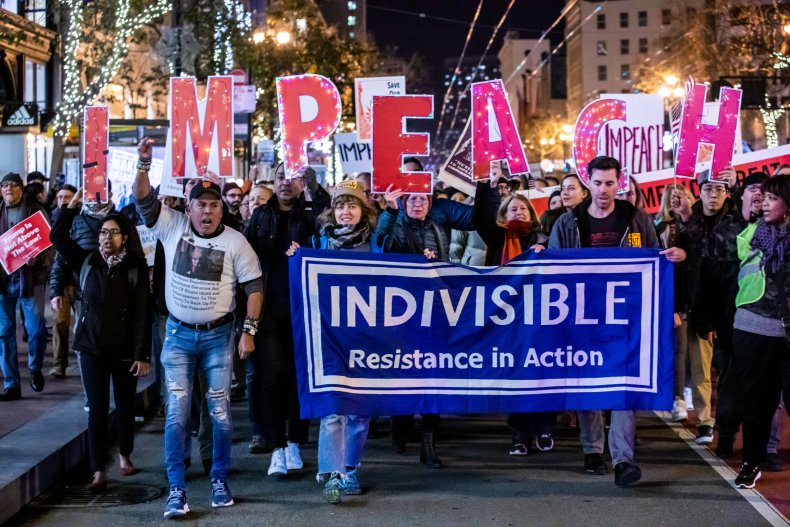 This article was updated with a comment by David Sievers.