Kamala Harris, Hillary Clinton and More Appear in Symbolic Purple at Inauguration
On Inauguration Day, purple became the color of the day.
Prominent female guests, including Hillary Clinton, arrived at the inauguration in head-to-toe purple while Michelle Obama, wearing Sergio Hudson, opted for more of a wine-colored look. Senator Elizabeth Warren appeared at the inauguration with a lilac-colored scarf around her neck.
The ladies' choice to wear purple is being widely interpreted as a nod to nobility—a symbolic association of the color. Purple was also notably a color favored by suffragettes and women political leaders of the past. Vice President Kamala Harris' own purple ensemble may have also been a nod to former Representative Shirley Chisholm, who famously wore purple during her 1972 presidential campaign.
Speaking of Harris, who made history on Wednesday by becoming the first woman and the first woman of color to hold the second-highest position in U.S. government, when she stepped out onto the Inauguration Day stage, she did so in clothes from emerging American designers: a purple dress and overcoat designed by Christopher John Rogers and also Sergio Hudson, both of them Black creators.
Rogers is a Louisiana native based in Brooklyn, while Hudson, whose designs have been worn by the likes of former first lady Michelle Obama, hails from South Carolina. Harris complemented her look with a string of pearls—likely an homage to her Alpha Kappa Alpha sorority.
Newsweek has reached out for comment from Harris, Obama and Clinton's teams, for further clarification on the symbolism behind these outfits, but did not hear back in time for publication.
President Joe Biden, meanwhile, was sworn in on Wednesday while wearing a suit designed by American fashion magnate Ralph Lauren.
Biden walked through the Capitol building, and onto the Inauguration Day stage, sporting a navy blue suit and navy overcoat by Lauren meant to be "a symbolic sartorial statement for a return to decorum and upholding the values of America," the designer's team told Women's Wear Daily on Wednesday.
Biden has worn clothes by Lauren publicly on multiple occasions, including during his public COVID vaccinations in December.
Standing alongside him, First Lady Jill Biden donned a blue wool tweed coat with a dark blue collar and cuffs and a chiffon dress by emerging American designer Alexandra O'Neil of Markarian. The dress' neckline was hand-embellished with Swarovski pearls and crystals. A team in New York City designed the look, but O'Neill added the hand-finishings in her West Village studio, according to a press release from Makarian.
"Alexandra is incredibly humbled to be a small part of such a historic moment," the statement reads.
The First Lady's ensemble falls in line with her continued effort to support rising designers; on Tuesday night, she showed off a full-purple look created by independent American designer Jonathan Cohen.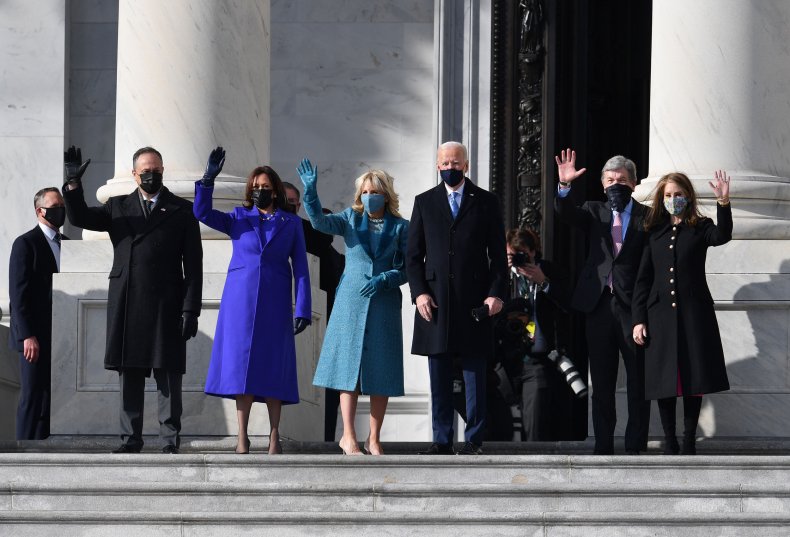 Harris' husband, Second Gentleman Doug Emhoff, went for a suit and overcoat by Lauren.
As one of the U.S.' most celebrated designers, Lauren is no stranger to dressing heads of state from both sides of the aisle, and he's often been a top option for first ladies in particular.
Lauren notably dressed former First Lady Melania Trump for President Donald Trump's inauguration in 2017—although the Easter egg blue dress and coat didn't come without a little bit of backlash for the designer. Some angry fans expressed outrage with his alleged support of the Trumps by tweeting the viral hashtag, #boycottralphlauren. Melania Trump also wore a white dress by Lauren on election night in 2016.
Lauren actually also outfitted 2016 presidential candidate Hillary Clinton. She wore a nude-colored Ralph Lauren Collection jewel-neck suit with a double-face cashmere cream coat to Trump's inauguration ceremony, after having worn the designer during all three 2016 presidential debates and on election night.
Nancy Reagan and Betty Ford have also worn looks by Lauren during their husband's presidencies.