Michelle Obama Praised for 'Slaying' With Purple Outfit at Biden Inauguration
Michelle Obama has captured the attention of fashion lovers all over the U.S. for her vibrant look at the inauguration of President Joe Biden.
Biden was sworn in as the 46th president of the United States on Wednesday, ushering in a new era after the tumultuous years of the Donald Trump administration.
Kamala Harris became the nation's first African American, first Asian American and first female vice president just two weeks after the U.S. Capitol was stormed by pro-Trump insurrectionists.
Their swearing in was witnessed by three previous presidents and first ladies, including Barack and Michelle Obama.
The historic event led to much analysis of the symbolism in the wardrobe choices of the new vice president and the new first lady Dr. Jill Biden. All eyes were on Michelle Obama, however, in a vibrant purple outfit that wowed television viewers.
The former first lady wore a long plum coat with a matching turtleneck sweater and wide-leg trousers, complete with a large gold belt and a killer blowout.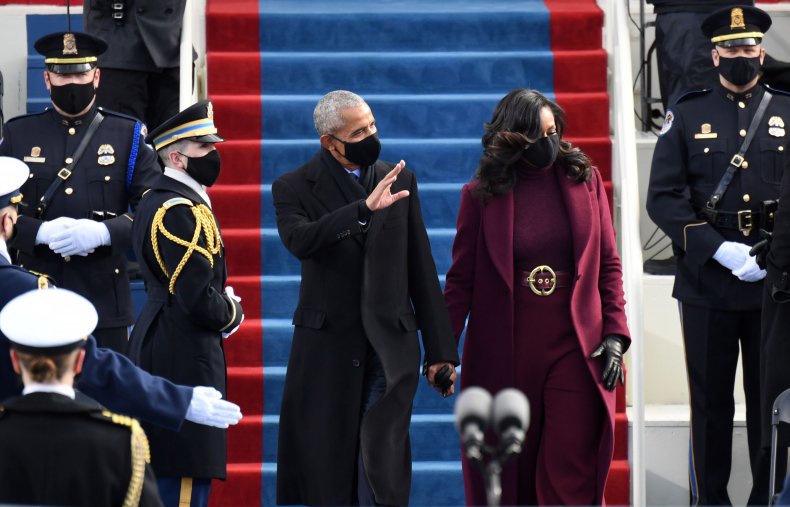 Michelle Obama's name began trending on Twitter during the inauguration as viewers praised her sartorial choices.
The outfit is reportedly by African American designer Sergio Hudson, who also dressed Vice President Harris on Wednesday.
Purple was the color of the day as it was also worn by Harris and former presidential candidate Hillary Clinton. The color is traditionally associated with bipartisanism and was a powerful choice for today's ceremony.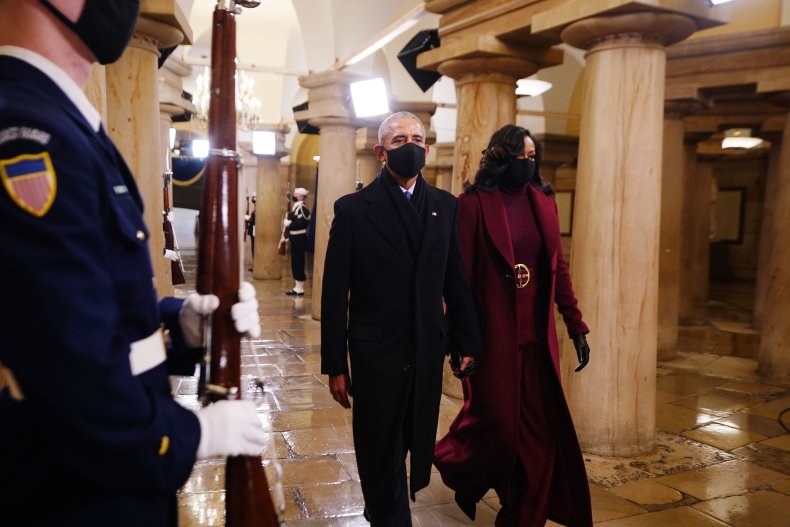 Social media soon took notice of Michelle Obama's look. "Michelle just did more with a blowout than Melania did in four years. EAT ITTTTTT," writer Saeed Jones tweeted.
Another Twitter user posted: "Michelle Obama slayed this look! The hair, the outfit, everything about her is on point!"
One person added: "When can all agree that Michelle Obama IS THAT GIRL."
Another tweeted: "Michelle outfit was fire at the inauguration, where can I get me a suit like that."
Podcast host Jemele Hill tweeted: "I found my joy. It was Michelle Obama's hair. COME THROUGH CURLS AND VOLUME."
"I shall be unashamedly eating on the blowout and the coat for a while, it has been so long since a bona fide fashion moment," tweeted author Bolu Babalola.
"STOP WHATEVER YOU'RE DOING AND LOOK AT MICHELLE OBAMA," reads another post.
Social media personality James Kavanagh tweeted: "This is the inauguration of Michelle Obama's flawless blow dry tbh."
Benj Pasek, an Oscar and Tony award-winning composer, wrote: "Breaking: Michelle Obama's hair/make up/stylist team have all just received Oscar nominations for this burgundy blowout bliss."