'Literally Crying': Incredible Father Daughter Wedding Dance Goes Viral
Footage of an incredible father and daughter wedding dance is lighting up social media and leaving some viewers in tears.
In a series of clips posted to TikTok under the handle anishakayy, Anisha Kurukulasuriya, showed how her dad pulled out all the stops to ensure she enjoyed a day to remember.
Father daughter dances remain a popular part of weddings in the U.S. but the meaning behind them has changed significantly over the past few decades.
As New Jersey-based wedding planner Alicia Mae explained to Brides: "In the previous era, the father would have the first dance with his daughter and then 'give her away' to her husband."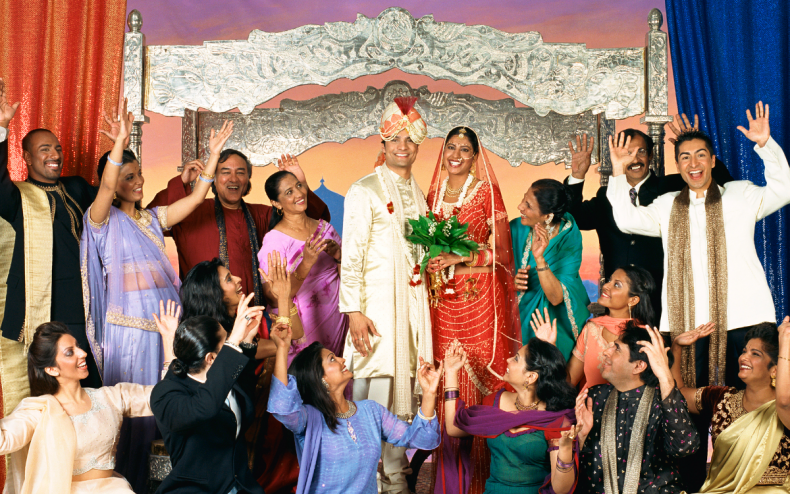 "As culture evolved, many couples opted for the first dance to be theirs. Now, you will find the father-daughter dance taking place right after the newlywed's first dance."
That evolution hasn't just been restricted to the meaning and placement of the father daughter wedding dance either. In the age of social media, many have sought to create extra special memories from their big day with an elaborate dance routine.
In this case, the pressure was on Kurukulasuriya's father to do something memorable because, while his daughter works as a dentist by day, by night she is a choreographer known for her elaborate dance videos and having worked as a dancer in the NBA and NFL.
Fortunately, as the video shows, he was more than up to the task.
The dance began poignantly with the father-of-the-bride leading his daughter in a Viennese Waltz set to the tune of the John Denver classic "You Fill Up My Senses."
According to Kurukulasuriya, that part of the dance was especially significant as it was the first they learned together while taking ballroom dancing lessons when she was just 15 years old.
A perfectly orchestrated routine, that dance alone would have been enough to bring the house down. However, that was only the beginning.
In a video viewed over 11 million times on TikTok, fans were then given a glimpse of what followed. Moving to the edge of the dance floor, the dedicated dad donned a trilby hat before rejoining his daughter to bust shapes along to the sound of the Black Eyed Peas hit "My Humps."
Though he wasn't quite up to Kurukulasuriya's efforts in terms of timing, the doting dad nevertheless deserved a solid 'A' grade for effort as the dance continued.
From there, the pair broke off into a neat routine played out to the sounds of Lipps Inc.'s disco hit "Funky Town" before moving on to dance to Justin Bieber's breakthrough track "Baby."
As a follow-up video shows, the spectacular routine then concluded with a Bollywood-inspired dance to the tune of "O Saki Saki" a song from the film Batla House.
While Kurukulasuriya was suitably impressed with her dad's efforts, declaring, on one clip, that he "slayed," her reaction was nothing compared to the response of those watching along.
Orangetacos8 said: "This is beautiful" with Melisa Ross639 commenting: "It's so sweet to see that your dad would put in the time and effort to learn this for you."
Teny Yaghobi wrote: "Literally crying cuz I will never have this type of relationship with my dad" while bloop.ash urged Kurukulasuriya to "protect that man at all costs."
Victoria.Alario said the video had her "crying" with Mitz Tiang writing: "Why did I tear up? It's so perfect." Aubreydrakegrahamswife1 commented: "You can tell he practiced so hard for this" with illygillyma adding: "your dad is so sweet."
Newsweek has contacted Kurukulasuriya for comment.