A nuclear war between India and Pakistan could lead to the deaths of up to 125 million people in less than a week and would threaten life far beyond the region, a new study has shown.
As tensions rage over India's decision to repeal the special status of its share of the disputed border territory of Kashmir, the journal Science Advances published a new study Wednesday by researchers of the University of Colorado Boulder and Rutgers University whose findings show the catastrophic potential of a conflict between New Delhi and Islamabad going nuclear. The longtime rivals have already engaged in three out of their four wars over the contested region. And if there's a fifth, they may never have an opportunity to fight a sixth.
With an estimated 150 nuclear warheads, figures expected to exceed 200 in by 2025, with yields ranging from around 15 kilotons (around the same as those used in the U.S. bombings of Japan's Hiroshima and Nagasaki) to several times that—an exchange of even some of these weapons of mass destruction would not only devastate regional populations, but also set off a deadly international chain of events.
"Should a war between India and Pakistan ever occur, as assumed here, these countries alone could suffer 50 to 125 million fatalities, a regional catastrophe," the study found. "In addition, severe short-term climate perturbations, with temperatures declining to values not seen on Earth since the middle of the last Ice Age, would be triggered by smoke from burning cities, a global disaster threatening food production worldwide and mass starvation, as well as severe disruption to natural ecosystems."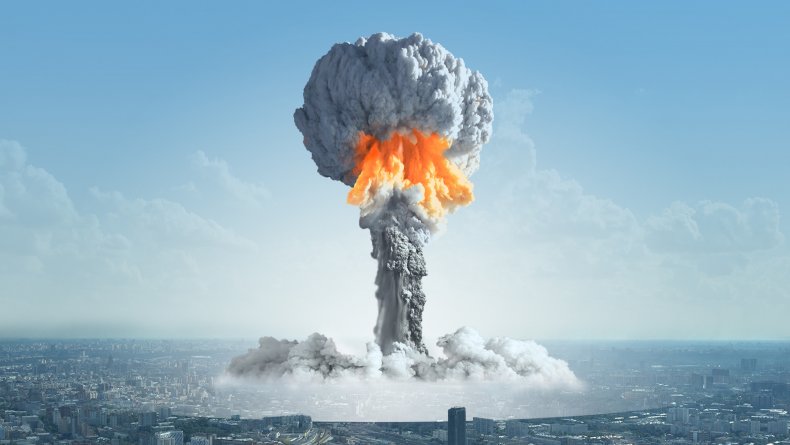 In a conversation Monday with Newsweek, President Masood Khan of Pakistan-administered Kashmir (known as Azad Kashmir) mentioned an identical figure of up to 125 million, with up to 2.8 billion more affected using Hiroshima and Nagasaki-esque warheads. He also warned of "global recession, mass migration" and a "nuclear winter" across the planet.
"We are in a state of war right now, but the situation could escalate even further," he added. "Any military exchange will not remain limited, it can and we fear it would escalate to the nuclear level, that is tantamount to nuclear Armageddon."
He was only the latest Pakistani official to warn Newsweek of such an outcome if the international community did not step in to enforce United Nations Security Council resolutions regarding the fate of Kashmir. Final sovereignty over the Himalayan valley has yet to be determined since the departure of the colonial United Kingdom led to a 1947 partition that itself killed millions on both sides.
New Delhi and Islamabad came to cross-border blows for the first time in over three decades in February after a suicide bombing claimed by Pakistan-based Jaish-e-Mohammed killed 40 Indian security force members. India launched air raids on alleged militant camps across the Line of Control and Pakistani retaliated, leading to aerial combat that claimed at least one Indian aircraft and saw its pilot captured in enemy territory.
Pakistani Prime Minister Imran Khan released the pilot in what he termed a gesture of peace. But his Indian counterpart Narendra Modi maintained a hard-line position against the neighboring foe that New Delhi has long accused of supporting terrorism, a charge denied by Islamabad. Relations continued to falter and, with India's consolidation of power in the part of Kashmir it controls, Khan has appealed to global powers to prevent a clash.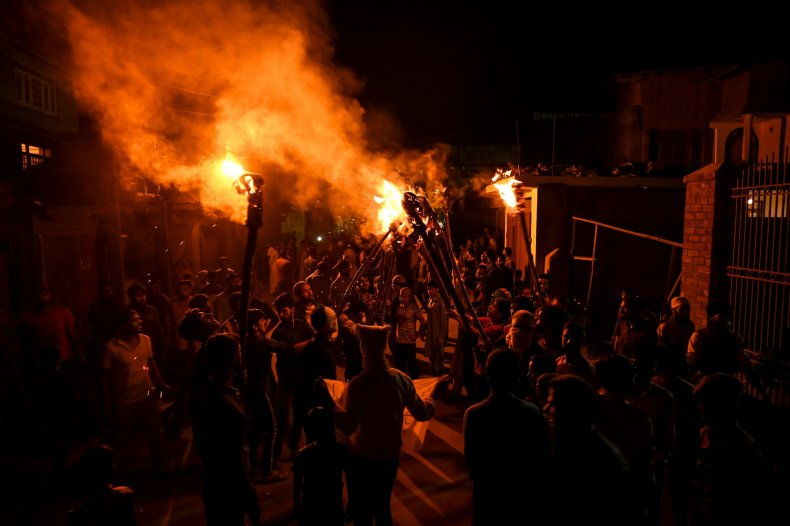 In an impassioned speech to the U.N. General Assembly on Friday, Khan addressed reports of human rights abuses in India-administered Kashmir and warned that even a conventional conflict between the two could quickly escalate, stating that "when a nuclear-armed country fights to the end, it will consequence far beyond the borders."
Modi did not mention Kashmir in his own speech earlier that same day, something Newsweek had anticipated. But he did say it was "absolutely essential for the world to unite against terrorism." Utilizing the country's right of reply, Vidisha Maitra, first secretary of India's U.N. mission, called Khan's remarks "brinksmanship not statesmanship" coming "from the leader of a country that has monopolized the entire value chain of the industry of terrorism."
While the U.S. has officially expressed concern regarding reports of arbitrary detainment and restrictions on communications and movement, as well as violence in India-administered Kashmir, it has also offered support for Modi's claims of attempting to develop his country's only majority-Muslim state.
In a statement issued Tuesday, the State Department said that Secretary of State Mike Pompeo and Indian Foreign Minister Subrahmanyam Jaishankar "discussed a range of issues, including the growing U.S.-India strategic relationship, developments in Kashmir, and global issues of concern" during their meeting Monday.