India PM Modi Skips Hug With Putin, Calls for 'Path of Peace' in Ukraine
Indian Prime Minister Narendra Modi did not exchange many pleasantries with Russian President Vladimir Putin during a meeting of heads of state on Friday.
The summit in Samarkand, Uzbekistan, was held as Putin faces fierce opposition to how his country is faring against Ukraine. U.S. officials note how pro-Kremlin voices, even those in state media, are "pushing Putin into a corner." As Russian volunteers are being assembled to combat Ukraine's ongoing counteroffensive, the U.S. has pledged an additional $600 million in military aid.
Modi skipped hugging Putin during their most recent encounter at the summit of the Shanghai Cooperation Organization, reported Brookings Institute senior fellow and The India Project Director Tanvi Madan.
Putin told Modi he knows about his concerns regarding the Ukraine war, adding that the concerns are shared by Russia and that "we want all of this to end as soon as possible.
"Today's era is not one of war, and I've talked to you about this on the phone several times...in the coming days, how we move towards the path of peace—we will definitely have an opportunity to discuss this," Modi told Putin, according to Madan's translation.
Modi reiterated his desire for both nations to remain allies.
In May, Madan wrote in The Economist that although India has not ruled out the purchase of Russian arms or oil, and has hosted Russia Foreign Minister Sergey Lavrov, India "neither supports or endorses" the war and "is not in Russia's camp."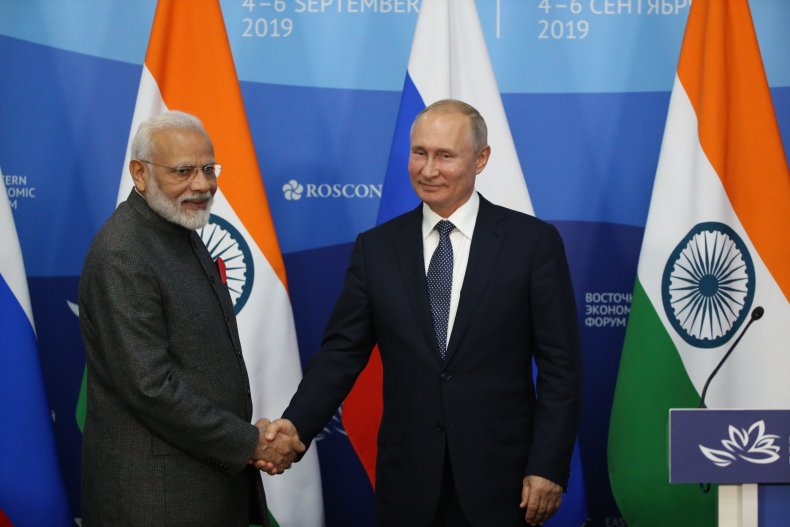 "Indian interests have been adversely affected by Moscow's move," she wrote. "The invasion endangered the lives of more than 20,000 Indian citizens in Ukraine, one of whom was killed. It has increased Indian concerns about further Chinese military action at their shared border while the world's attention is on Europe."
The conflict, which began with Russia's invasion on February 24, has also jeopardized Indian dependence on the arms supply chain, she added.
Modi's call for peace echoes similar language he used in 2014, when he was campaigning for his position. He mentioned China by name due to the nation's expansionist worldviews.
"Times have changed," Modi said, according to Reuters. "The world does not welcome the mindset of expansion in today's times. China will also have to leave behind its mindset of expansion."
Modi repeated the same message in November of 2020, though did not mention China by name.
"Today the whole world is troubled by expansionist forces," Modi said in 2014, according to the Hindustan Times. "Expansionism is, in a way, a mental disorder and reflects 18th-century thinking. India is also becoming a strong voice against this thinking."
China was represented at Friday's summit by President Xi Jinping. Xi told Putin, whom he called a "dear and old friend," that he wanted both nations to jointly contribute as "great powers" worldwide.
However, a video of Xi's expression of "concerns" to Putin in a more candid discussion about the current war effort has been viewed millions of times.
"I would like to repeat that global politics and economy are about to undergo fundamental and irreversible changes," Putin said in a readout reported by the Kremlin.
He mentioned "universally recognized principles of the rule of international law and the UN Charter," in addition to security and "respect for each other's sovereignty, national values and interests."
Newsweek reached out to Madan for comment.