Xi Jinping Says China and Russia Can Work Together as 'Great Powers'
This week, Chinese President Xi Jinping called on his Russian counterpart to jointly contribute to global stability as "great powers" in their first face-to-face talks since the beginning of the war in Ukraine.
Xi last met Russian President Vladimir Putin when he hosted him in Beijing for the opening of the Winter Olympics in February, three weeks before Russian forces invaded Ukraine. The two leaders, both 69, have spoken on the phone at least twice in the last six months.
"China is willing to make efforts with Russia to assume the role of great powers, and play a guiding role to inject stability and positive energy into a world rocked by social turmoil," Xi told Putin, who he addressed as a "dear and old friend."
The brief remarks were delivered before a closed-door meeting between the pair on the sidelines of the Shanghai Cooperation Organization, a Eurasian economic and security bloc whose heads of member states are meeting in Samarkand, Uzbekistan, until Friday.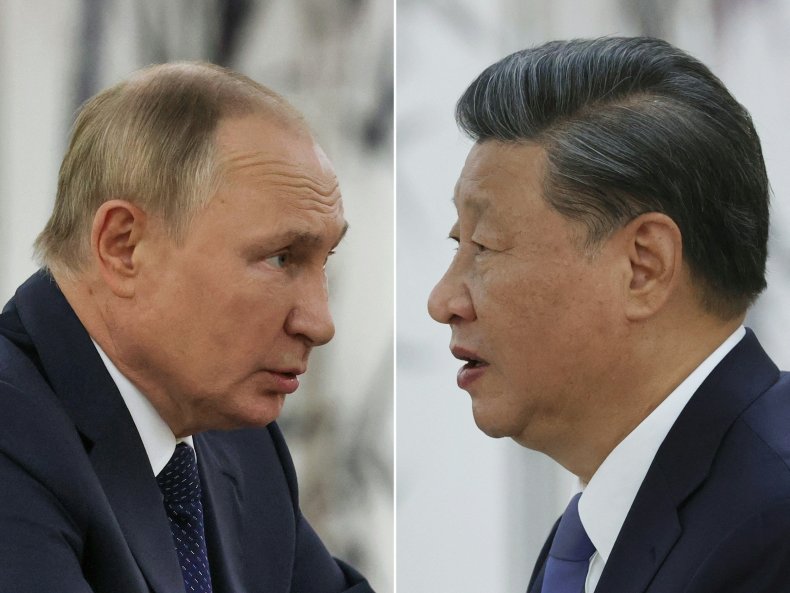 Beijing, which views Moscow as a vital strategic partner in its competition against the U.S., hasn't condemned Putin's invasion of Ukraine but hasn't provided material assistance to sustain the war effort either.
Putin thanked Xi for China's "balanced position" on Ukraine, and said the pair would discuss Beijing's "questions and concerns" about the crisis, without elaborating. In return, the Russian president condemned "provocations by the United States and its satellites in the Taiwan Strait."
"The foreign policy tandem of Moscow and Beijing plays a key role in ensuring global and regional stability," Putin told Xi. "We jointly advocate the formation of a just, democratic and multipolar world order based on international law and the central role of the United Nations."
He also alluded to recent talks held with Li Zhanshu, China's No. 3 official, who last week gave Beijing's clearest backing yet of Russia's rationale for going to war. Xi's public remarks, incidentally, didn't mention Ukraine.
China says it's not a party to the conflict and insists a negotiated political settlement between Russia and the West offers the best solution.
Faced with souring relations with the West in recent years, the Russian and Chinese leaders have forged a personal friendship that relies on each other's political and economic clout at the U.N. and elsewhere. However, with Moscow engaged in a costly war against a Ukraine actively aided by the West, observers question the long-term stability of the partnership as Russia is resigned to an increasingly junior role.
Analysts have interpreted Xi's call for Russia to play a stabilizing role as a veiled criticism of the protracted war in Ukraine and its ongoing disruptions to global energy prices and trade. But there are so far no hints that Beijing is considering abandoning Moscow, now or in the future.
In his opening remarks, Putin also wished Xi success at the Chinese Communist Party's 20th National Congress next month. CCP members are expected to grant Xi an unprecedented third term as leader at the twice-a-decade event, which traditionally involves a change in leadership after two terms.