Putin Making Russia 'Very Junior Partner' to China: Former U.S. Admiral
Former U.S. Admiral James Stavridis has called Vladimir Putin a "terrible strategist" whose actions will allow China to dominate in its relationship with Russia in the coming years.
The former NATO Supreme Allied Commander was responding to a report that Beijing had largely respected export controls as part of sanctions against Russia that followed Putin's full-scale invasion of Ukraine.
This has led to Russia resorting to turning to North Korea for artillery shells and rockets, as well as Iran, according to The New York Times, citing U.S. intelligence sources.
"If your phone-a-friend or arms dealer is Kim Jong Un you're probably shopping in the wrong arms bazaar," Stavridis told MSNBC anchor Joe Scarborough on Wednesday, referring to the North Korean leader. "That is not going to be the case for advancement for Putin's army."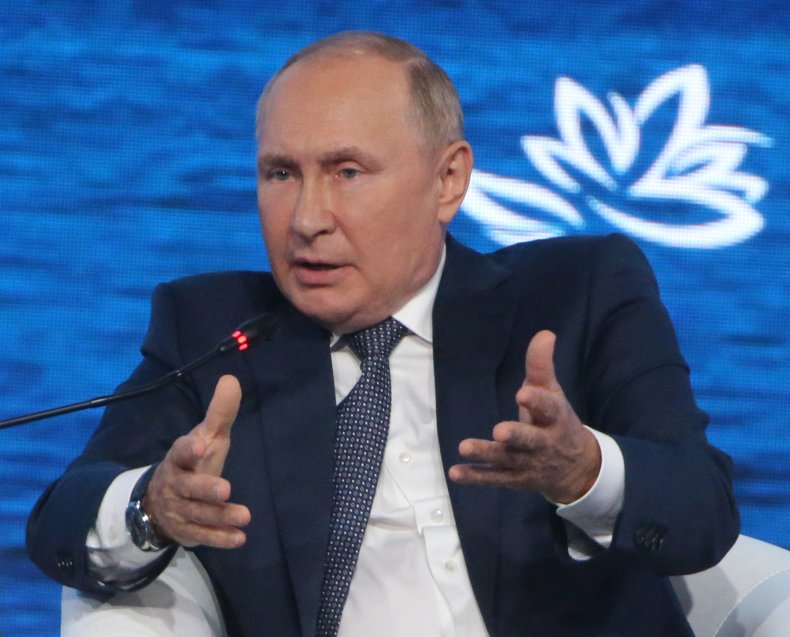 He said that China's President Xi Jinping "wants to be supportive of Putin. He has a relationship with Putin. They are kind of special friends, as they both say."
"On the other hand, President Xi doesn't want to go 'the full monty' here. He doesn't want to provide high-end weapons. He doesn't want to be that phone-a-friend arms dealer. "
China has been a key ally for Russia since the start of the Ukraine war. On Wednesday Putin reiterated his view that there has been a pivot away from the Western-led world order to one which includes countries in Asia, such as China, as he addressed the Eastern Economic Forum in the city of Vladivostok.
This month, military exercises, also held in Vladivostok, involved forces from China as well as other allies, involving more than 50,000 troops and 5,000 weapons units, including 140 aircraft and 60 warships.
However it appears that China is sticking to sanctions imposed since the start of the war. U.S. Commerce Secretary Gina Raimondo warned China that if its computer chip maker, Semiconductor Manufacturing International Corporation, or other companies, violated sanctions, those businesses would lose access to the American expertise they need.
Stavridis believed that Xi was using the North Korea leader "as a kind of a cat's paw" and that "as the decade unfolds, Putin is taking Russia down a path where it will be a very junior partner to this larger Chinese enterprise."
"The Chinese will take advantage of Russia again and again and again," he said.
"I think Putin, who at times can be a smart tactician, is a terrible strategist," said Stavridis. "Hence his failure in the attack on Ukraine, and the path he's going down now with China, who is not going to bail him out."
Steve Tsang, director of the China Institute at London's School of African and Oriental Studies [SOAS] said that Beijing's policy regarding the war in the Ukraine is to declare neutrality, support Putin "but pay no price."
"In line with this policy, China will support Putin but will not take actions that will trigger secondary sanctions against itself, and supplying high-end weapons would trigger that," he told Newsweek.
"China is still on the rising trajectory towards becoming a superpower whereas Russia is a former superpower trying to make itself matter by its adventures. They need each other as partners, but Russia is no in a position to call the shots," he added.
Newsweek has contacted the Kremlin for comment.
Update 09/08/22, 8: a.m. ET: This article has been updated with comment from Steve Tsang of London's China Institute.