India Promotes Hydroxychloroquine, as WHO Stops Trials Over Safety Issues
Editor's Note: A week after this story was published, Lancet retracted the findings of the hydroxychloroquine study referenced in this article.
The Indian government's biomedical research organization will continue to recommend hydroxychloroquine as a way to ward off coronavirus infection despite global health experts increasingly expressing skepticism about the drug's safety and efficacy.
The Indian Council of Medical Research (ICMR) said it advises people working with COVID-19 patients take hydroxychloroquine to prevent infections, while also recommending that health care workers continue to use personal protective equipment (PPE). On Monday, the World Health Organization (WHO) announced they are temporarily pausing a trial of the drug over safety concerns.
"It should be continued because there is no harm. Benefit may be there," ICMR Director-General Balram Bhargava said at a press conference on Tuesday. "Based on looking at the risk [and] benefit, we found that possibly we should not deny our frontline workers and health care workers who are going to be dealing with the patients of COVID."
"At the same time, the use of PPE should be continued," he added.
Bhargava insisted that there were "no major side effects" for hydroxychloroquine, while noting that it can cause nausea, vomiting and heart palpitations. He recommended that it be taken with food and patients should undergo an electrocardiogram while on the drug.
Brazil's Health Ministry also announced it would continue recommending the drug as a treatment for COVID-19 on Tuesday. Brazil has recently seen a surge in confirmed coronavirus cases, becoming the second-most infected country in the world after the United States.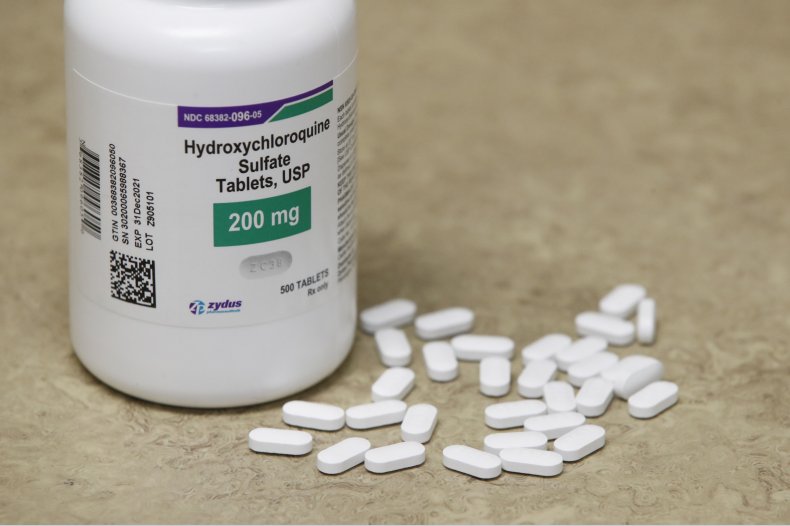 The WHO said Monday that they would be temporarily halting a clinical trial testing the effects of hydroxychloroquine on hospitalized COVID-19 patients due to research suggesting it could lead to increased death. Newsweek reached out to the WHO for comment.
President Donald Trump revealed last week that he took the drug for around two weeks in an attempt to prevent the virus. The president has repeatedly touted the drug as safe and effective despite medical experts urging caution.
Although some early studies of the drug showed promise against the virus, multiple subsequent studies have been less encouraging. The Food and Drug Administration has warned against using it as an intervention for COVID-19 outside of a clinical trial or a hospital setting.
On Friday, the medical journal The Lancet published a large observational study that found hydroxychloroquine showed no benefit against the coronavirus, while linking it with increased mortality and heart arrhythmia among hospitalized patients.
An earlier study conducted by the U.S. Department of Veterans Affairs also found the drug was not effective and could lead to increased death. Trump later denounced the study as a "Trump enemy statement."
Additional studies published in the Journal of the American Medical Association and the New England Journal of Medicine concluded that hydroxychloroquine had no statistically significant effect in treating the virus, with one finding it could put patients at a higher risk for heart attacks.