India Reports Shortage of Wood Needed for Funeral Pyres as COVID Deaths Surpass 234K
Some cities in India are reporting a shortage of wood needed for funeral pyres to cremate the bodies of deceased COVID-19 victims, as coronavirus deaths surpass more than 234,000.
In Varanasi, a city regarded as the spiritual capital of the nation, the situation has gotten so bad that local crematorium workers have said the demand for wood is four times higher than the usual rate.
"As long as I've worked here, I've never seen so many dead bodies coming in. The last month has shocked me," a man working at a crematorium site in Varanasi told CNN. "The three main suppliers have run out of wood. The local administration had to intervene," he added.
As virus cases continue to soar with no apparent end in sight, cities have been forced to turn parks, parking lots and other public spaces into makeshift cremation sites. In New Delhi, the nation's capital, officials began using a dog crematorium site for humans in order to process more bodies.
"We are witnessing an increase of over 15 to 20 percent of cremations daily," a municipal corporation official said last week, according to The Times of India. Another official said, "We have to prepare for 1,000 bodies in advance to avoid chaos."
Burning a body after death is considered an important part of the Hindu funeral process, as it aligns with the belief that the body must be destroyed for the soul to proceed to reincarnation.
But with so many new deaths being reported across the nation—on Thursday alone more than 3,915 people died—families are struggling to preserve those funeral rites as crematoriums pile up and reach capacity. In some instances, families are being forced to buy their own supplies of wood for funeral pyres, as stock piles increasingly dwindle.
Barkha Dutt, a Washington Post columnist who lost her father to COVID-19 last week, described the harrowing situation her family faced while trying to find a cremation ground.
"When we went to cremate him, there was no space at the cremation ground. There was a physical fight that erupted between multiple families," she said, according to CNN. "We had to call the police to cremate my father."
Dutt added, "Despite my devastation, I was luckier than most Indians. I think of the families that need cremation grounds, where bodies have been lying on the floor."
By Friday, India had recorded more than 21.4 million coronavirus cases and 234,083 deaths, though health experts predict both figures will turn out to be heavily undercounted. The nation saw more than 414,188 new virus cases on Thursday, according to data from The New York Times.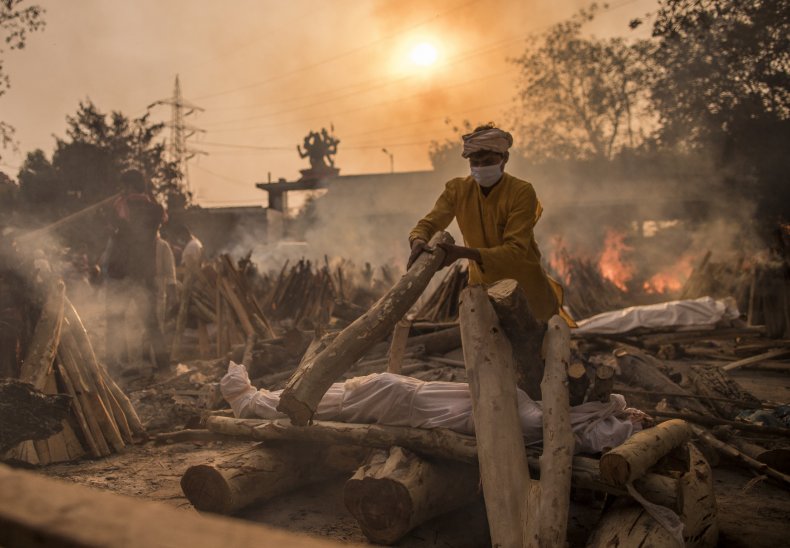 Experts have said the country is experiencing a devastating second outbreak of the virus now because state health officials did not sufficiently plan for a resurgence of new cases or prepare for faster-spreading variants of the virus.
Hospitals across the nation have reported a severe shortage of oxygen as intensive care units reach full capacity. In some cases, hospitals are getting just 40 percent of their daily oxygen supply needs, while others have completely run out.
At this point, demand for oxygen is seven times higher than it was in April, as the country is desperately trying to establish large oxygen plants and transport oxygen to the many hospitals that lack independent oxygen plants.
"It is not just the Covid that is killing people, it is a lack of the most basic essential, oxygen. That's what is fueling the crisis at this point," Dr. P. Carel Joseph, director of health for the humanitarian organization World Vision India, wrote in an article on Wednesday.
"Everywhere, morale is low. We are devastated and we don't know what will happen over the weeks ahead. That's something we don't have an answer for at this point of time," he said.
Newsweek contacted India's Ministry of Health for additional comment but did not hear back in time for publication.