Indiana Shootings Come 2 Weeks After Permitless Gun Carry Law Introduced
Two mass shootings have shaken Indiana, just weeks after new laws in the state lifted the permit requirement to carry a handgun.
Three people were shot dead and two others were injured after a man opened fire inside a mall in Greenwood at around 6 p.m. on Sunday.
The gunman entered the Greenwood Park Mall with a rifle and several magazines of ammunition and opened fire in the mall's food court, Greenwood Police Department Chief Jim Ison said.
He was shot dead by a "good Samaritan," Ison said. The bystander was "able to stop the shooter almost as soon as he began," he added.
That person was identified only as a 22-year-old from Bartholomew County, who was legally carrying a firearm, Ison said.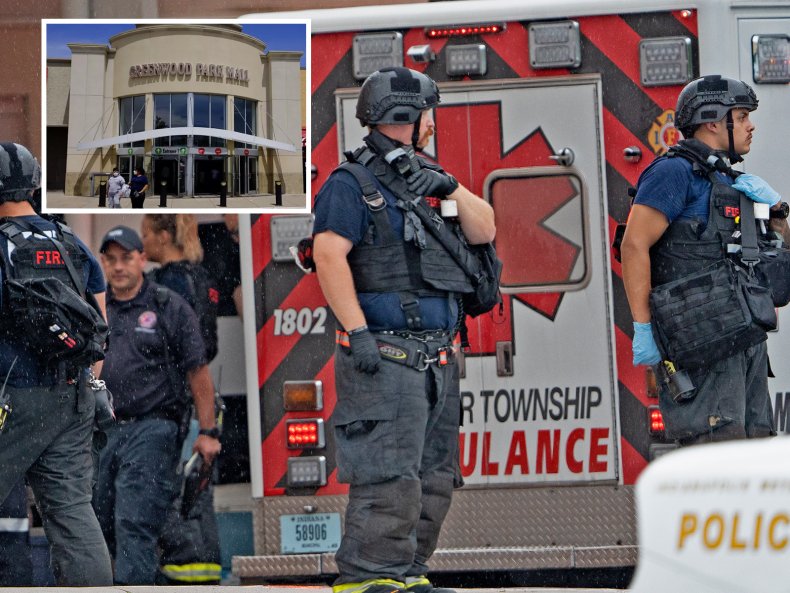 The victims include four females and one male, Ison said at a news conference, but he didn't specify the gender or age of those killed.
The two who were injured include a 12-year-old girl who sustained minor injuries.
"As of now, we do not know the shooter's identity or motive," Greenwood Mayor Mark Myers said in a statement.
"We do know that someone were are calling the 'good Samaritan' was able to shoot the assailant and stop further bloodshed. That person saved lives tonight. On behalf of the city of Greenwood, I am grateful for his quick action and heroism in this situation."
Later that day, at around 10 p.m., four people were shot at a park in Beech Grove, roughly 7 miles north of Greenwood.
One person was pronounced dead at the scene after officers arrived at Don Challis Park, WRTV reported.
Three others were transported to hospital—one is listed in critical condition while the other two are stable, according to the station.
Beech Grove Mayor Dennis Buckley said there was no active threat to the community, but he urged people to avoid the area. The shooting occurred during a vigil.
The shootings came after a new law went into effect on July 1 allowing people aged 18 or older to carry a handgun in public without a permit in Indiana, except for reasons such as having a felony conviction.
Other exceptions include if they are facing a restraining order from a court, if they have a domestic violence conviction or have a dangerous mental illness.
The two shootings on Sunday night are just the latest example of gun violence in the U.S.— schools, grocery stores and a July 4 parade have all been the scene of mass killings in recent months.
Indiana Rep. Mitch Gore vented his frustration about the failure to tackle gun violence on Twitter.
"It's too soon to assess what could've been done to prevent this specific incident, but what should be abundantly clear is that as a society - AND AS A GOVERNMENT- we are utterly failing at addressing gun violence. Clearly, new approaches are urgently needed," Gore tweeted after the mall shooting.
He returned to Twitter following reports of the shooting in Beech Grove.
"And now reports of several of my constituents shot at a park in my district," he wrote. "God damn it. Where can we go to be free of this madness? The mall? No. The park? No. School? No. Movie theaters, concerts, or supermarkets? No no no."