India's Military Might: Country Only Has 10 Days Worth of Ammunition, Most Army Weapons Now Considered 'Vintage'
The alarm has been sounded over India's dated military equipment and lack of resources which could leave the country vulnerable if war broke out.
According to Indian government estimates, the country would only have enough ammunition for its troops for 10 days, The New York Times reported. In addition, more than two thirds of its equipment is so old, it is officially deemed "vintage."
The Times cited India's Economic Times, which last July reported on a damning review of the country's military equipment by India's Comptroller and Auditor General (CAG). The CAG criticized India's defense establishment for a total "disregard" of government policy to hold enough ammunition for 40 days of "intense" fighting.
"In 50 per cent of the types of ammunition, the holding was critical or less than 10 days in March 2013," the CAG's report said.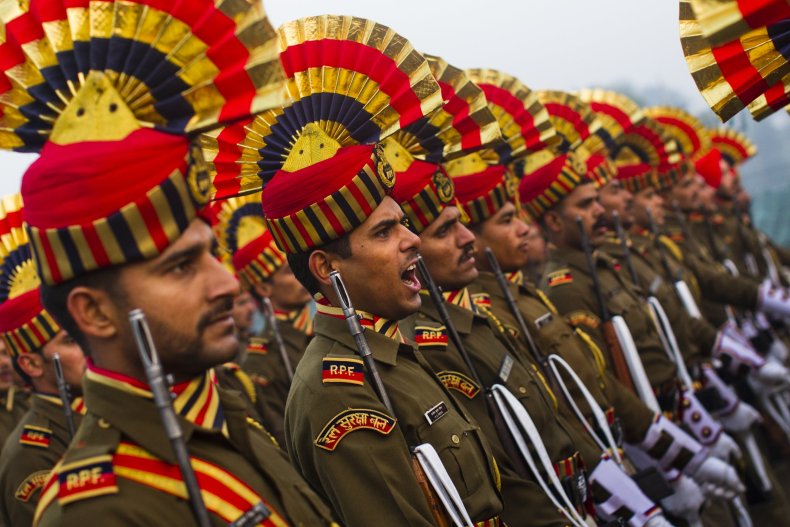 The Times pointed out that the downing last week of India's Soviet-era MiG-21 by Pakistan, which has a military only half its neighbor's size and less than a quarter of its budget, was telling.
Tensions between India and its neighbor were ramped up last week after the incident, raising the possibility of another conflict between the nuclear powers.
The downing of the jet followed Indian air strikes on what New Delhi said was a militant camp in Pakistan. This came after a suicide bombing that killed at least 40 Indian troops in Indian-administered Kashmir on 14 February.
The U.S. has said it is investigating whether Pakistan used F-16 jets to down the Indian warplane, which would breach its trade agreement, The Guardian reported. Islamabad has denied using the U.S.-built aircraft.
"Our troops lack modern equipment, but they have to conduct 21st-century military operations," Gaurav Gogoi, member of the Parliamentary Standing Committee on Defense told the paper.
The United States sees India as a potential ally to counter the growing influence of China in the region and has supplied New Delhi with $15 billion worth of arms over the past decade. Last year, then Defense Secretary Jim Mattis said the Pentagon would rename its Pacific Command to Indo-Pacific to signify India's importance in the region.
Figures compiled by the Institute for International and Strategic Studies,showed that India has 3,565 battle tanks, 3,100 infantry fighting vehicles, 336 armored personnel carriers and 9,719 pieces of artillery.
India's military budget last year was $45 billion, far higher than its rival Pakistan's $9.7 billion, according to the Lowey Institute's 2018 Asia Power Index, which ranked it the world's fourth most powerful military.
But with 1.2 million active duty troops eating up most of that money in wages, only $14 billion is spent on new hardware.
"At a time when modern armies are investing hugely on upgrading their intelligence and technical capabilities, we need to be doing the same," Gogoi said.