Inexperienced Russian Troops Ditched 30 Vehicles After Failed Assault: U.K.
Inexperienced Russian troops fighting in Ukraine abandoned at least 30 mostly intact armored vehicles after a single failed assault, according to British intelligence.
In its daily update on the Ukraine war on Friday, the British Ministry of Defence tweeted: "Russian units have made advances around the western edge of the town of Vuhledar, where they re-launched offensive operations in late January 2023.
"However, Russian units have likely suffered particularly heavy casualties around Vuhledar as inexperienced units have been committed. Russian troops likely fled and abandoned at least 30 mostly intact armoured vehicles in a single incident after a failed assault."
A report by the Institute for the Study of War think tank on Friday said that Russia had lost half of the tanks it had sent to Ukraine.
Newsweek has contacted the Russian department of defense for comment on the allegations.
The British intelligence update isn't the first time there have been reports of untrained or ill-disciplined Russian troops on the front line in Ukraine.
In November, media reports emerged that a group of Russian troops drafted after Russian President Vladimir Putin announced a partial mobilization in September had fled the front line and hid in a forest to avoid the fighting.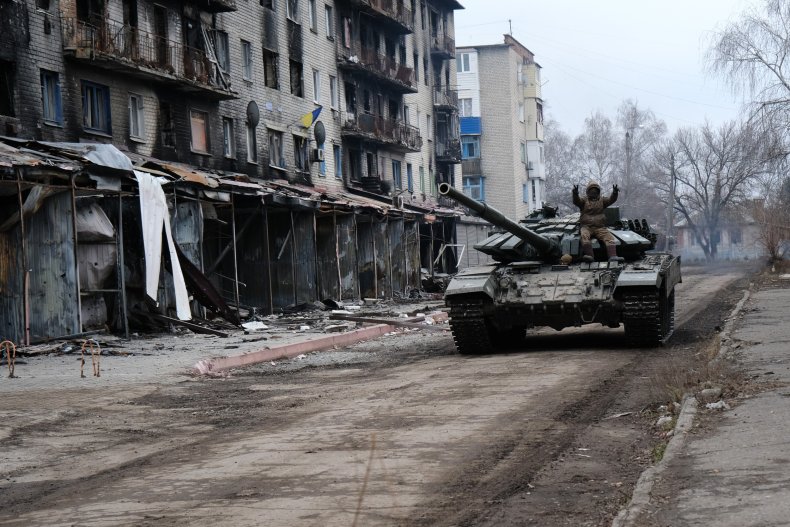 In January, eight Russian soldiers who fled the front line in Ukraine and ordered a cab to take them 300 miles back home faced desertion charges, which could land them in jail for up to 15 years.
Despite such embarrassing incidents, Russian forces have been making progress recently.
"Since 7 February 2023, Russian forces have likely made tactical gains in two key sectors," the British defense ministry said in its update. "On the northern outskirts of the Donbas town of Bakhmut, Wagner Group forces have pushed 2-3km further west, controlling countryside near the M-03 main route into the town."
Wagner Group mercenaries have played a prominent role in the Russian invasion of Ukraine despite the organization having to resort to recruiting convicts—most with no military background.
Ukrainian President Volodymyr Zelensky this week has been on a tour of Europe, looking to drum up more support from allies for the war against Russia. The Ukrainian leader specifically has been pushing for fighter jets and long-range missiles, and for weapons to be delivered at a faster rate than currently. However, NATO partners including Germany and the United States, have been cautious about sending Kyiv fighter jets, out of fear of provoking Russia into a wider-scale conflict.