Russia Has Lost Half of the Tanks It Sent to Ukraine—ISW
Russia has likely lost half of the tanks it deployed in Vladimir Putin's full-scale invasion of Ukraine, according to an assessment by a U.S.-based think tank.
The Institute for the Study of War (ISW), based in Washington, noted in its daily assessment of the conflict that on February 9, Dmitry Medvedev, Deputy Chairman of the Russian Security Council, visited a tank manufacturing plant in the Omsk Oblast and highlighted the need for Russia to ramp up production of modern tanks.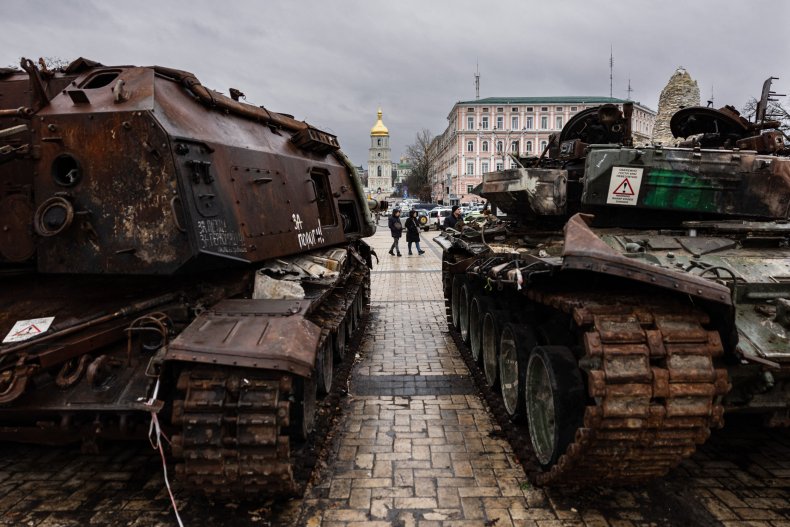 Reports were circulating as far back as May 2022 that Russia was losing a significant number of tanks in the conflict and that Moscow had moved 50-year-old T-62 tanks from "deep storage" to be deployed for use by its Southern Grouping of Forces.
The think tank observed that Dutch open-source group Oryx reported Russian forces have, throughout the course of the war, lost 1,012 destroyed tanks in Ukraine, with an additional 546 tanks captured by Ukrainian forces.
These combined losses represent roughly half the tanks that Russian forces committed to Ukraine at the start of the invasion, the ISW said, citing Oryx data.
"The Russian military needs to quickly replenish these tank losses to maintain the ability to conduct large-scale mechanized maneuver warfare ahead of a likely increased pace of offensive operations in eastern Ukraine."
The assessment comes as Ukraine is set to receive dozens of powerful new tanks from Western allies over the coming months, including 31 M1 Abrams tanks from the U.S.
"Medvedev likely framed his calls for increased production as a response to Western military assistance to obscure the fact that substantial military equipment losses are driving the need for increased production," the ISW said.
On Thursday, Serhiy Haidai, who is head of the Luhansk regional military–civil administration, said Ukraine destroyed a Russian Terminator tank-support fighting vehicle near the city of Kreminna in Ukraine's eastern Luhansk region.
And in a failed attempt to take the eastern Ukrainian city of Vuhledar, Russian forces are believed to have lost dozens of armored vehicles, the British ministry of defense assessed on Friday.
Denis Pushilin, Russia's leader in the self-proclaimed Donetsk People's Republic, has said that the capture of the Vuhledar region will be a game-changer for Russia's war efforts. "Taking control of this settlement will provide our troops with access to the Krasnoarmiysk (Pokrovsk) and Kurakhovskoye directions," he told state-run news agency RIA Novosti last month.
"Russian troops likely fled and abandoned at least 30 mostly intact armored vehicles in a single incident after a failed assault," the ministry said in a daily assessment of the conflict.
Newsweek has contacted Russia's defense ministry for comment.
Do you have a tip on a world news story that Newsweek should be covering? Do you have a question about the Russia-Ukraine war? Let us know via worldnews@newsweek.com.