Video Shows Old Russian Tanks Taken Out of Storage to Be Used in Ukraine
Russia has taken out more of its Soviet-era tanks from storage to be deployed in the Ukraine war as the conflict reaches its seventh month, a video circulating on social media appears to show.
Anton Gerashchenko, adviser to Ukraine's minister of internal affairs, shared a clip on his Twitter page that appears to show multiple 50-year-old T-62 tanks lined up on railway tracks in Russia.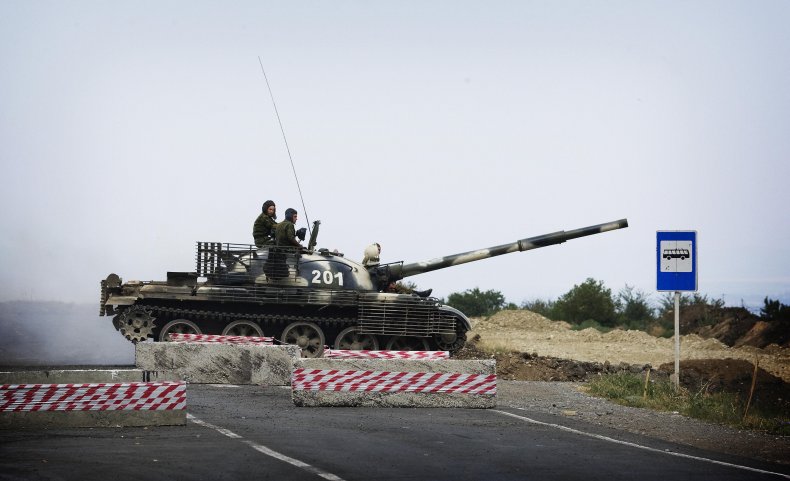 "Old Soviet tanks taken out of conservation by Russia - with no protection against modern weapons," the adviser to the Ukrainian government tweeted Friday.
"And new Russian conscripts (also with no protection against modern weapons and a modern army - we've seen what they fight in). Perfect combination, doomed for success, I would say," he added.
Newsweek has been unable to independently verify the authenticity of the clip and has reached out to Russia's foreign ministry for comment.
The Ukrainian military has said Russia has lost more than 2,000 tanks since Vladimir Putin's war began.
The General Staff of the Armed Forces of Ukraine publishes on its Facebook page Ukrainian estimates of the total losses Russia has faced since the invasion began on February 24 and writes that 2,254 Russian tanks have been destroyed.
The U.K. Ministry of Defence said in May that Russia was losing a significant number of tanks in the conflict and that Moscow had moved 50-year-old T-62 tanks from "deep storage" to be deployed for use by its Southern Grouping of Forces (SGF).
The ministry said that such vehicles are likely to be "particularly vulnerable" to anti-tank weapons, and that the decision to deploy them on the battlefield highlights "Russia's shortage of modern, combat-ready equipment."
Russia's old T-62 tanks were photographed at Melitopol railway station in southeastern Ukraine in May, suggesting that Putin's forces had suffered considerable losses, a few months into the war.
Some 20,000 of the tanks were in production in the Soviet Union from 1961 to 1973, before the model was replaced in production and frontline units by the newer T-72 main battle tank.
The vehicle is armed with a semi-automatic 115 mm smoothbore gun, and was the last medium tank produced in the Soviet Union.
Russia has said Ukraine is using reserve "ceremonial" tanks because of the losses its armed forces have incurred.
The Russian government-owned newspaper Rossiyskaya Gazeta said this September that Ukraine has moved to deploy T-64BM2 tanks that were produced in a small batch to participate in a parade in August 2021.