Ukraine's armed forces on Friday claimed to have destroyed 35 Russian tanks in a single day.
Ukraine, which regularly provides updates on Russian military losses, said on Facebook that since Vladimir Putin's war began on February 24, Russia has lost 1,637 tanks, including 35 in a single day.
The Russian military has also lost 36,900 military personnel, 3,811 armored combat vehicles, 828 artillery systems, 247 multiple rocket launchers, 107 air defense systems, 217 aircraft, 669 operational-tactical UAVs, 15 warships and boats, 2,685 vehicles and tankers, and 187 helicopters, according to Ukraine's combat losses update, posted by the general staff of the country's armed forces.
In the last week, claimed tank losses have ranged from two a day to a high of six, according to data from Ukraine.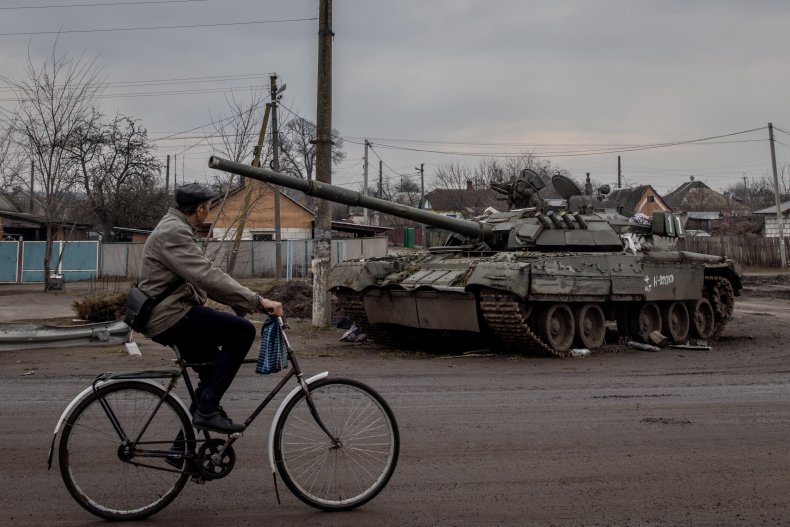 Moscow rarely discloses its military losses. The last time Russia released details of troop losses was on March 25, when a general told state media that 1,351 soldiers had been killed and 3,825 were wounded. Russia hasn't disclosed its military equipment losses throughout the war.
Newsweek has been unable to independently verify each claim.
Russian officials have so far publicly denied that Moscow is having difficulties sustaining Putin's war effort. However, on June 30, Russia's signaled that it could be suffering military losses after Putin's government created a draft federal law that would allow the country to quickly repair weapons and military equipment.
The Kremlin submitted a bill to the State Duma on "special economic measures" for "counterterrorist and other operations" outside of Russia, and an explanatory note attached to the bill said that there is, particularly amid the ongoing conflict, "a short-term increased need for the repair of weapons and military equipment."
The text of the draft law notes the need for Russia to repair its weapons and military equipment amid "a special military operation in the territories of the Donetsk People's Republic, the Luhansk People's Republic and Ukraine."
According to the British Ministry of Defence, Russia has also been deploying old Soviet-era tanks since at least May.
The Defence Ministry said in an intelligence update on May 27 that Russia moved 50-year-old T-62 tanks from "deep storage," and that they are likely to be "particularly vulnerable" to anti-tank weapons. The ministry noted that the decision to deploy them on the battlefield highlights "Russia's shortage of modern, combat-ready equipment."
And in March, just weeks into the war, a viral video appeared apparently showing angry Russian soldiers complaining that they were ill-equipped and ordered to go into a region of Ukraine with no clear planning from Moscow.
Ukraine meanwhile has relied on western equipment for pushing back Putin's troops.
Newsweek has contacted Russia's defense ministry for comment.