Inflation Pushes Cost of Raising a Child in U.S. to $300,000
The cost of raising a child to 17 years of age has surged to over $300,000 as a result of inflation, according to a new study.
Inflation in the U.S. has exploded following the coronavirus pandemic and the Russian invasion of Ukraine, hitting 9.1% in June before falling to 8.5% in July.
The Brookings Institution estimates it will cost a married, middle-income couple who have two children $310,605 to raise the younger child, born after 2015, until the age of 17.
This is an increase of more than nine percent from the figure two years ago, and averages out at $18,271 per year for the child.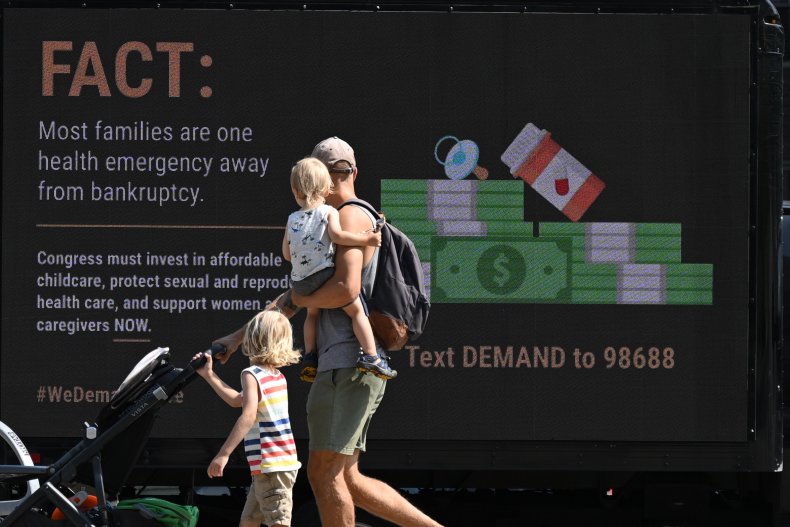 Speaking to the Wall Street Journal about Brookings' findings, senior fellow Dr Isabel Sawhill explained what impact this is likely to have on families.
She said: "A lot of people are going to think twice before they have either a first child or a subsequent child because everything is costing more. You also may feel like you have to work more."
Regarding inflation, she added: "We know it's very high right now, but we also know that the Fed is stepping on the brakes very hard and that it's going to come down.
"We don't know how fast and to what level and how long it will stay somewhat elevated."
In June Joe Biden said tackling inflation is his administration's highest priority, as "too many families are struggling to keep up with their bills".
A White House statement added: "President Biden has a plan to tackle inflation—by lowering costs that families face and lowering the federal deficit by asking the large corporations and the wealthiest Americans to pay their fair share.
"Congressional Republicans, led by Senator Rick Scott, have called for a new minimum tax on the middle class—firefighters and teachers—that would mean an average of almost $1,500 less in families' pockets each year."
In July, figures from the Commerce Department revealed the U.S. had entered an unofficial technical recession, with negative economic growth for a second consecutive quarter.
Whether the U.S. entered a full technical recession will be determined in the coming months by the National Bureau of Economic Research, when more data becomes available.
In response, Republican National Committee Chairwoman Ronna McDaniel said: "This is Joe Biden's recession. Biden can lie and deflect blame all he wants, but that will not alleviate the pain Americans feel every time they fill up their gas tanks, go grocery shopping, check their retirement savings, or balance their budgets.
"Biden and Democrats are responsible for our shrinking economy, and they're only trying to make it worse."
Earlier this week President Biden signed the Inflation Reduction Act, which aims to reduce fuel and healthcare costs, into law after it passed Congress.