Influx of Voting Bills Will Have Biggest Impact in Georgia, Arizona and Pennsylvania, Experts Say
In the aftermath of the 2020 presidential election, numerous state bills restricting voting rights have been introduced across the nation. According to a tracker from the Brennan Center for Justice, state lawmakers have carried over, pre-filed or introduced 253 bills with provisions that restrict voting access in 43 states.
But the backlash to what was the highest voter turnout in over a century is not expected to affect all states the same. Voting rights experts say the new legislative proposals will leave their biggest mark on states like Georgia, Arizona and Pennsylvania.
"We're talking purple states, where legislatures feel a little bit of voter suppression can guarantee them an election," Sylvia Albert, director of the voting and elections program at Common Cause, told Newsweek. "We're talking states with Republican trifectas for the most part, because while there might be some concern over what's happening in Michigan, we feel that the Democratic governor would veto bills that would infringe on people's right to vote."
Georgia and Arizona are leading the country in the number of restrictive bills that have been introduced, noted Eliza Sweren-Becker, voting rights and elections counsel at the Brennan Center for Justice.
She added that these states are not only ones with large populations of voters of color, but "they're also states that are becoming less white relative or faster than other states in the country. In other words, they are experiencing the browning of America more quickly than most states in the rest of the country, so I think it's no accident that those are some of the states that we're seeing some of these strict measures come through in."
Georgia
On Monday, Republicans in the Georgia Senate narrowly approved an omnibus voting bill that would end no-excuse absentee voting. Eligibility to vote by mail would be restricted to people who are over 95, are physically disabled, are required to be outside their voting precinct during early voting and Election Day, have a religious holiday that falls on Election Day, work in elections or qualify as a military or overseas absentee voter.
"The challenge that we're seeing is an overhaul of our election system without critical foresight into what the impact could be," Aunna Dennis, executive director of Common Cause Georgia, told Newsweek. "Right now, we see that Republicans are trying to find a solution to a problem that literally does not exist here."
Georgia saw its largest voter turnout not only in last year's general election but also in its January Senate runoffs, where nearly 4.5 million ballots were cast. And numbers were not the only historical record that were broken in the elections. The state flipped blue for the first time in nearly three decades and sent two Democratic senators to replace the Republican incumbents.
But Dennis said the new state bills could be detrimental to voters who cast their ballots for the first time in November. She argued that questioning the legitimacy of Georgia's elections undermines the votes of its residents.
"People will feel like their voices really just didn't matter, because even though you came out and voted, people are trying to say that those votes are just really invalid," she said.
She said the passing of bills that seek to restrict voting access would tell Georgians: "Because of the margins and what the results are, there has to be something wrong. We can't just have this political shift happening in Georgia and Georgians, who voted, really don't know what's best for them."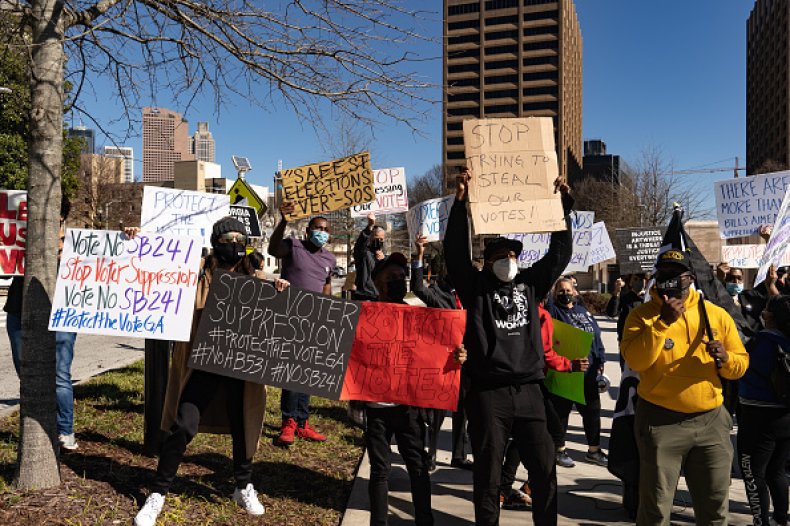 Arizona
President Joe Biden also won in Arizona last year, making him the first Democratic nominee to win in the state since Bill Clinton won in 1996.
"At a time when we should be focused on making sure that anyone of any race or background or ZIP code has the ability to access the ballot, we're actually going in the opposite direct direction," Alex Gulotta, the Arizona state director at All Voting is Local, told Newsweek. "We have legislative leaders that are making it harder to vote, creating barriers to voting and silencing voices."
As a state, Arizona has a long history of voting by mail. In the last election cycle, 88 percent of voters voted by mail, and before the coronavirus pandemic, almost 80 percent of voters in Arizona opted to mail in their ballots.
"We've been using it very often since the early '90s and we've never had any problems with it," said Darrell Hill, policy director at the ACLU of Arizona. "For legislators to severely restrict Arizonans' ability to vote by mail and to vote early is very alarming and really unnecessary to safeguard our elections. Our elections are safe and secure."
Arizona's state legislature is currently considering purging its permanent early voting list so that voters who miss two election cycles will be removed from the list and will no longer automatically receive their ballot in the mail.
"If you're the kind of voter who generally only votes in presidential elections and you skip one cycle because in that particular cycle, you don't find somebody that's inspiring for you, you would stop getting your ballot in the mail. And that's how people sort of fall off and get lost," Gulotta said.
Voting by mail could also become more difficult for Arizonans. A bill passed by the state senate on Monday requires voters to include a driver's license number when casting their mail-in ballot. Gulotta said this will be especially problematic for those who may not have a driver's license and will need to include both a voter ID number and additional proof of residence in order to prove their identity.
He said it would create a "bifurcated system" that would make voting more difficult both for those privileged enough to have easy access to a driver's license and those who do not. Because the rule has never been implemented in previous elections, voters with driver's licenses might not realize the information is required, which could result in their ballot being deemed invalid.
"Then you have another set of people who are disproportionately low-income people and communities of color who don't have a driver's license, who have to jump through many additional hoops and are substantially more likely to have their ballot thrown out because they can't comply with all of those steps," he added.
Hill pointed out that the recent court challenges to Arizona's electoral process did not find any evidence of fraud or indicate any reason to overturn the results of the election.
"What it says to people who are trying to vote is that some legislators don't want you to vote," he told Newsweek. "They don't want you to participate in the process, because they're afraid of having to answer to a wider electorate."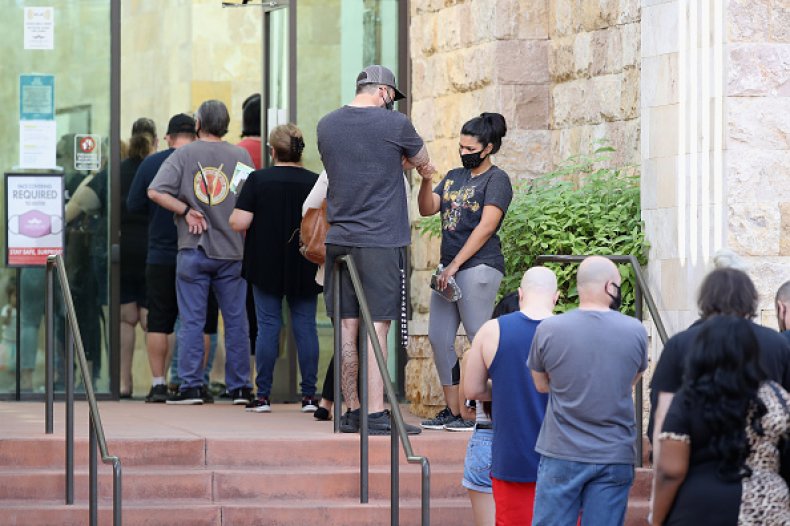 Pennsylvania
Albert noted that Pennsylvania lawmakers are floating roughly 34 potential bills, but said she's hopeful that Governor Tom Wolf, a Democrat, would veto any bills that infringe on voting rights.
In the meantime, members of Pennsylvania's House of Representatives have set up 12 hearings to discuss election integrity.
"Essentially instead of prioritizing our public health and democracy, officials, like the ones that are holding these hearings, are threatening to create efforts to investigate and challenge our votes," Scott Seeborg, the Pennsylvania state director at All Voting is Local, told Newsweek. "Our perspective is these kinds of task forces don't really intend to investigate voting problems. They simply aim to silence our voices."
"These hearings are really digging at a solution in search of a problem. One of the issues that was raised in the press by one of these lawmakers was to say, well, voters don't understand whether there's corruption in the process," he said. "I found that to be particularly galling and cynical, because the reason voters believe this corruption in the process, is because those same individuals are perpetuating the big lie."
Sweren-Becker also warned that the influx of election-related bills further perpetuates the unsubstantiated claims of election fraud that played a key role in the January 6 U.S. Capitol riot.
"The same lies about election irregularities and voter fraud that fueled the attempted insurrection at the Capitol in January—those lines are now being used to justify these restrictions on voting access. They are, again, baseless," she said.
"Last year's election was very successful. The claims about voter fraud were debunked, time and time again in court, and academic studies have repeatedly reflected that there is no widespread voter fraud problem in this country. We are seeing these false claims about election irregularities used as a pretext to limit voting access," she added.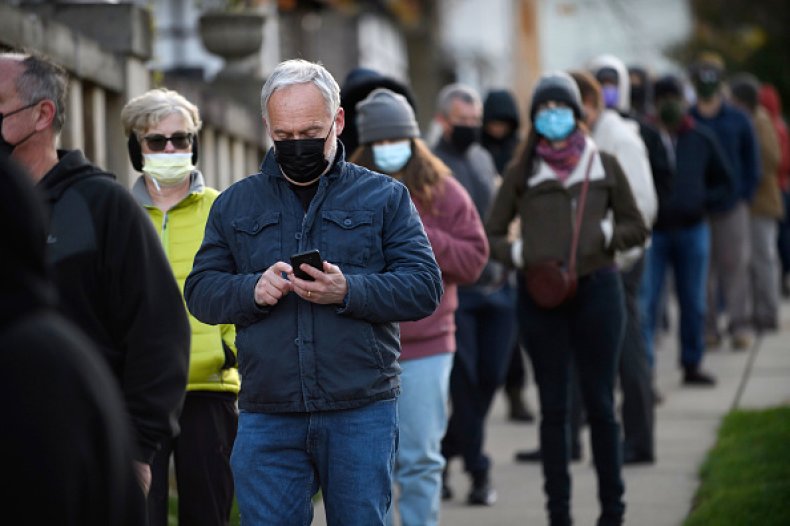 Voting in Future Elections
"These bills aren't law yet, so I would say that voters should weigh in with their state representatives and let them know what their voter priorities are and that the voters are going to hold their representatives accountable for their votes on these bills," said Sweren-Becker. "It's really important voters understand that democracy is not a one-day-a-year activity in November, it's a full-time process we're all engaging in."
She said even if bills are passed into law, there are chances that some of them might be challenged in court, and litigation could help restore certain policies related to voting access.
Dennis also urged Congress to combat these rollbacks by passing the For the People Act (H.R. 1) and the Voting Rights Advancement Act (H.R. 4), which could supersede the state measures being introduced.
"We desperately need to have federal oversight in our election to make sure that every voter is fairly heard and excellently heard, and that we have as many options to the ballot box with as little hurdles to make sure we have an equitable fair election," she said.
Last week, House Democrats adopted H.R. 1 and pushed through a sweeping expansion of federal voting rights despite unified Republican opposition. Although GOP lawmakers rallied against the bill, polls show that the bill has the support of the majority of Republican voters.
H.R. 1 aims to impose national requirements that would weaken restrictive state voter ID laws, mandate automatic voter registration, expand early and mail-in voting, make it harder to purge voter lists and restore voting rights to former felons.
Albert said expanding voting access on a national level is crucial not only to the voters who are likely to be suppressed by state bills but every American who wants their vote to count.
"Even in places where it's not likely to affect the outcome of the election, [new legislation] is changing the dialogue around voting, changing people's perception of their right to vote and its changing access," Albert said.