Infowars Old Twitter Posts Probably Broke Policy—Then They All Disappeared
Infowars' official Twitter account appeared to purge a slew of controversial old posts this week after an investigation revealed they likely violated the platform's policies.
A review of accounts linked to Infowars and its founder Alex Jones conducted by CNN found examples that had been used to spread "false flag" conspiracy theories, attack people on the basis of their gender and launch degrading attacks on the Muslim faith. Some had been hosted via Periscope, Twitter's streaming platform, while others had been linked to YouTube.
Each of the highlighted tweets disappeared without explanation on Thursday. Twitter told CNN that Jones—or someone with access to his accounts—had likely removed the posts. "We confirm that Twitter didn't remove the tweets," a spokesperson said. Previously, executives had said that controversial content often didn't get published on Twitter—unlike on rival platforms.
But Newsweek's review of some old tweets found lingering examples of content that may be considered policy-breaking. "Was San Bernardino Shooting a False Flag?" read one link posted on December 7, 2015. "Obama Caught Running ISIS," another headline stated. A third post from the same month claimed Jeb Bush, former U.S. presidential candidate, had "close Nazi ties."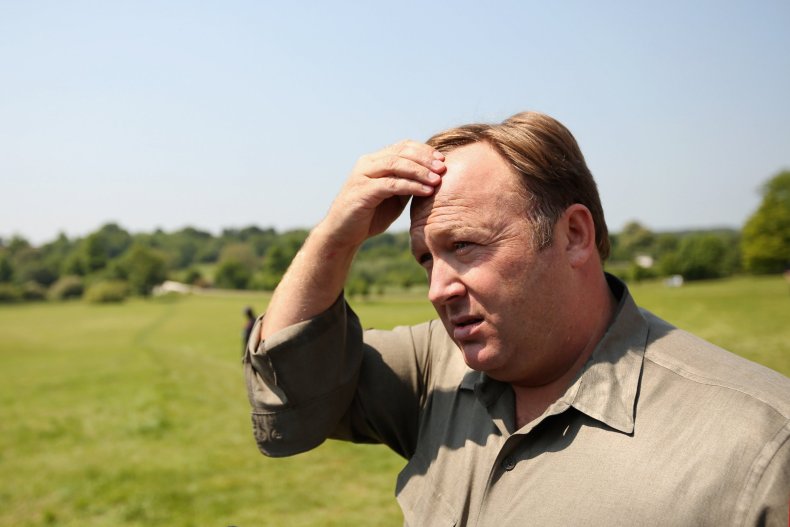 "Gay Right's Victory Opens Door For Pedo Politicians," screams a headline from 2015. Jones wrote last year: "Gay Muslims Forced To Flee Their Countries Come Here And Bitch."
Infowars' content was banished by some of the world's largest technology platforms in the past week, including Apple, Spotify, Facebook and YouTube. Jones called the action censorship.
Twitter is now one of few mainstream social media outlets where Infowars continues to publish.
The platform has lengthy policies, including one dedicated to hateful content. This week, CEO Jack Dorsey concluded that Alex Jones or Infowars had not violated any of its policies. In a post on his own profile, Dorsey pledged to "hold Jones to the same standard we hold to every account."
On Wednesday, Del Harvey of Twitter's trust and safety team published a letter in which he tried to calm the situation among the platform's employees—some of whom disagreed with the company's lack of action on Jones.
"At least some of the content Alex Jones published on other platforms…that led to them taking enforcement against him would have also violated our policies had he posted it on Twitter," Harvey wrote. "Had he done so, we would have taken action against him as well."
While Infowars' Twitter updates indicated that policies may have been broken, Twitter said it was conducting a review. Meanwhile, Infowars remains active—for now.
In a statement posted to Twitter on Tuesday, Jones described the actions against him as a "concerted plan to erase my electronic identity and put me into a true electronic ghetto." The outspoken talk show host appealed for support this week, flogging toothpaste and Brain Force Plus. "Supplements that are so good for you and your family," he said. "Feed your gladiator."
Infowars did not immediately respond to a request for comment.