Laura Ingraham Calls Joe Biden 'Figurehead' of Left Wing Insurrection
Fox News presenter Laura Ingraham went on a tirade against President Joe Biden on Monday for being the "figurehead" of a left wing "insurrection," as she decried celebrities and technology companies for supporting and funding the Democrats.
"The Democrats and the media that serve them are like addicts looking for their next fix, and their drug of choice over the past five years has been Donald Trump," said the presenter on The Ingraham Angle programme on Monday.
She then said that Trump's impeachment trial, which begins on Tuesday, was just "a shiny" object to distract voters.
"If you're conservative and you voted for Trump, they want you demoralized by the impeachment proceedings and the January 6th riot and they want you to believe things will never get better," she said.
"There is an insurrection taking place against America, all right," Ingraham said. "It's been going on for years in the deepest depths of the D.C. swamp. And now its figurehead resides at 1600 Pennsylvania Avenue."
She said that the insurrection looks to "overthrow everything we love about America" through defaming, silencing and prosecuting it.
"This is an organised mob funded by billionaires, supported by celebrities and its aided and abetted by propagandic news organisations every step of the way," she said.
Ingraham referred to pictures of Facebook CEO Mark Zuckerberg and outgoing Amazon chief Jeff Bezos. When talking about celebrities supporting the Democrats, she showed pictures of actors Seth Rogen and Steve Carell.
The host accused Biden of being "barely awake," before accusing the president's government of being "populated by snotty, entitled, overeducated, underperforming goofballs" who "are slowly but surely dismantling our economy, attacking our prosperity and opening the door to an endless stream of illegal aliens and gang members."
"Democrats are arguing that Trump welcomed and incited a violent incursion into the capitol when it is they who are enticing illegals to bust through our borders, exploiting our resources and commit crimes. And we're not talking about a few hundreds, we're talking hundreds of thousands and eventually millions, if the Democrats have their way."
The TV host called on Congress to tighten asylum laws, because she believed it would help protect American jobs, safety, healthcare, and education.
"At a time when we're seeing more crime, fewer jobs, and millions of kids stuck in Zoom hell and not in school, Biden's team is focusing on shielding illegals from deportation because he doesn't want to put them through too much stress," she added.
Ingraham referred to a Washington Post report from Sunday saying that U.S. Immigration and Customs Enforcement (ICE) agents are preparing to issue new guidelines which say that those seeking to arrest fugitives outside and in prisons will need prior approval from the agency's director in Washington. Under the new rules, which Ingraham criticized as being to lenient on illegal immigrants, those with gang tattoos or records showing loose affiliation with gang activity would no longer be considered a public safety threat.
Newsweek reported on January 4 that advocacy groups have said that Biden's immigration policies "fall seriously short" and are calling on the president to do more to help migrants and reduce their prosecutions.
Ingraham continued to criticise the administration's immigration plans. "Biden's open-borders zealots have what they want. Big business, they get their slave labor, and the social justice warriors, the far-left 'Squad' types, they have their new population that can be molded and formed into socialist party faithful," she said.
Newsweek has contacted the Biden administration for comment on Ingraham's remarks.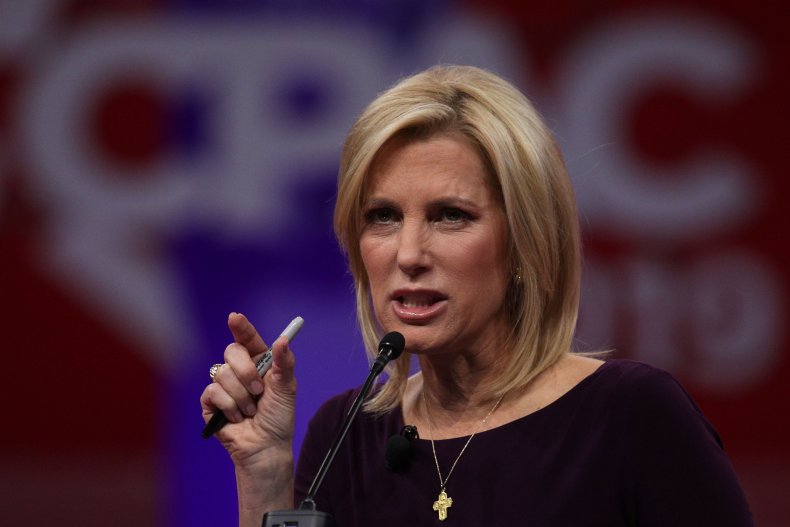 Correction 2/9/21, 10 a.m. ET: This article was updated to correct the spelling of Seth Rogen.