A viral video purporting to show insane crowds of people waiting to view vacant apartments in New York City has baffled online commenters.
The video, posted to TikTok last week by WhatIsNewYork (@whatisnewyorkofficial), has garnered over 800,000 views and 54,000 likes while highlighting the city's current rental crisis.
The video is comprised of two clips. In the first, a long line of 20-somethings waiting to view an apartment dominates the hallways and stairwells of the apartment building. In the second, a crowd of people listens intently as a presumed real estate agent tells them he can take "groups of eight to 10" people at a time to view an apartment. The others, he said, need to "wait across the street" as they are purportedly blocking the entrance of a nearby business.
"These are lines to view vacant apartments in NYC," wrote WhatIsNewYork in the video's caption. "With demand soaring, some landlords are taking the highest bidder."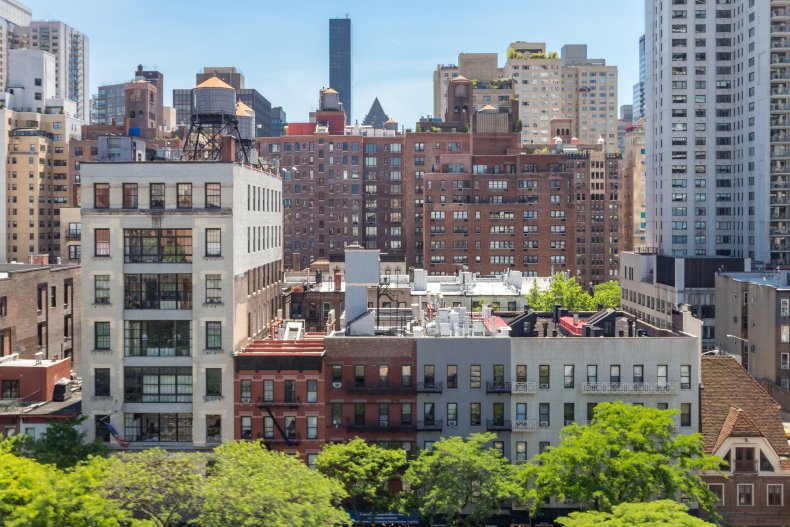 As it turns out, the TikTok account isn't wrong—a report from real estate management company Douglas Elliman revealed that increased demand has led to bidding wars, and they've had a significant impact on current rental prices.
Bidding wars accounted for over 23 percent of lease signings in Brooklyn and about 16 percent of new lease signings in Queens, according to the report. Fortune added that bidding wars accounted for roughly one in five Manhattan lease signings in April, and, on average, landlords are "walking away with rents roughly 11 percent above the asking price."
According to The New York Times, the "influx" of renters to the city is a driving factor behind the increased demand. Additionally, soaring mortgage rates and remote work opportunities have not only "incentivized" people to rent but also "allowed" them to justify paying higher rents.
"People are living where they really want to live, which can also be a driver for paying more than they're used to paying," Jonathan Miller, of the appraisal company Miller Samuel, told The Times.
The median rent in Manhattan reached a record-breaking high of $4,000 in May—a more than 25 percent increase from May 2021, said the Douglas Elliman report. Additionally, the median rents in Brooklyn and Queens rose to $3,250 and $2,950, respectively.
With all this in mind, WhatIsNewYork's viewers were shocked to see that renters were forming crowds to view apartments, arguing that the rental prices are "disgusting."
"This has to be a joke," said one user.
"This is insane!" exclaimed Delynn Montgomery.
Lynn Gillreath wrote: "This is disgusting on so many levels. Highest bidder?"
CesarNotLikeTheSalad added: "NYC is overrated and overpriced."
Newsweek has reached out to WhatIsNewYork for comment.
Of course, WhatIsNewYork's video isn't the first to go viral for showcasing the "insanity" that is the current New York City rental market.
Earlier this month, a New York renter amassed over 5.7 million views on a video tour for an $8,000 apartment. In May, a separate renter stunned the internet with a video tour of a $4,000 apartment with a door that opened into a stove.
Also in May, a video of a New York real estate agent taking selfies with applicants went viral with over 1 million views.